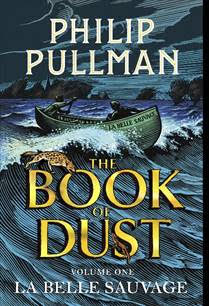 Is it a prequel? Is it a sequel? It's neither. In fact, The Book of Dust is… an 'equal'.
It doesn't stand before or after His Dark Materials, but beside it.
-Philip Pullman
Penguin Random House is delighted to announce the release of the much awaited The Book of Dust.
 Praise for the book:
It will be devoured.
–The New York Times Magazine
Too few things in our own world are worth a 17-year-wait:
"The Book of Dust" is one of them.
– The Washington Post
About the book:
La Belle Sauvage returns to the Oxford inhabited by Lyra Belacqua in Northern Lights, but opens 10 years earlier. Lyra, only a baby, is in danger and being sheltered by the nuns of Godstow Priory. Her father, Lord Asriel, is banned from seeing her by the High Court, but he is not the only character
to threaten her existence.
The unlikely hero of this story is 11-year-old Malcolm Polstead and his dæmon, Asta, who becomes Lyra's protector following a massive flood that threatens to devastate the UK. He and his trusty canoe, La Belle Sauvage, take centre stage in a cast of characters, which includes new faces such as alethiometer specialist Dr Hannah Relf, as well as old favourites including Farder Coram. As with His Dark Materials,
La Belle Sauvage takes as its inspiration the historic streets, buildings and waterways of Oxford, Pullman's long-term home.
Recognisable locations include the Bodleian Library's Duke Humfrey's Library, the Trout Inn and Godstow Nunnery at Wolvercote and Exeter College, Philip's college and the model for Jordan College in his books.
About the author:
Philip Pullman is one of the most highly respected children's authors writing today. Winner of many prestigious awards, including the Carnegie of Carnegies and the Whitbread Award, Pullman's epic fantasy trilogy His Dark Materials has been acclaimed as a modern classic.It has sold 17.5 million copies worldwide and been translated into 40 languages. In 2005 he was awarded the Astrid Lindgren Memorial Award. He lives in Oxford.