'Beautiful things don't ask for attention'. 
This quote from The Secret Life of Walter Mitty is an apt description of some unassuming restaurants in Mumbai. Tucked in quiet corners of the city, these are genuinely one of a kind experiences in a world of much hyped theme restaurants serving specialty cuisines at exorbitant rates. Here go some of my unsung favourites..
***
1.Gallops, Mahalakhsmi Course: 
Located at the Mahalaxmi Race Course, Gallops has the most picturesque view that the city can offer. The green vines on the walls, the white flowers in the lush green garden and the rule that makes it compulsory to switch off your mobile phone while the race is on (yup.. that's right!), are just some of the few things that set the restaurant apart. The place isn't as expensive as it looks, in fact it's pretty reasonable when compared to some of the other restaurants located in the same area.
***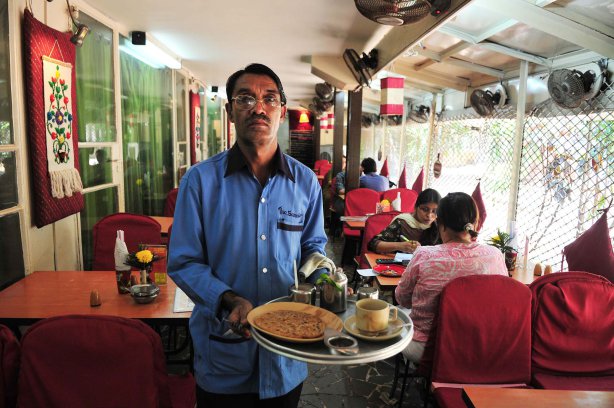 2. Sammovar Cafe, Fort:
 Located in Mumbai's Art district Kala Ghoda, this 40 year old cafe has seen many restaurants in the neighborhood come and go. The cafe is inside Jehangir Art Gallery and overlooks the garden of Prince of Wales Museum. Cutting chai, bread pakodas, mutton samosas, and chilled beer for the tired soul, Samovar makes you feel at home and doesn't burn a hole in your pocket. The place is a big hit with writers, musicians, artists, researchers and tourists. Samovar shuts at 7 pm and they are not open on Sundays. (I like places that respect Sundays!).
***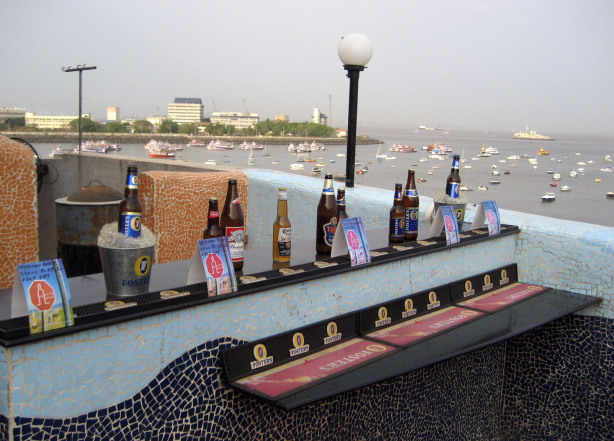 3. Bayview, Colaba: 
For those who want the same view as the Taj at one twentieth the cost, this open air restaurant perched on the rooftop of 
Strand Hotel
  is a good no-frills option. With a spectacular view of the Gateway of India against the backdrop of flickering lights and the fishing boats in the Arabian sea, it's probably the only roof top restaurant in Mumbai that doesn't cost a bomb, is absolutely laid back and in-tune with the city's chilled out attitude.
**
It amazes me that in spite of Mumbai being a coastal city, there are barely any restaurants that allow you to enjoy the sea-breeze. When compared to the likes of Aer and Dome located on the roof tops of snazzy 5 stars hotels, Bayview wins hand down for its simplicity, practicality and affordability.
***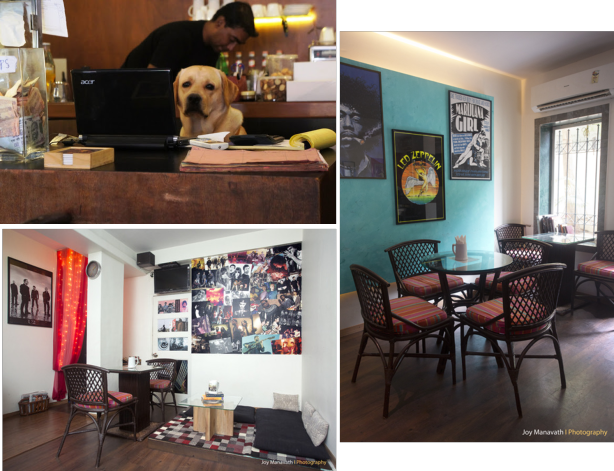 4. Gostana, Bandra:
Gostana is a pet-friendly, burger / salad cafe that aims to turn fast food into a healthy meal. Yup, you read that right! The place serves a good range of veg / non-veg 'health burgers' in addition to soups, salads and the likes. Their wholesome burgers are made of whole wheat bread with baked / steamed patties served with salad on the side.
**
What sets this place aside more than anything else is Apple – the friendly Labrador who often assumes the role of the CEO. She loves the company of fellow dogs and humans and is absolutely huggable! And oh, did I mention, they also serve healthy pet meals?
***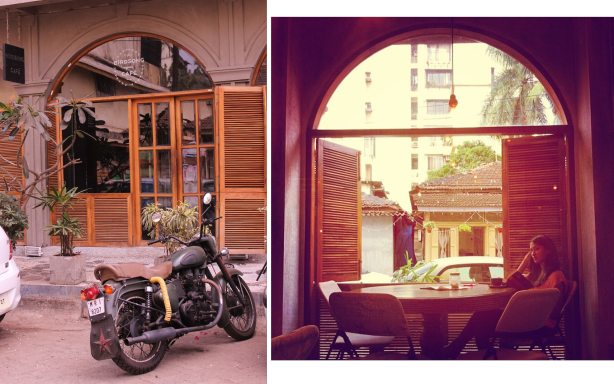 5.Bird Song Cafe, Bandra:
Large French windows, quirky food doodles, menu written in chalk on a wall that doubles up as a black board and a kitchen that serves fresh, organic food – Bird Song Cafe is a delightful, quaint cafe in the narrow lanes of Bandra. The unfinished look, roomy interiors and a very healthy food menu is hard to find in the city.
Bharti believes that every suitcase tells a story and she likes sharing these stories on her blog 'Suitcaseofstories.wordpress.com'. In addition to writing about travel, she also likes taking street photographs with her phone camera.