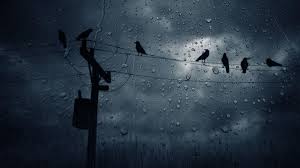 It's fantastic, this urge for
Food, drink, love, sex, music
All brought on by sheets
of moisture, drops of rain
Silly yearning, unknown pain
Wet leaves, trembling trees
Globes of water, suspended
On the tips of foliage
And those drunken roofs!
It's time to head into Nature
It's time for that cup of tea.
**
Mona Ambegaonkar accidentally strayed into the entertainment industry and has been a model, editor, documentary producer and director, writer and award winning actor in theatre, TV and films. She is now working towards writing and directing her own films and is acting in TV soaps and films as well. She has devoted her time in watching life, hers and other people's, has always taken at face value whatever she is told and has always asked and answered direct questions. From this springs the fodder that enriches all her work both on and off the screen. Recently, she has been touring the world with Ek Madhav Baug,  a play about alternate sexuality.