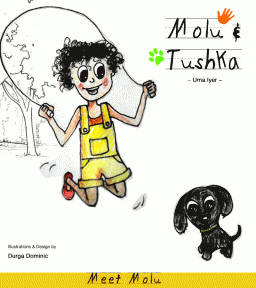 Uma Iyer has dreamt of Molu, a mischievous six-year-old for almost a decade now. She shares with the young readers of Unboxed Writers, 'Meet Molu,' a yet to be published first book of hopefully what would turn out to be a Molu and Tushka series. Agni, or 'Molu' as she is commonly referred to, is a six-year-old girl whose life revolves around her parents, her friends and her puppy, Tushka. The book is a view of the world around her, through her eyes and consists of 12 chapters. This is the seventh chapter.
Main Characters:
Molu: Six-year-old girl, brown skin, big black eyes that shine and sparkle, curly hair, extremely curious, chatter-box, loves chips, ice-creams, water and Tushka, usually dressed in shorts and t-shirts, occasionally considers wearing summer frocks.
Tushka: Approximately five-month-old puppy, black as the night with brown eyes, of indefinite lineage, tends to cock her head to one side when Molu speaks with her, loves chips, ice-creams, water, balls and Molu, wears a neon green belt around her neck with a bone medallion.
Etc. Characters:
Amma: The mother
Appa: The father
Bibi: The maid
Coco: The cat next door
Binny: The boy next door
New Friend
Soumya is very sad. She has to go to a new school, because her father is going to a new office. It is not right. If uncle wants to go to new office, he should only go, why should he take Soumya and aunty and baby away? Appa says because uncle will have to become superman otherwise, with all this traffic jam business, to travel from new office to old home.
I won't mind uncle becoming superman. He can then take us all up in the sky, higher than that giant wheel in FunWorld park. My Rohan maama took me there. You know maama is my Amma's brother, he is very smart. He knows all about colours, he draws lots of cartoons and I get all his books. I asked him what colour you get when you mix brown, yellow and black and he said potty colour. So funny.  Appa and maama are always making fun of Amma. My Amma says she wishes she had thrown maama out when he was small. Now she cannot even move him because he is big and strong like a giant. Amma says he has the brain of a mouse. How does the brain of a mouse look?
Friday is Soumya's last day at school. I am going to give her my book of bedtime stories so she will think of Binny and me and Tushka and Coco. I wanted to give her my blue light shoes, but Amma says nobody wants stinky stuff. I told her my shoes are not stinky, only my feet are when I don't wear socks. I don't wear socks because Tushka has eaten all of them.
Tushka has four teeth, two up and two down. Very sharp they are. Like the scissors I use in craft class. When we had gone to the vet for Tushka's medicines, she jumped on vet uncle's desk and bit his telephone wires. Uncle was not angry at all. But Amma looked Tushka in the eyes and called her a naughty girl.
I don't like it when Amma does that. It is very scary. When I had used the atta for rotis one day instead of clay to make animal friends for Tushka, Amma called me naughty girl. I was going to cry and all, but then Tushka ate one of the animals and she didn't like the taste (maybe because of the paint).  She tried to spit it out but it got stuck in her mouth and she went mad trying to get it all out. Amma also started laughing. Amma is not scary when she laughs, so I didn't cry finally. Binny says sometimes it is ok to cry because all older people feel sad for you and you get out of naughty corner quickly. I don't think it will work with my Amma though.
We went to buy Tushka a new bone and the uncle at the pet shop asked me if I wanted to buy some fish. I told him Tushka does not eat fish. Uncle said it was not to eat, but to keep in the house, like a pet. I said Tushka was the world's best pet. There was this boy in the shop who was staring at a fish tank full of black colour fishes. He told me fishes are good pets too. His name is Arnav. He has a big aquarium in his house with many, many fishes. I asked Amma if I can go to his house and see it. Amma said maybe, which usually means no.
Uma Iyer is a writer, a mother and a freelance consultant for marketing communication to several organisations. She was raised in Mumbai and currently lives in Delhi. Her retirement plan includes two dogs, many books and a shack by the sea.