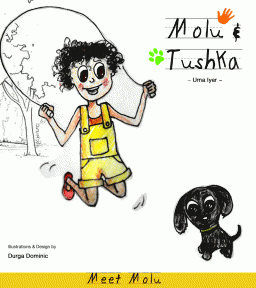 Uma Iyer has dreamt of Molu, a mischievous six-year-old for almost a decade now. She shares with the young readers of Unboxed Writers, 'Meet Molu,' a yet to be published first book of hopefully what would turn out to be a Molu and Tushka series. Agni, or 'Molu' as she is commonly referred to, is a six-year-old girl whose life revolves around her parents, her friends and her puppy, Tushka. The book is a view of the world around her, through her eyes and consists of 12 chapters. This is the eighth chapter.
Main Characters:
Molu: Six-year-old girl, brown skin, big black eyes that shine and sparkle, curly hair, extremely curious, chatter-box, loves chips, ice-creams, water and Tushka, usually dressed in shorts and t-shirts, occasionally considers wearing summer frocks.
Tushka: Approximately five-month-old puppy, black as the night with brown eyes, of indefinite lineage, tends to cock her head to one side when Molu speaks with her, loves chips, ice-creams, water, balls and Molu, wears a neon green belt around her neck with a bone medallion.
Etc. Characters:
Amma: The mother
Appa: The father
Bibi: The maid
Coco: The cat next door
Binny: The boy next door
On TV yesterday, they were showing about this lizard which was very big, monster sized. They can run very fast and live in Indonesia. It is a country just like India, but a lot smaller. Appa says they are called Komodo dragons. I like dragons, but I don't like lizards, so I don't know if I like the Komodo dragons. Amma is very scared of lizards. She doesn't shout or anything, but if there is a lizard on the wall, then she won't walk into that room only. Then Appa runs around with a jhaadu behind the lizard till it goes out. Bibi says it is easier to just spray them with mosquito repellent, and then they faint and die. But Amma says we have no right to kill any living thing.
So why do we have mosquito spray? Mosquitoes are also made by God na? Appa says they are Noah's mistake. Noah is only three-years-old, how can it be his mistake? Appa says some things cannot be explained.
I will ask Binny. Noah is his cousin brother na, so he will know for sure.
Tushka is friends with some flies I think. Every afternoon when she sits in the balcony, they come to visit her. Then she waves her paws round and round and moves her jaws snap, snap, snap. She does not bite them, only acts.
Appa says she is one drama queen because whenever she walks past the cupboard, she stops to look at the mirror. Then she makes faces and growls at her reflection. Amma says she is a pampered brat. I don't think so; I make her stand in the naughty corner if she is being bad.
Like in the morning today, she hid Appa's potty book in her basket. All of us know Appa becomes very, very unhappy and cannot do potty without his potty book. Even Tushka knows, I had told her. Appa went round and round the house searching for it. Amma didn't help him at all, she went on making dosas. She said he was only being silly and that he would settle down in the end with the newspaper supplement.
He did that only. And left the paper in the bathroom and Amma said she was going to wrap his lunch in it. Appa said he really liked paper masala dosas. I didn't understand it, but I laughed with him, because he always laughs at all my jokes.
Bibi found the book while cleaning. I made Tushka go to the naughty corner for five full minutes. I had to sit on her, but it is ok. Binny tried to sit on Coco once. He got four scratches and one injection. You should have seen how much he cried. I don't cry when doctor uncle gives me injections. Only boys cry I think.
Uma Iyer is a writer, a mother and a freelance consultant for marketing communication to several organisations. She was raised in Mumbai and currently lives in Delhi. Her retirement plan includes two dogs, many books and a shack by the sea.