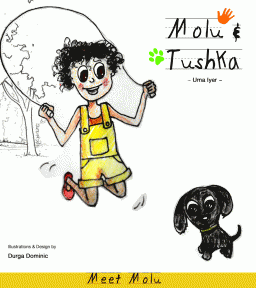 Uma Iyer has dreamt of Molu, a mischievous six-year-old for almost a decade now. She shares with the young readers of Unboxed Writers, 'Meet Molu,' a yet to be published first book of hopefully what would turn out to be a Molu and Tushka series. Agni, or 'Molu' as she is commonly referred to, is a six-year-old girl whose life revolves around her parents, her friends and her puppy, Tushka. The book is a view of the world around her, through her eyes and consists of 12 chapters. This is chapter 11.
Main Characters:
Molu: Six-year-old girl, brown skin, big black eyes that shine and sparkle, curly hair, extremely curious, chatter-box, loves chips, ice-creams, water and Tushka, usually dressed in shorts and t-shirts, occasionally considers wearing summer frocks.
Tushka: Approximately five-month-old puppy, black as the night with brown eyes, of indefinite lineage, tends to cock her head to one side when Molu speaks with her, loves chips, ice-creams, water, balls and Molu, wears a neon green belt around her neck with a bone medallion.
Etc. Characters:
Amma: The mother
Appa: The father
Bibi: The maid
Coco: The cat next door
Binny: The boy next door
Vacation Time
We have our vacations from next week. Binny is going to Mangalore for his vacation. Amma says his native village is there. I asked her where our native village was and she said Bombay. But Bombay is not a village only. Sometimes what amma says only amma understands. Also I don't know what native means.
I asked Binny about it. Binny is very smart and he knows all big words. He told me native village means where your grandparents live and you have plenty of relatives there and you go there for every vacation and have lots of fun. He also said there was the sea there. So amma was right then. All my grandparents and uncles and aunts and cousins live in Bombay; Rohan maama also. The sea is also there, but appa says it is more chee than sea.
Amma, Bibi and Tushka and I will go to Bombay first and then appa will come and then we will all go to many relatives house and eat plenty of food and laugh for no reason. I will also get many, many gifts. Riti akka and Sujoy and Diya and Priya akka and Anuj anna will all be there. They are my cousin brothers and sisters. They are Tushka's also. I think Priya akka's dog Major can be Tushka's big brother. I will ask akka if it is ok. Major is very strong. And he rolls on the ground only sometimes. He can teach Tushka to not get so dirty all the time. I have used all the tissue paper in the toilet to clean her up. I don't think Bibi is going to be proud of me for cleaning her up.
I also have a new small cousin brother. They were thinking of what to call him, I said we can call him Jerry, after Jerry mouse because in his photos he looks like that only but they named him Dhruv. I am going to take him many toys. Amma says I must try to not squash him like I squashed Diya last time. I was only hugging her. She is so beautiful and cuddly like a teddy bear. She scratches also like a bear, but it is ok, she is only very little. Amma was talking to Sneha athai and she said Diya is a little terror like Molu. I told amma that I was not a terror; she said I was right; terror was too small a word for me.
We are going by train, but appa is not sure if we can take Tushka with us in our compartment. I don't want Tushka to travel in a cage in a different compartment. Amma also is not very happy. Appa said not to start worrying now, he will find out some way. I know appa will do something. He always solves all problems.
I am going to leave some space in my bag. Just in case Tushka needs to be hidden, you know…
Uma Iyer is a writer, a mother and a freelance consultant for marketing communication to several organisations. She was raised in Mumbai and currently lives in Delhi. Her retirement plan includes two dogs, many books and a shack by the sea.