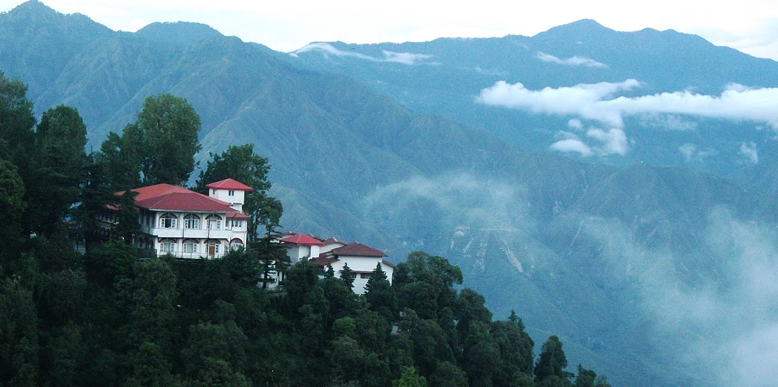 Moments of truth. Everybody has one or maybe several. So it is with times of inspiration. Everybody has that reference of sight, smell, sound, touch, feeling or piece of imagination that inspires. For me, one of the strongest times of inspiration is when the sky opens to pour its heart out in a manner unrestrained and unabashed. The good thing is, I am not the only one raising a toast to the rains.
From Bollywood's  many odes to rain to Gene Kelly's celebratory tap dancing to the cadences of Megh Malhar; from art to fiction to poetry, monsoon has always inspired positivity and romance and joy. But the charms of monsoon have everything to do with the place where you are. Imagine the traffic jamming, gutter flowing, drain clogging, unforgiving rains of Delhi and you will instantly know what I mean. My association with monsoon spans different continents and saddles varied time zones.Walking on an old street in quaint little Alexandria in Virginia to the tunes of talented buskers playing to the gallery with dogs of various shapes and sizes for company. Cruising over River Seine in the heart of Paris with soft rain, caressing my face like a companion. Raindrops falling on my head in oh-so-picturesque Engelberg at the foothills of Mt. Titlis in Switzerland, falling in step with the jingling of cow bells. The torrential rains in Amsterdam ruining our otherwise pleasant canal cruise – said to be the best way to see the beatific city. Or the angry downpour in Volderdam drowning all plans to seek vicarious pleasure in the country's famed and legal night life.
The best and the strongest memories are those that belong to the hazy realms of childhood and are excruciatingly sensory. The whiff of a freshly baked apple pie from a loving mother's kitchen or the fragrance of aftershave used by dad – certainly the strongest man in the world at that all-knowing age of five or six. Even the blotches from jumped in puddles on spic and span white uniforms,  mandatory at super-strict convents –have been hard to wash away from the memory bank.
The smell of earth after the first fall of rain has always been romanticized, in poetry and film lyrics and it continued to stay inspiring until that telling moment when a desensitized, science loving friend explained that it was actually earthworms that smelt thus and not the heavenly marriage of waters from the sky and mother earth.My fondest association with monsoon is in idyllic Dehradun, nostalgic memories of which act as perfect stress busters even today. Living in my mother's mansion had its privileges. For one, you could always see the many moods of Mussoorie – the Queen of Hills – through the day or night by just peering over the boundary wall and looking up to the nearest cluster of clouds on your right. Trying to spot Muss (that's what the hill station is called in local parlance) in the peak of monsoon wasn't easy but certainly a lot of fun. Raindrops falling on my head in misty Mussoorie as I walked the length of scenic Camel's Back Road was also an oft-repeated heady romance that brutally ended when on one such trek I was horrified to discover a leech crawl up my ankle.
Walking barefoot on the freshly rained-upon soft, velvety front lawns at home is an experience that beats squishing sand in between your toes at some touristy
beach. One of the nicest things about my mother's abode is its big windows with a view on every side. After having worked with the hospitality industry for more than two decades, I can tell you authoritatively that hotels charge a premium for a good view. So imagine rooms with wonderful views all around.
My mother had nimble green fingers and we seemed to enjoy, amply, the fruit of her labour. She had developed her backyard into a mini orchard with a myriad fruit trees –mangoes, peaches, plum, pears, apples, litchi, grape fruit, papaya, even grapes –providing shade from the summer sun, swaying in the spring breeze, shedding their leaves in autumn and lending that extra chill to the winter.
But it was monsoon when they looked their prettiest. Freshly scrubbed, in lovely shades of green, either cradling crystal clear pearls on their belly or with rows of raindrops hanging from their edges. It doesn't take the eye of an artist to appreciate this breathtaking sight. If I was deft with the brush then you would have seen several canvases titled RAIN in my home studio. But I chose to sing an ode to it right from the times of amateurish poetry to the time when as a professional creative writer with India's Greetings Card Giant I sold mush to couples in as far and wide places as India, Europe and the Americas.
Another nice monsoon sight is the lovely mass of white wild flowers that takes over a full hillside or comes up around brooks. The off-white wild mushrooms along the grass or by tree trunks are quite irresistible too. I remember picking the flowers and the mushrooms in my cane basket and bringing them home. They would sit pretty in a corner as I would get lost in my Enid Blyton or Lewis Carroll through the afternoon with the big toadstool, typically, assuming a character in my favourite story.
Monsoon is also about food. Who can resist the wafting aroma of hot pakoras or delicious samosas to be devoured with tangy mint chutney and a piping hot cup of tea? Back home I would often bake the most luscious of sponge cakes (and I do have the nicest of recipes) on a rain-soaked afternoon. The smell would engulf the whole house, as I would bring the cake out to the kitchen table, drive a knife through the hot center and serve it with melted chocolate. These days I do hot aubergine slices with salsa toppings or baked cheese on potato dices with a dash of oregano and chilli peppers. The result is as mesmerizing.
Anybody who loves the rain almost always has a story, a poem or a book in them. So, come rains and I am off to the family pad in my favourite valley to succumb to the misty, rain-drenched muse.
L. Aruna Dhir is a Hospitality & Feature Writer and Columnist for some of the world's highest ranked Hospitality publications including ehotelier.com, Hospitality.Net, Bizcatalyst360.com. Her industry writings are used as references in case studies and hotel schools. A Freelance Writer since 1987, Aruna is also an avid blogger (www.luckyaruna.blogspot.com and www.larunadhir.blogspot.com)