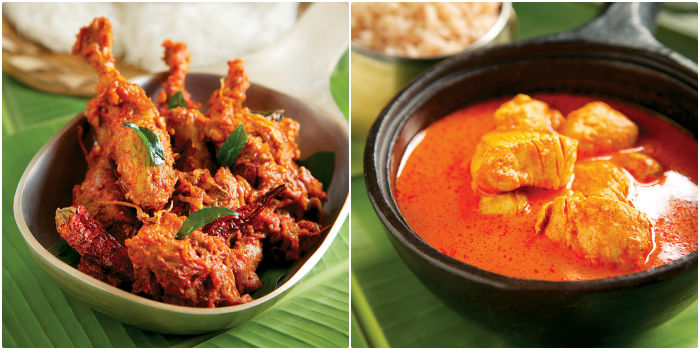 Spices, herbs, fruits, vegetables, pulses, grains, nuts, family favourites, history in a whiff and a mouthful. That sums up the experience of Syrian Christian food served recently in course after course at Karavalli (The Gateway Hotel), Bangalore's favourite coastal food restaurant. The only thing missing was the wood fire smoke filling up the senses. The food however reminded me why India is so incredible. A composite cuisine beyond the politics of exclusion and prejudice, absorbs various cultural strains, blends diverse influences into flavours that ring true and belong to everyone who cares to taste and sigh with contentment.
**
Chef Mathai Achayan who was asked to preside over the Syrian Christian food festival is a touchingly humble man. Someone who has cooked for over 25 years but does not have the arrogance of  calling himself a master chef. When asked about his life, he rattles off the names of his kids,  his dreams for them and the sheafs of treasured recipes he hopes to pass on to them , maybe as a book. I did not know whether to applaud his humility or to rue the fact that the food scene in India today is cluttered with celebrity chefs with more ambition than talent while men like Mathai remain in the shadows.
**
I have not been to Kerala often or explored the coastal belt too much but the traditional recipes that Karavalli digs up from unsung  home kitchens, educate my untutured taste-buds and teach me  to distinguish flavours . Though I still have not learnt the fine nuances that can help me trace back a dish to Kottayam or a Travancore recipe book or to Kollam, Allapuzhe and Chaganassary kitchens.
**
I am a vegetarian so the flavours of the Pork Roast and the Lobster Mappas escaped me but there was a lot to marvel at. The Vazahapoo Cutlet – or breaded , spiced patties of banana flower, the cute as a button Oggaraneda Aritha Pundi – or steamed rice, baby dumplings redolent with coconut and cumin. My favourite was a platter of button mushrooms with a pleasantly stinging black pepper seasoning.
**
The curries varied from a crowd favourite prawn dish cooked in spiced coconut milk and of course fish and there was a spiced chicken one with broiled coconut and for vegetarians, a nice preparation of jackfruit seeds and tender cashew and a bread fruit gravy of roasted coconut, jaggery and tamarind.
**
It was the dessert spread that blew me away with a steamed rice flour cake stuffed with grated coconut and jaggery, bamboo rice (one of the rarest varieties of rice) cooked in coconut milk and jaggery and a sweet  jackfruit and rice flour offering tucked like a candy in a leaf wrapper.
**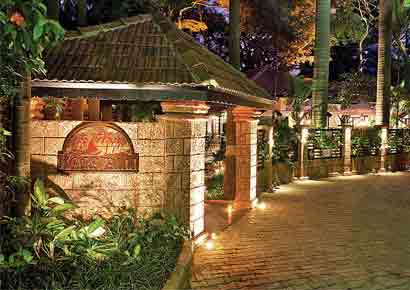 The Syrian Christian food festival is over but Karavalli is always dishing out refreshing regional surprises and though a high-end restaurant, it always feels like home because of the gentle humour of  resident mentor and master chef Naren Thimmaiah (he would never call himself that but we are!) who is always willing to share stories, anecdotes and recipes. Visit Karavalli for food that is honest, authentic and served with old-fashioned courtesy. You will go back for more.