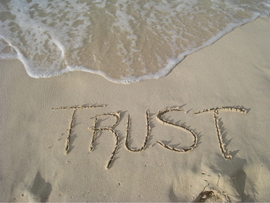 Love cannot endure without trust and respect.
Look back and see if those two very important pylons were holding up your now-broken heart, along with love.
If that was not the case, then it was not Love in the truest sense of the word.
Hence, your heart is not really broken.
It will recover in time and you will love again.
However, next time stand back and look at it carefully…
is it love or Love?
**
Mona Ambegaonkar accidentally strayed into the entertainment industry and has been a model, editor, documentary producer and director, writer and award winning actor in theatre, TV and films. She is now working towards writing and directing her own films and is acting in TV soaps and films as well. She has devoted her time in watching life, hers and other people's, has always taken at face value whatever she is told and has always asked and answered direct questions. From this springs the fodder that enriches all her work both on and off the screen. Recently, she has been touring the world with Ek Madhav Baug,  a play about alternate sexuality.