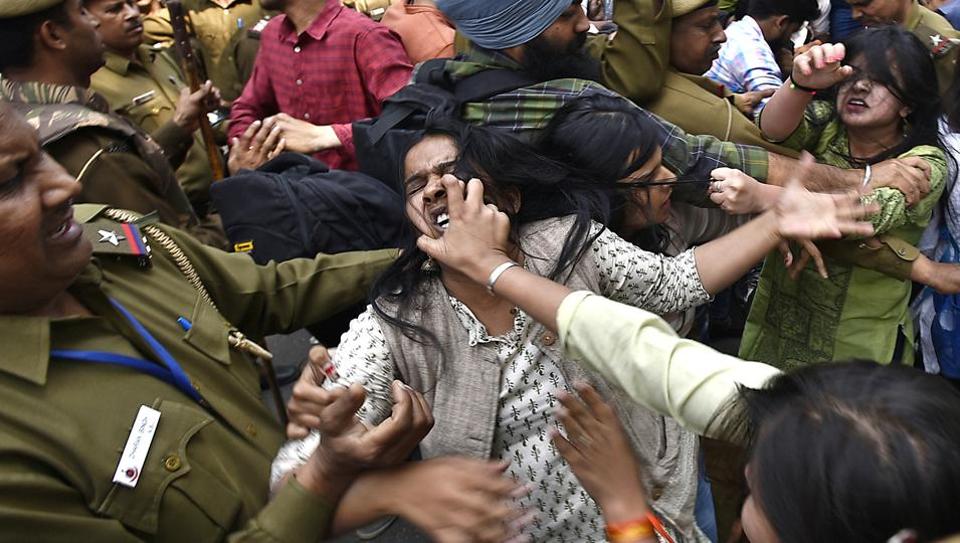 In a world where reductionist phrases simplify trends in unintelligent words, it is the season of supposedly "woke" men turning out to be predators. Case in point being Vikas Bahl, the man who directed Queen and also a few other successful men who were supposed to behave better than louts  hanging around dark street corners, waiting for a prey. But none of these instances have anything new to say about the power equations in the entertainment and corporate industries or even politics where privilege is supposed to give you the  license to invade boundaries and personal space and get away with it.
**
Who however gives such  men the power to misuse their privilege? Not necessarily just those who approve of what they do but also those who enable them by their silence and make sure that personal opinions never come in the way of convenience and profit. So when a small budget film called Jolly L.L.B became a surprise hit a few years back, Akshay Kumar (conscientious supporter of all worthwhile causes and the National Award winner for his performance in Rustom, a film about a morally upright Naval officer who kills a sexual predator) replaced Arshad Warsi in the sequel. No big deal, right? Except that just after the release of   the first film, an actor named  Geetika Tyagi had filmed an altercation with Subhash Kapoor, the director and accused him of molesting her. Even though he apologised on camera about his behaviour, it was Geetika who vanished into oblivion while the director continues to shine. I remember reading in a leading news paper, a counter story that discredited Geetika and accused her of  some kind of an ATM fraud that had nothing to do with Kapoor's confession on camera that he had in fact crossed a line with her.
**
Akshay and many other actors who moralise about respecting women also say nothing when women are targetted by political leaders and their armies of trolls or when moral policing takes away the basic right of young men and women to interact in shrinking safe spaces. Amitabh Bachchan who infamously penned a pedantic, patronising letter to his granddaughters about the freedom to just be before the release of Pink, took a veiled jibe when asked about the perils of speaking your mind on social media (in the context of Gurmehar Kaur) without taking any names, that if one is active on social media, one must be prepared for trolls. This is the same actor who once banned the press for writing uncomplimentary things about him. But he is not the point of the story. The point is that today, truth and personal freedom can be attacked and twisted to fit a popular narrative. Opinion is more popular than facts because facts can be twisted or obscured and opinions need no filter, no restraint, no boundaries.
**
These boundaries are  also being increasingly erased elsewhere.  The picture of a young woman being groped, her face being clawed by a hand in the fracas that took place in Ramjas College during what was supposed to be a peaceful event, defines in a way the times we are living in.  A report said, a girl student while being beaten was asked, "Kyon ..azaadi chahiye?" Because of course, slogans like Beti Bachao Beti Padhao and Selfie with Daughter are meant to be just trending hashtags. And if a daughter who was supposed to only smile and look compliant in any narrative that we chose to give her, should ask for "azaadi" (especially when propagandists have associated that word with sedition) or grow defiant thoughts that cannot be policed, we will beat her up,  send her rape and death threats online and frighten her into silence.
**
The irony is that not too long ago a film maker was attacked for "dishonouring" a fictitious queen in a film that is yet to be made but real women, those who are alive and have minds that tick and tongues that speak out, must be beaten too with the chants of Bharat Mata ki Jai ringing in the background because they do not fall neatly into the boxes predesigned for them. They are not obedient. They are inconvenient. They read. They march. They get angry and fight back and so must be shown their place. Compare what happened at Ramjas to the Women's March in the US in January where men and women marched in millions for reproductive rights, transgender rights, Native American rights, the right to protest, be heard and to challenge political divisiveness. Not just American students but citizens in town halls are gathering to ask questions and seek answers from their representatives.
**
In India though, be it the siege at FTII or what happened at JNU last year on the basis of a doctored tape (the slogans that served as pegs to persecute students were never chanted by them), going against the State designed narrative, the criticism of the government is suddenly being painted as going against the nation.
**
That is why it takes courage to be a Gurmehar Kaur today who even after being abused virulently, has reminded both her detractors and supporters in her latest blog post that the man who died in a war, in whose name, she was reviled and also supported, was not "our" martyr to appropriate. He was her father who came home with toys, drew stick figures for her in letters, who she clung to whenever he left in the hope that he would not. The man who never came back and  left in his wake, an interrupted childhood and a loss none of us can ever repair or replenish.
**
Even if we look beyond the misogyny inherent in such brutal targetting of women who speak out, what we are watching today goes beyond that. State oppression of dissent feeds on the idea that students or dissenters with opinions will break up the country and are anti nationalists. This kind of argument was used during the Tiananmen Square Massacre, where student-led demonstrations were mowed down in 1989 and also during the White Rose movement, a non-violent, intellectual resistance group in Germany.
**
What any thin-skinned regime fears more than anything else is a questioning collective of thought especially when it needs prejudices, blind adoration, division and fear mongering to thrive and also mass approval to gain power. And on its way to complete negation of any dissent, it needs to control and infiltrate the media, universities, the teaching faculty. It extols symbols above human rights, nationalism above citizens, populist schemes over real development. And it prefers fanning mass hysteria over engaging with real dialogue with citizens.
**
So let us go back to where we started. Whether it is the abuse of power by an individual like Vikas Bahl or a regime, whether it is a woman who is being violated or the idea of a free-spirited nation, we cannot just blame those who violate. We must blame those who enable such transgressors and facilitate such violations with their tacit support, their silence, their refusal to inconvenience themselves with rational thought. In the post fact era, we cannot choose a fence to sit it out while propaganda snuffs out the truth and also those who speak it.
**
Whether it is students being beaten on campuses, lynchings caught on camera or riot inciters becoming leaders or a media that grows increasingly toothless and servile, what is happening today is the normalisation of the unthinkable. With our silence, we are enabling those who are monitoring what we eat, how much we eat, what films we can watch or not, make or not, the cour
ses we can study and cannot, who we can and cannot critique on social media. This is not just a random offshoot of our indifference to the fine print beyond the shining slogans in screaming fonts. WE have caused ALL of this by accepting that the idea of India can somehow be detached from the well-being of Indians. Especially vulnerable citizens like the farmers, the tribals, the poor, women, dalits, rationalists, whistle-blowers and yes, even  soldiers. That politicians are not accountable to the citizens but citizens are accountable to the politicians.   Those who are okay with this  narrative need to know that this will not stop and some day soon they will be targetted next. The lust for power steamrolls everybody. Even its most ardent supporters.