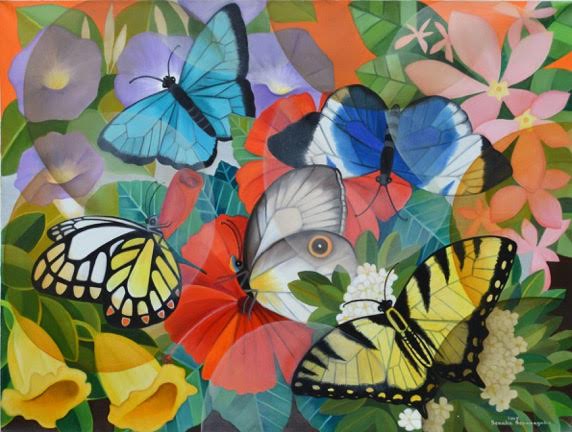 Gallery Sumukha marks its 20th year with an exhibition of paintings by renowned South- East Asian master Senaka Senanayake. 'Homage to The Rainforest' is on from August 1- 27, 2016 at Gallery Sumukha (24/10, BTS Depot Road, Wilson Garden, Bangalore, Tel: 080 2229 2230) from 10:30 am- 6:00 pm Monday to Saturday.
Senaka Senanayake has imprinted his presence across the globe with solo as well as group exhibitions from early childhood to date. His paintings are a message of conservation. For over a decade, his focus has been on the endangered rainforests- their plants, animals and even tiny insects. Dragonflies, butterflies, macaws, humming birds, torch ginger, elephants, engage the viewer in a dialogue. These works do not mandate text nor do they comply with theories of post colonialism, modernism, feminism or avant-garde. They simply exhibit their natural beauty thereby creating an awareness of their threatened existence. The rainforests of the Indian sub continent paid a huge price making way for tea plantations. With his current collection, Senaka invites art aficionados in the city to view the pristine glory of a dying ecosystem and help in its preservation at his show 'Homage to The Rainforest.'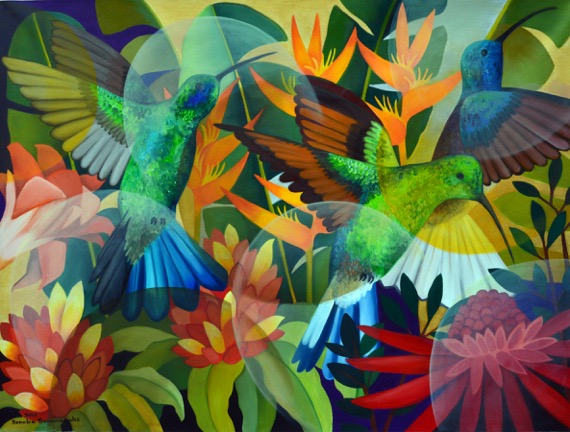 About the Artist
Senaka Senanayake (born 1951) is a Sri Lankan artist who attained fame early in life as a prodigy, for his works of art. He held his first international one- man exhibition at the age of ten, in New York. Although he painted copiously and held many shows both in his native country as well as aboard, it was only after he went to Yale school for graduation in Art and Architecture did he realize that his true calling lay in the field of art. Yale, at that time was pulsating with vibrant political activities and Senaka with his family's political background was naturally drawn to it. However, those years at Yale were more crucial for him as
an artist, for till then he had been largely self taught. But at Yale, the formal classes of art training expanded his knowledge. After moving back to Sri Lanka post Yale, Senaka immersed himself headlong into painting. His years of training at Yale had helped him evolve a mode of expression which had matured greatly. He also began to delve deeper into the various environmental issues concerning Sri Lanka. Of them, he was particularly bothered by the rapidly decreasing plight of the rainforests, and his present series of works are an attempt to engage the audiences by making them aware of this pertinent issue.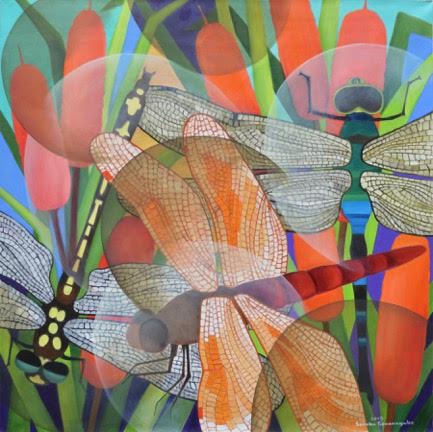 Senaka's work has been shown at most parts of Europe and South Asia with critical acclaim. Till date he has more than 100 solo shows to his credit, and numerous group shows in the countries of Europe, China, Australia, Japan, Singapore, Czechoslovakia, Korea and Egypt to name a few.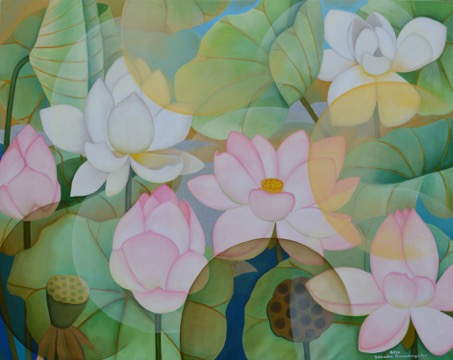 His work has been documented by Metro Goldwyn, British Movieton News, BBC TV, London, Yeo Soo TV, South Korea, TV Austria, and Star TV, India. Various journals, magazines and newspapers such as The New York Sunday Times, Washington Post. London Times, Weser Kurier, Germany, UNESCO Features, Paris, National Geographic Magazine, Asia Week etc., have written on his work.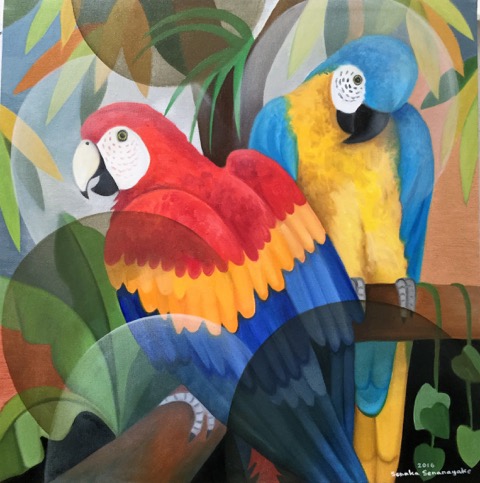 Senaka Senanayake plans to do many more shows focusing on the environmental crisis faced by us and believes that negativity never inspires any one and that is why he does not paint the destruction of the rain forests. His cousin, an environmentalist living in Ecuador, visited him in Sri Lanka about 15 years ago and inspired him to visit the rainforests. Senaka was a regular visitor to the jungles in Sri Lanka but had never been to the rainforests. When he visited the Sri Lankan rainforests, he saw for the first time ever- flowers, foliage, birds, butterflies, insects and reptiles that he had never seen before. He saw shapes and colours that he had never seen before. His cousin then informed him that most of this would disappear very soon and that they had already lost 70% of the rainforests in Sri Lanka.
That was a turning point. The present collection has been done this year. Senaka usually start his work directly on the canvas. First with a charcoal drawing and then with the oil paints. Quite often he keeps changing as he paints along. The time period depends on his mood and the subject matter. All the fauna and flora is as it is in nature and the only artistic license he allows himself is that he sometimes mixes the plants and birds from different forests together.