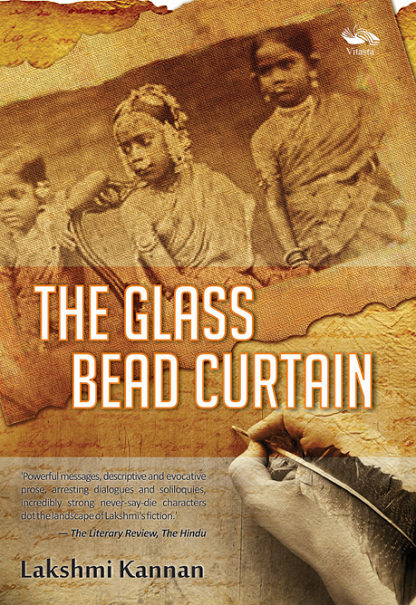 Lakshmi Kannan's debut novel in English charts the life of two remarkable women, Kalyani, a child bride, and Vishalakshi, a young widow in pre-Independence Madras. Both the women display admirable grace under pressure and at some point, the story becomes a celebration of woman power.
Kannan deftly highlights the various issues women had to face in Madras at the turn of the century. Whether it's the travails of a child bride, a child widow or deplorable social practices like a woman having to eat out of her husband's used plate or having to remain outside the house when menstruating, even seemingly trivial issues like a girl's height or complexion being used as a weapon against her, all of it is laid bare for the reader to wince at.
Her mother-in- law berates Kalyani for "growing so rebelliously and shamelessly."  Her mother does not allow her to play in the sun since it will make her dark . Ironically, Kalyani's daughter- in- law turns out to be dark- complexioned but her mother-in- law likens Ponni's complexion to "gold that is mellowed by the shade of a cupped hand."
Kalyani's official schooling is stopped as was the norm when a child was married off pre- puberty but she has the good fortune of being tutored by two women, an Irish missionary by the name of Susan O` Leary and her widowed aunt Vishalakshi whom she calls `athai.` O` Leary teaches her English along with a whole host of subjects, opens up the world through books for a small girl trapped at home. Her sage words to Kalyani to "learn to respect your own body, and yourself" is something the young woman absorbs unto herself and is inspired by.
Athai teaches her Tamil, her tutoring in the form of stories from books as well as songs. The picture of Athai having to lock the door even as she "offered music like a waterfall, bathing Kalyani in its clear, sparkling notes," is a poignant one. Athai lives a life of forced austerity due to her widowhood but this does not dampen her spirits. She reads copiously, regales her nieces with wonderful stories and later works tirelessly at Ice House, a home for child widows.
The book is peopled by strong women, most of whom work their way around the unfortunate circumstances of their life and emerge better for doing so. Kalyani continues her learning through reading, is able to ask and get in some measure some of what she wants, whether it is discarding the nine-yards- sari or becoming a badminton coach at a school. Athai attempts to live life to the fullest, however circumscribed it maybe. Kalyani`s sister-in- law Karpagam, abused by both her husband and her in-laws and sent home, is able to master English as best as she can in order to return to her marital home. The grandmother, Angachi Patti, is portrayed as a feisty progressive woman who does not hesitate to stand up for Kalyani when the need arises. Kadambari Rao, a child widow, remarries and becomes a famous badminton coach later in life.
The climax of the book has an interesting revelation concerning the true identity of two authors who write under a pseudonym, and is quite delightful. These brave women and their experiences make Kannan's book a very interesting read. The writer does not train a harsh spotlight on these women, though; hers is a gentler source of light, like a candle or a kerosene lamp, that illuminates even as it acknowledges the shadows.
The Glass Bead Curtain by Lakshmi Kannan, Vitastaa Publishing. 393 pages. Rs 299
Sheila Kumar is an independent writer and manuscript editor, as well as author of a collection of short stories titled Kith and Kin Chronicles of a Clan (Rupa Publications). She blogs at bindersfullawords.blogspot.com,themelekatbook.blogspot.com and  bindersfulla.blogspot.com