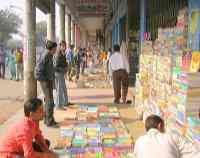 Kitaab Bazaar or the Patri (pavement) Book Market in Darya Ganj, in the walled city of Old Delhi, is an institution in its own right. The pavements of this oldest commercial hub of the Capital, which bustles with activity from Monday to Saturday, continue to be the venue of one of the largest known markets for used books every Sunday for the past 50 years and more. The market stretches along the pavements of the spine of Darya Ganj, Netaji Subhash Marg, for more than a kilometer, from Delhi Gate to the Iron Bridge. It houses more than 200 bookstalls every Sunday and attracts about 25,000 devotees on a normal business day, and is as much a part of the city's identity as Paranthe Wali Gali, Kinari Bazaar, or indeed, India Gate, Red Fort, Parliament House or the Rashtrapati Bhawan.
For the Capital's bibliophiles—indeed, bibliomaniacs—who haunt the hallowed pavements of Darya Ganj compulsively every week, missing their 'Sunday' is a major catastrophe, and there abound tales of domestic strife and family feuds that have arisen around their obduracy over it. The tales seem exaggerated, as they did to me before I became a part of it, but what happened on that first Sunday beguiled me into the cult of the Kitaab Bazaar fanatics, which I remain to this day.
My first impression of Kitaab Bazaar was that of an infinite ocean of books as far as the eye could see. I was first lured there at the age of 19 by the prospect of being able to indulge in my passion for buying books at prices that would not strain my college allowance. Regulars to the bazaar proudly declare that one may find any book in the English or Hindi language that has ever been published in any part of the world. And indeed, the place seemed like heaven to me on that first Sunday when I was initiated into the fellowship of Delhi's book lovers.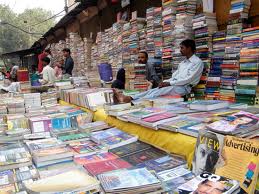 Having been told that, (a) the place was the Mecca of book lovers, and (b) that it was advisable to reach there in the early hours before the hordes rushed in, one winter Sunday in my 20th year found me confronting the vacant pavements of Netaji Subhash Marg at 8.15 in the morning, waiting for the appearance of a bazaar that officially opens at 9 am and goes on till 9 pm.
I had not long to wait, for by 8.30 am, the bookseller with their stacks and stacks of books started arriving and unpacking their wares, and proceeded before my fascinated eyes, to transform that bare stretch of pavement into my notion of paradise!
Finding myself almost the only customer at that hour, I prepared to browse to my heart's content, and soon realized that the claim of being able to find there any book in English or Hindi that has been published anywhere in the world was no idle boast! The sheer number and volumes of books of every shape, colour, size and subject was overwhelming, to say the least.
Forgotten friends would turn up in different clothes (covers), and just as I would reach out for them delightedly, some tantalizing newcomer would beckon invitingly. And very soon I was in the grip of a bibliomanic frenzy—much like an alcoholic running amok in a well-stocked cellar!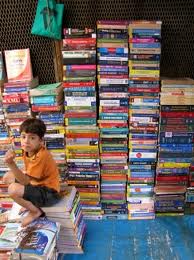 Grabbing greedily at Agatha Christie whodunits; browsing reverentially through Tolstoy's unabridged War and Peace (and then, looking incredulously at the unbelievable price, hastily buying and stowing away the hefty volume in a polybag); augmenting Dad's collection of Wodehouse humour back home with four well-chosen gems; even finding some items that had been missing from my childhood collection of Enid Blyton series—I was soon staggering around, weighed down by the unbelievable finds at unbelievable prices.
My saner self told me that it was sheer idiocy to go further down the market carrying a donkey-load of books, when I could very well do this another Sunday—actually, every Sunday, if I so desired (and I have been doing it most Sundays that I can manage). Common sense told me that I was already chin deep in trouble, as I now had the task of getting this load of more than 20 books back home, which was a round 20 kilometers away, and that too by DTC bus—the alternative was to blow up on the fare of an auto rickshaw all that I had saved on the books!
However, insanity, my guiding light for the day, egged me on to a final bookstall, and there the miracle happened! Browsing as usual, I suddenly saw a very familiar and popular book on childcare, the sight of which made my heart skip a beat. This was a used copy of an out-of-print book that had been my mother's parenting bible.
I had lent the book two years ago to a friend whose sister had been expecting her first baby and was desperate for 'some good literature' on the subject. The friend had left Delhi with her family about six months after the incident, without bothering to return the book, and I had been dreading the day when Mom would inevitably miss the book amidst the hundreds of books in the bookshelves at home.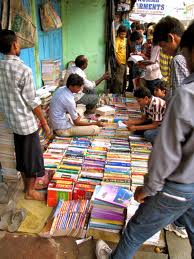 Now was my chance to replace the book without her noticing … after all, she was hardly ever likely to want to open it again, since all three of us were grown up. I rested the bulging bags of my purchases on the ground and reached out for the book. It felt absurdly familiar in my hands. And opening it at the cover page I found Mom's name scrawled across the top in her own handwriting! Madam's family had obviously 'disposed of' unwanted items before moving and Mom's book had found its way back home via the Kitaab Bazaar.
So, now I am a firm adherent of the bazaar, and never again will I doubt that one can, indeed find here ANY book in English or Hindi published anywhere in the world!