My first introduction to the unrepeatable David Bowie was Merry Christmas, Mr. Lawrence. A disturbing, cathartic, strangely uplifting film about war that was made in 1983  by Nagisa Oshima. Bowie played Major Jack Celliers, a mind bending war prisoner who is so free, nothing can break him. Not violence. Not torture. Not perverse mind games. Not even a deviant fascination that Captain Yonoi (Ryuichi Sakamoto), the young camp commandant, develops for him. There is something eating away at him but his spirit shines from his eyes and the sun paints a halo around his golden hair when he is buried in the ground up to his neck and then left to die. I was a teenager when I watched the film and the only thing that remained with me was Bowie's impossibly blazing light. How does any human, a mere mortal get to exude so much of something as indefinable as immortality?
**
I never forgot his piercing eyes, his tapering cheekbones and the way he imprinted everything he touched. Music, lives, pop imagery, the imagination of creators and consumers of art and culture and music. Like Freddie Mercury, he was unafraid to discard the idea of masculinity to redefine sexuality and the idea of what 'popular' is. He made his own rules. He broke his own rules. He made the music he wanted to. And recreated himself again and again not because the fame machinery demanded it but because he was his own muse, his own reference point, his own milestone and he wanted to go everywhere and be everything in his creative journey. Fame and the plastic souls it creates, the rise and fall of stars, drug dependence, limited aspirations, unlimited greed, delusion, schizophrenia, paranoia, he saw it all, got through it all and interpreted it all with drama, style, sarcasm. If he wanted to wear a dress, he did. He wore his many souls in rainbow incandescence without apology. The low points were many ofcourse including being caught at an airport with Nazi paraphernalia but he always knew when to pull himself back from the edge of doom. And he always had his many versions, his many talents and gifts to fall back upon.
**
He wrote songs ofcourse and could sing almost just about any note, played many instruments,  painted and acted and made life a celebration of choices, of mistakes set right. Like someone said in a tribute to him, his life and his death were both works of art. Of tireless tweaking, fine-tuning, refining, layering meaning, colour, nuance, joy and pain. nothing was left unlived. Or unfinished. His last album Blackstar was released on his 69th birthday, a few days before his death. There is a lot about him that is of academic interest to music historians but here is what fascinates me most about him.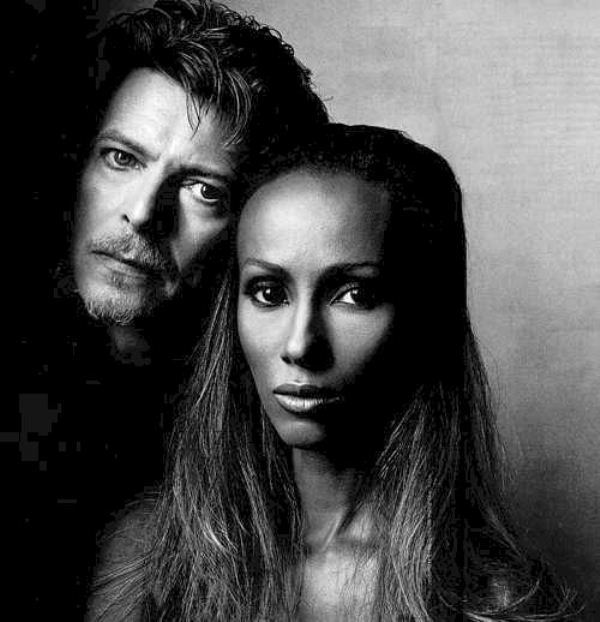 That he knew the real stuff and its value despite the madness that the music industry and its attendant demons can inflict upon artistes. He knew life. He knew silence. He knew how to be famous and how to be private. And how to love. Iman and Bowie were superstars from two different worlds. She was a Somalian beauty who had been discovered in her teens as a potential modelling superstar, had moved to the US, had seen money, fame, ramps across the world, veiled racism (she was once described as a white woman dipped in chocolate)  and had quit modelling at the height of  her fame because she felt there was no 'grace' in it.
**
He had grown beyond all the inconography dedicated to him by his cult followers and wanted perhaps a sense of home. Roots. There is a story that in his head he was naming his kids with her when they first met. She ofcourse was wary of the rockstar baggage and ran in the opposite direction. Till one day he  flew across all the distance between them and welcomed her at an airport with roses. It was unbelievable, she recalled years later. People were clicking pictures of him like crazy and there he was walking towards her, with roses. And those crazy, brilliant, twin-coloured, spooky eyes fixed on her. He really didn't care who knew why he was there. She walked towards him and never looked back. They were together till the day he passed on.
**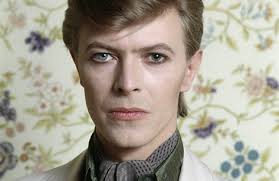 And the most incredible thing? They had too much class to make a song and dance about their life. About their nationalities. Colour. What it had taken them to surmount all the visible and invisible odds to be together and build a partnership. They lived quietly and there was never a time, she said once, when he allowed a reporter in their home. David Bowie sold a lot of things in his life. And ideas. And over 140 million albums. But not his soul. Never his soul. In the age of constantly tweeting and instagramming celebs, he was a class apart. No one knew his struggle with cancer either till he passed. It can be safely said that there will never be another like him and to paraphrase him, "As long as there's sun, as long as there's rain, as long as there's fire, as long as there's me, as long as there's you, there will be David Bowie." And his pure..yes that is the word..pure..genius. And like a devastated fan wrote on YouTube, "Take a fucking bow lad, you showed them all how it's done!! RIP."
Reema Moudgil is the editor and co-founder of Unboxed Writers, the author of Perfect Eight, the editor of  Chicken Soup for the Soul-Indian Women, a  translator who recently interpreted  Dominican poet Josefina Baez's book Comrade Bliss Ain't Playing in Hindi, an  RJ with Timbre Media and an artist who has exhibited her work in India and the US and is now retailing some of her art at http://paintcollar.com/reema. She won an award for her writing/book from the Public Relations Council of India in association with Bangalore University, has written for a host of national and international magazines since 1994 on cinema, theatre, music, art, architecture and more. She hopes to travel more and to grow more dimensions as a person. And to be restful, and alive in equal measure.