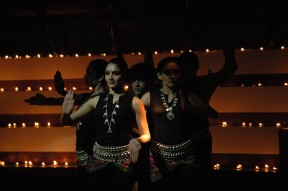 Watching a rehearsal of Prayog 3 at Delhi's Kamani Auditorium is like witnessing an enchanting duet between tradition and modernity. This particular act is titled Kaali and the eight dancers are enacting the movements of the ferocious killer goddess, Bhadrakali, as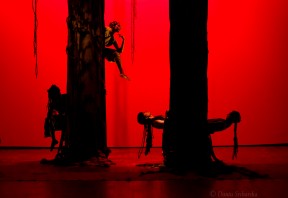 popularly known in the South. The haunting background music adds to the dark mood. Death is a celebration here, with streaming hair and a reddish aura creating a constant recurring image of a bird, as the winged carrier and vahana (messenger) to another world.
Prayog 3 is Bangalore-based dance trust Nritarutya's debut in Delhi today and a perfect example of the movements and thoughts that are currently being explored on the outer fringes of the Bangalore dance scene. Choreographed as a multi-media production which combines nuances of Kathak, Bharatanatyam, yoga, folk dance and martial arts, each of the four pieces in the show are inspired by our cultural heritage – myths, literature and painting.
 "We've choreographed the show based on a variety of themes, exclusively for Delhi, that mark our innovations in dance. This diversity and richness combined with our eclectic training in different Indian movement disciplines nourishes our art, gives it its unique rasa," says Mayuri Upadhya, Artistic Director, Nritarutya.
 The curtain will rise with the first piece choreographed Sathya BG which is titled Mars. The piece is energetic, very physical and nritta based with mainly male performers. Using a vocabulary of Bharatanatyam infused with physical theatre and contact work, the act aims to push the body to its creative limits in the context of dance. "Mars is a technical piece that aims to expose the many layers and dimensions that make up a man. As a composition, it brings to light the male energy, the confidence, the suppressed emotions and the child hiding inside a man. This piece utilizes a unique property of a seesaw in a metaphorical manner to highlight the various levels that exist in the societal representation of man, the shades of experience he lives through for survival," says Sathya BG.
 Adding to the mood of the piece will be the percussion expertise of Darbuka Shiva (of the band Yodhaka, Chennai) who has won critical acclaim for a wide range of percussion instruments that includes drums, congas, middle-eastern derbouka, bongos, Egyptian doumbek, African djembe apart from tabla, ghatam and dholak.
 The next piece will be Kaali, choreographed by Mayuri Upadhya, which is based on a story from Hindu mythology. Originally commissioned and performed for the Royal family of Mysore – the Wadiyars – the dance is classical-inspired and neo-traditional.
Kaali will be followed by Chittara, choreographed by Mayuri's sister, Madhuri, who is also a fine arts graduate apart from being a trained Bharatanatyam and Kathak dancer.
Chittara is a visually stimulating presentation that uses dancers to create striking images on stage drawn from a variety of kaleidoscopic Rangoli patterns while incorporating mixed media in the form of graphics and projections. The piece seeks inspiration from a typical south Indian morning, where one can hear Suprabhatam, see Rangolis being drawn in front of homes giving a spiritual welcome to the day. The music in the piece is by Rzhude David, former guitarist with rock band Thermal and a Quarter.  
The grand finale of the evening will be the theatrical Ardha Nareshwar, also choreographed by Mayuri with music by none other than Raghu Dixit of the Raghu Dixit project. "In our mythology, Ardha Nareshwar is the manifestation of Shiva that unites forces of male and female power, matter and energy to display the two-fold nature of the universe. Today, I believe each one of us is a contemporary Ardha Nareshwara who's earned this privilege and made a conscious choice to be here," says Mayuri.
With an approach that is bold and eclectic, contemporary and spiritual, Nritarutya's debut in Delhi is sure to bring the stage alive in the myriad colours of dance.
Prayog 3 will be staged at Kamani Auditorium, Copernicus Marg, New Delhi, at 7 p.m. on April 16, 2011. Entry is free.
Poonam Goel is a freelance journalist and has covered the arts for over 15 years. She contributes on visual arts for various newspapers, magazines and online media. More about her on Story Wallahs.