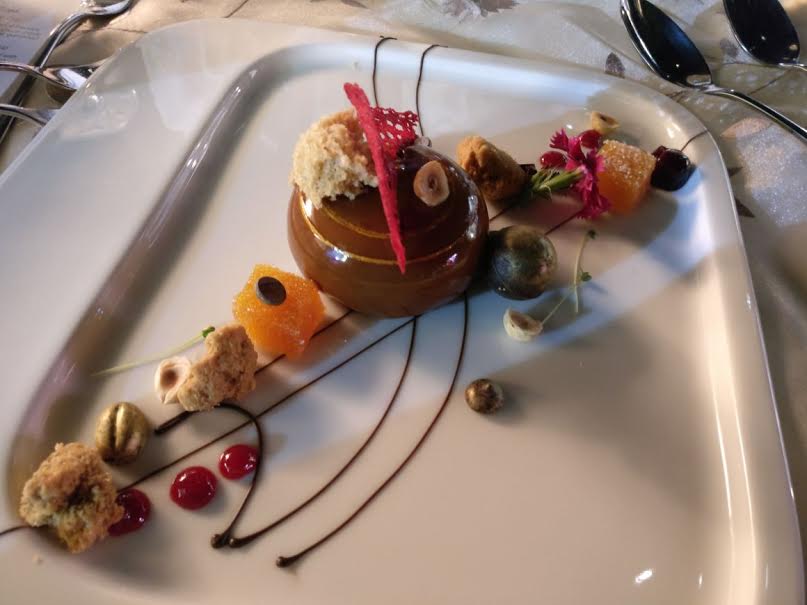 Fabelle, the luxury chocolate line from the ITC group launched its second chocolate boutique at the ITC Windsor, over a sit-down four course plated chocolate meal. Yes, you read that right, there were four courses of chocolate desserts, paired with music. It was certainly unusual, but appropriate if you consider chocolate as music for the soul.
The evening, organised at the elegant poolside of the ITC Windsor, was a great mix of  exquisite chocolate creations, paired with a musical set. Each dessert was accompanied by three instrumental musical numbers, ranging from Bach to James Brown to a surprise Bollywood number. The music was produced by a Russian trio of ladies, exponents of the flute, keyboard and saxophone.
Each course was whimsically named after musical movements – Allegro, Adagio, Minuet and Sonata. There was musicality in the presentation as well, when uniformed waiters approached the tables of 8 and presented each dessert in one co-ordinated moment.
The first or Allegro was an Entremet – Ghana milk chocolate mousse with caramel and banana crème.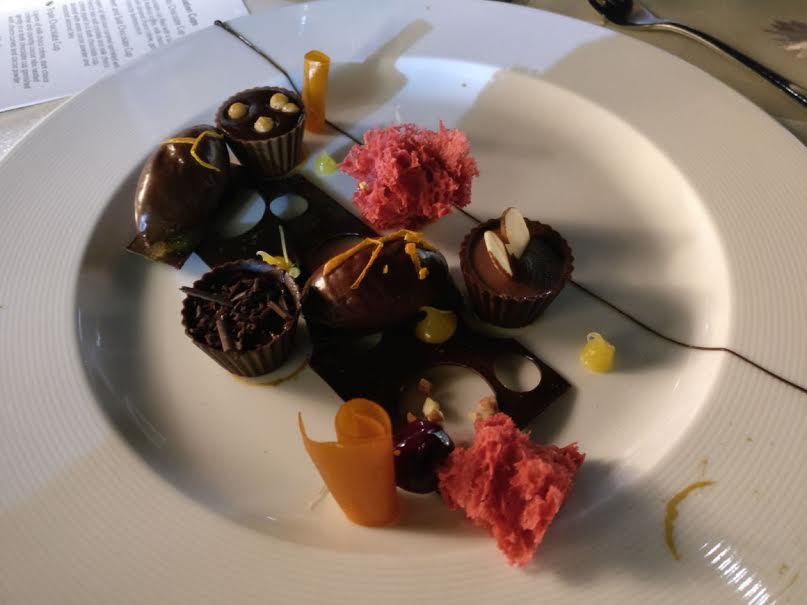 The second or Adagio was called Chef Creation Cups. These were little milk or dark chocolate cups filled with caramel, layers of chocolate, coffee, chocolate crème and dusted with sea salt, cocoa nibs and roasted almond bits. A nice touch were the candied jackfruit roll-ups.

The third or Minuet was my personal favourite, Ganache. Dark and Milk chocolate ganache, with an apple and cinnamon infusion served with berries and meringue.
After all this chocolate, to prevent chocolate fatigue, an amuse bouche of mint julep was served, an ideal palate cleanser.
The last course or Sonata was a beverage – Spiced Hot Chocolate. Madagascar chocolate drink with spice infusions served with Chantilly cream. This did'nt quite live up to expectations. The spice notes were rather faint and the Chantilly cream was an unnecessary addition.
The Fabelle chocolate lounge is a great place to pick up gifts or just indulge oneself in a great chocolate creation. The team behind Fabelle is certainly passionate about their chocolates and the resulting product is a testimony to that.
Kavya Thimmaiah-Prasanna is an Associate Architect with  Thimmaiah & Prabhakar and a mom. And when she is not building residential, commercial and recreational projects or doing up the  interiors of residences, she is busy travelling to exotic places, reading, sampling food and life and enjoying it all in equal measure.