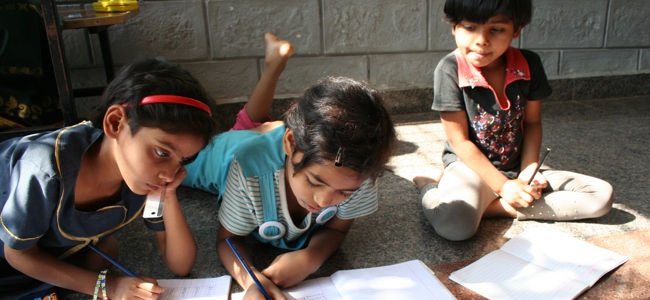 Many of us want to make a difference to the world but some of us already are and we can help such path-breakers  and support causes that resonate with us. Here  is one such NGO you can support. Here is a brief introduction to SDIE (Sahasra Deepka: Foundation for Education).
 **
SDIE  (
http://sdie.org/cms/
)was founded by Dr TV Ramakrishna and his wife Mrs Vijaya Ramakrishna in 1998. The mission of SDIE is to improve the lives of impoverished children in and around Bangalore. The children are between the age group of 4 to 6 years and are selected based on certain criteria as mentioned in their website. SDIE provides education from Kindergarten till 10th Standard for these children. This institute  which began as a residential school  has dormitory's for boys and girls, a kitchen with a live-in cook,  a house mother to look after the children and an administrator to look after the overall affairs of the institute. Few kids go to other schools which provide them an exposure to the outside world. Some children are academically doing well and some need individual attention. Apart from that they also participate in sports and various extra-curricular activities.
**
Running an NGO is not an easy task and there are always hurdles and challenges. The founders have accepted these challenges as a part of life and are enthusiastic about the cause that they have undertaken. There are certain areas where support from people is needed. It could be in terms of funds contribution towards children's education, food and clothing and miscellaneous expenses that go towards helping the kids.
**
SDIE has also initiated Outreach program. The aim of this program is:
– Education of the poor kids lacking in Government schools
– opportunity to identify the talents and provide incentives.
**
There are various entities that are missing in the government school curriculum. Library is one such entity which opens door to vast knowledge and thus enhance their general knowledge. This also enables children to understand and learn new things, create interest in the subjects that they learn at school. SDIE has a small library which comprises of several category of books ranging from general knowledge to dictionaries, world maps/ Atlas to books on science, Arts-n-crafts to cooking and gardening,  literature to social sciences. This library was funded by a Corporate and has been actively used by kids of SDI and government school kids of Sakalavara.
 **
Not only this, SDIE Outreach program also aims to teach music and dance, Arts and Crafts and instruments to these kids. The idea is to hire tutors who can teach these to the interested.
 **
In 2009,  a "Spelling Bee" contest was organised in a few government schools in the rural areas.  The contest winners were awarded prizes which encouraged kids to participate in the contest .
Support is also extended to those children who have scored above 89% in SSLC exams and are unable to attend college due to poverty. Currently the NGO has 5 such off campus children and it wants to reach out to more for which funds are needed. Support from individuals, corporates  is most welcome.
Here are the links to SDI website
Online donations can be done here:
**************************************
Sahasra Deepika Institute for Education
Vishwamanavaskhetra, Anekal Taluk,
Sakalavara Post, Bangalore – 560 083
Ph: (08110) 27803504