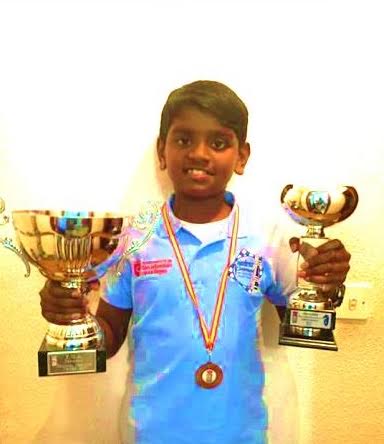 He stared down at the chess board for a few seconds before moving a pawn forward. In that short time span, Bharath's brain racked through games played previously, moves and choices seen online. He sifted through patterns and strategies learnt from numerous websites and his chess classes.
A rising star in the field of chess, Bharath has done Bharat (India) proud by becoming the Madrid State Chess Champion for the third time consecutively. He was declared champion in both, Individual and Mixed categories, in the Under-10 category this year from among 96 contestants at the tournament organised by FMA (Federación Madrileña de Ajedrez) at the Club de Ajedrez Promesas (Club of Chess Promises). ('Ajedrez' is Chess in Spanish). He was also the Under-8 champion in 2014 from among 125 contestants and was part of the winning 'Team of 5' in the Under-12 category in 2015 where he was the youngest player at 8 years.
With almost 30 trophies lining the rack of his living room, nine year old Bharath Karunanithi is no stranger to victories. Behind the impish smile is a brain that is planning and plotting the chess moves, on the chess board, online or on his mobile app, chess24; Bharath has chess on his mind even when attending Nature's call!
In the company of the King, Queen and Knights:Born on 7th April, 2006 to Bharani M Karunanithi and Regi Karunanithi, in Erode¸Tamil Nadu India, 5 year old Bharath moved to Madrid in 2012 with his parents, to the country which his idol, "Tiger of Madras" Viswanathan Anand has made his second home. Although Bharath has not met Anand yet, he believes that it is just a matter of time before that happens.
Following in his father's footsteps, who himself is an accomplished chess player, Bharath befriended the king, queen and knights on the chessboard at a stage when other children were watching cartoon figures on the television. But it was only in Madrid when he checkmated his father at the tender age of six, that his parents acknowledged his potential and enrolled him at a chess club called Club de Ajedrez V Centenario in San Sebastian de Los Reyes to further hone his chess skills.
Bharath first tasted success at the age of six years and nine months when he won his first tournament at the Municipal level. He puts in an hour, thrice a week, at his chess club. Before an upcoming tournament, he spends an additional hour with his father practicing and learning, assimilating and digesting the nuances of the game. Bharath's favourite tutor- other than his father of course- is Juan Carlos at his Ajedrez club.
Other passions: When not at the chess board, Bharath, like any other 9 year old, loves video games, Red Bull racing, football, swimming, table tennis, cycling and Tamil comedy shows. Chess is not his only love; he is equally passionate about scoring goals for his team on the football field. Unlike his father, who favours FC Barcelona, his favourite team is Real Madrid and he is a frequent spectator in the stands of the Santiago Bernabeu Stadium. Fond of cars, he plans to own a "Bugatti Veyron" one day!
A 4th grader at Colegio Castilla, Alcobendas, Bharath is a bright student with "Outstanding" remarks in all the subjects. He loves numbers and puzzles. "Can solve the Rubik's cube in less than 4 mins!" was his Facebook status some time ago. He is quite popular with his many Spanish friends and tutors who are a constant source of encouragement.
Theory and tactics go together: "How about champions, like Magnus Carlsen, Anish Giri, Garry Kasparov andViswanathan Anand? Do you watch their moves and follow them?" I asked Bharath over the phone.
"Yes, I watch their games including Levon Aronian and P. Harikrishna, understand their moves and plan some surprises and strategies on my own. I have so much more to learn and go a long way", Bharath answered.
"What does it take to become a strong chess player?"
"Apart from concentration, memory and patience, using theory to play the opening and the end game but being innovative in the middle game using "tactics", is my winning move", confided Bharath.
That is a lot of wisdom from a nine year old but Bharath is indeed patient, focused and dreams big.
Pillars of support: As proud parents, Bharani and Regi celebrate his wins but also those tournaments that he doesn't win, to acknowledge his efforts at each tournament.
"Bharath is a born leader" is what they had to say when I asked them how they see their nine year old. "He does get upset on losing a crucial match but he is quick to learn from his mistakes,"they added.
"NOT TO CRY for anything and in any situation," is his father's mantra. Over the years, with the help of his motivating and guiding parents, Bharath has overcome his initial nervousness and is not afraid to challenge even those rivals who might have defeated him the last time.
A Grand Master in the making?
The game of chess is demanding for competitive players. One has to be very committed to stay on the top. Playing tournaments, attending chess classes, learning new patterns and strategies along with attending regular school is part and parcel of an everyday routine and Bharath does all this with great panache.
Chess is indeed believed to have originated in India, sometime in the 7th century, but the roles and powers of the chess pieces were defined in Spain in the late 15th century.
Following Grandmaster Vishwanathan Anand's worldwide success, Bharath's feats in the chess arena in Spain are perhaps serving to revive this connection between India and Spain in the field of chess.
Meenu Monga Singh had moved a few years ago from Mumbai, where she used to teach, to Madrid. She loves to write about experiences from around the world and blogs at  https://meenumongasingh.wordpress.com/