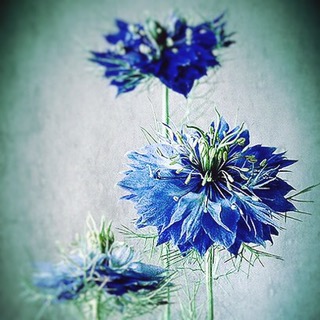 I dreamt of blue flowers
Growing out of snow
In a mountain field
Bathed by a warm sun.
They were majestic
Impetuous
With their deep indigo blue
They pierced winter
In a wild and beautiful manner
And colonized the field
with their radiant truth.
You could only feel taken in
By their magnificent will
To show the world
How strong and graceful
You could be
At the same time.
Even the sun chose to take a small peak
and sent a sweet and gentle ray
to pour itself upon these gorgeous
Drops of dazzling blue.
***
Featured image source: Love-in-a-mist by cbfarrell2003
Nathalie Rizk  is a graphic designer and copywriter. She blogs at https://nathalierizk.blogspot.com and https://bittersweetscribbles.wordpress.com/