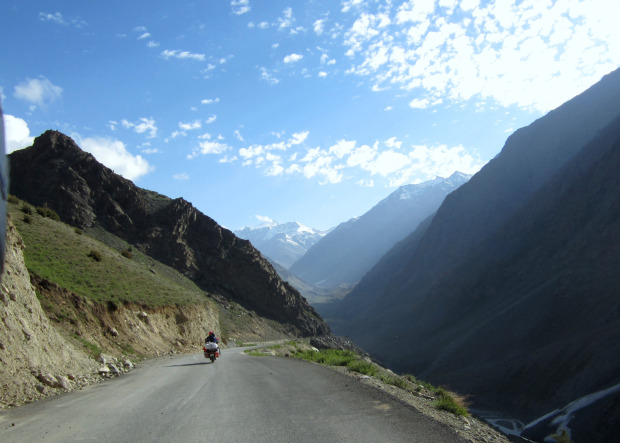 A few weeks before we were supposed to leave for our first bike trip to Ladakh, I found out that we were missing the famous Hemis festival by just two days. Though I felt miserable, I soon realised that these mistakes were bound to happen. After all we were complete novices to serious bike trips and the unnerving terrain. The ride to Ladakh is considered to be the Holy Grail for motorcyclists and one cannot expect it to be absolutely smooth at the first go. So I started listing down all the big and small things that I learnt from our first experience of biking in the Himalayas. I hope that this guide helps you plan your trip better.. so that you don't repeat some of my mistakes (but make your own).
**
Pre-preparation:
Check Ladakh festival calendar before finalizing your travel dates–A big part of Ladakh's beauty is its people and the monasteries. The festivals bring both together and give a glimpse of life that's exclusive to the land of Himalayas.
**
June to September are peak travel months for Ladakh– Roads to Leh open by May end. I'd recommend starting your trip only by the second week of June. The roads are clear, traffic is not at its peak and the snow-melt is at its minimum unlike in July and August.
**
Duration of your trip – Ladakh is vast and the distances are huge. Key tourist spots are at least 5 to 6 hours away from Leh city. Plan your holiday keeping in mind that most places you wish to visit in Ladakh will involve an overnight trip – Nubra, Pangong Lake, Tso Moriri and the like. Plus don't forget to give yourself a day (or two) of rest after reaching Leh, which is essential for acclimatizing.
**

Physical fitness – Get yourself fit. Start working on your lower back because the ride is tough and bumpy. Cardio exercises are a very good idea because the air is really thin on high altitude passes like Baralach La, Taglang La and Khardung La.
**
Camera equipment – If you have an SLR, don't even think about leaving it behind. But also keep small point and shoot cameras / mobile phone cameras handy. Multiple cameras are ideal because charging points are hard to find. The ride gets dusty, bumpy and it rains or snows without warning. The smaller camera is practical for clicking the changing landscapes during the journey and the big SLR can be taken out once you have reached your final destination.
**
Protect your SLR – If like us you are carrying your luggage on the bike itself (without having the luxury of a support vehicle) then make sure you pack your SLR well inside the backpack, cushioned from all sides in order to protect it from dust, rain, snow, etc. Also, falling off the bike is a reality. Hence the need to keep the SLR cushioned and covered in a plastic zip lock bag. Keep some Silica gel pouches in your camera bag to protect it from humidity.Note – Silica gel isn't easily available. I got some from a hand-bag showroom. Rain and dust protection covers for the camera and the lens are available in the market.
**
Health Watch

Carry a Medical Kit – Paracetamol, Combiflam, medicines for motion sickness, allergies, anything that you think you might need. Diamox for AMS worked for me, but do consult your doctor before taking it. Also carry band-aids, sunscreen, ORS solution, etc.
**
Pack some Emergency Food – Chocolates, energy bars and dry fruits should be with you at all times. Carry 1.5 to 2 litres of water per person at all times.
**
The Bike Ride- 
Spend a day in Manali preparing and testing your bikes. Make sure you have spare parts, toolkit, etc in case of break downs. Learn the basics from the mechanic, you don't want to be stranded in that environment.


**
Gum Boots are a must – There are a lot of streams on the way to Leh and as a pillion rider, I had to get off the bike and walk through the streams and slush. The gum boots were a life saver. You can pick them from Manali market.
**
Loading the luggage on the bike-This  is tough and time-consuming.Keep an additional  half-hour for  tying and securing the bags on the bike.  
Carry extra bungee cords and cover your bags with plastic to keep them from getting wet in flowing streams and slush.
**
Be wary of symptoms of Acute Mountain Sickness –During the trip, you may experience headaches, nausea, breathlessness. There could be instances of fatigue and lingering headaches.  All of us had some signs of it. Stop as soon as you feel discomfort (Don't stop at the highest altitude, descend to a convenient spot. keep medication ready and stay hydrated).  
**
Petrol pumps are few and far between- On the Manali-Leh route, the next petrol pump after Keylong is a good 375 km ahead so carry fuel.    
**
Day 1: Manali to Jispa:         
Start early: Around 5 or 5:30 am as Rohtang pass is infamous for traffic jams. Quick fact – Rohtang stands for soul torture, a name that couldn't be more apt when you see the traffic jams.
Day 2: Jispa to Pang: There are two passes on the way – Baralach La and Lachung La. 
**
Day 3: Pang to Leh: You cross Taglang La pass.
Many sites recommend stopping at Keylong on day 1 and Sarchu on day 2. But that makes day 3 extremely long and tiring, requiring one to cross three high altitude passes in one day.
Note – Stay options at Pang are not as good as those in Sarchu. You might need to share one large tent with a few other travelers. That's the only reason, I guess, more people prefer laying over at Sarchu. But I would still pick Pang over Sarchu.
**

While in Leh / Ladakh: 
Inner Line Permits – According to the latest rule, Indians do not need to take any special permits. But we do need to fill a declaration form when going to Khardung La / Nubra valley. The forms are available near the taxi stand in Leh. Make sure you pick this form on your way up to Khardung La as it is not available later at the pass,
HP registration bikes are not legally permitted in Leh. Check with your bike rental company in Manali on how to navigate this issue. We were given permit stickers from the local bike rental association in Leh, which allowed us to continue using our HP registered bikes in Leh / Ladakh.Useful websites on Leh, Ladakh that helped me plan this trip better:1. Devil on Wheels 2. Thrillophilia. 
**
Travelling from Manali to Leh on a bike is a messy, tough, gritty endeavour but at the same time it's an unbelievably rewarding experience. Watching the landscape transform from green hills to rugged plains to desert mountains, riding through the snowy passes, staring in awe and wonder at the frozen lake… these are feelings that words can't describe. You have to go experience it yourself, and ideally on a bike! So, do you hear the mountains calling?
**

Bharti believes that every suitcase tells a story and she likes sharing these stories on her blog 'Suitcaseofstories.wordpress.com'. In addition to writing about travel, she also likes taking street photographs with her phone camera.