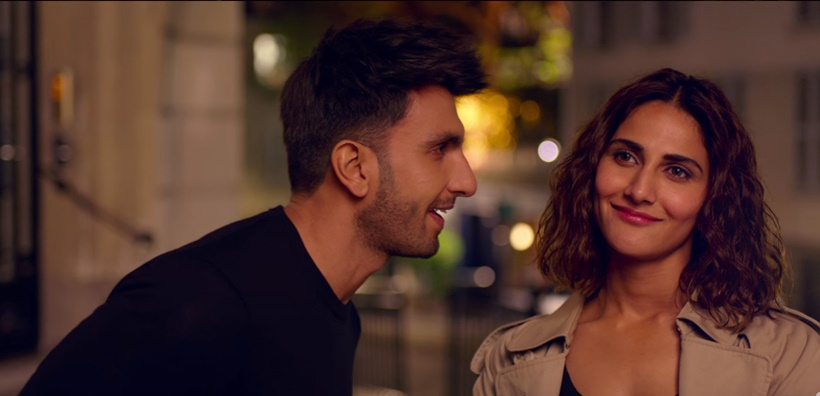 It is official. The award for the most unlikable male character of 2016 will be shared by Ranbir Kapoor's Ayan in Ae Dil Hai Mushkil and Ranveer Singh's Dharam in Befikre. These are clueless boys with the emotional and intellectual depth of a nine-year-old with the tumultuous hormones of a teenager and are paired with women who are supposed to mother and mentor and shape them into men. There was not one moment in Ae Dil..to convince us why someone like Aishwarya Rai's Saba (a poet who lives in a glittering apartment after having walked out of a marriage for supposedly a good reason) would fall for an unevolved, hugely unattractive boy child who clicks her pictures creepily when she is asleep to send them to the girl he can't get over. There is a telling scene in the film when Anushka's Alizeh picks Ayan up at a bar and instantly realises he is not her type when he tries to snuggle against her like a baby. She also describes him as an infant in a pram to Saba much later. In Befikre too,  Dharam calls his ex-girlfriend 'Maa'…and with good reason.
**
The one thing that is common to both men is just how unintelligent they are. When Vani Kapoor's Shaira first hooks up with Dharam, it is after a chicken wing eating dare and there he is, wolfing down a big pile with the sauce trickling down the corner of his mouth. Yes, irresistible. And Shaira is won over and she attributes her momentary loss of self-control to his "goofy baatein and sexy dance moves," or something close. Yes, because that is what women are looking for in 2016. Men who are willing to eat chicken wings by the dozen, slap police officers (a gag inspired by the 1960's romcom Love in Shimla), wear just an underwear to a formal party and are brave enough to make out in someone else's hotel room. You get the picture. In this alternative cinematic universe, men don't need to work hard to achieve anything. They need no world view, no ambition, not a semblance of education, any conversational skills or adult self-awareness. They remember songs and dialogues from Yash Raj and Karan Johar films, they can walk in slow motion and dance to let their inner Madhuri out (that is a thing in the Johar and Yashraj cinema, trust me)  and that is enough to get them by.
**
So no, the Aditya Chopra, Karan Johar template of cinema that struck gold in the 90s, can't really figure love in these times. So the two do the next best thing. They still take cues from Yash Raj  (In Ae Dil.., the lead pair recreate a Chandni moment in the mountains and in Befikre…Dharam's white girlfriend does a Kamli strip routine around a pole) and now there is also the Imtiaz Ali modern love anthology to refer to. The happy break ups. The slow, creeping dread that a casual break up can break your heart after all. The long conversations and strolls through different life phases.
**
And maybe, just maybe, Chopra and Johar wrote their recent scripts together. So there is Paris where both films set their key sequences. There is the staple designer wedding. While Johar channelled Imtiaz Ali in the coming of age story of a wannabe rockstar post a heart break in Ae Dil.., Chopra recalls Love Aaj Kal in Befikre. And still in love with their own films, they blow kisses to their own biggest hits every once in a while. And just to show us that he has evolved with times and so has his heroine, Chopra gets his Shaira to say that the 'palat'  moment from DDLJ is passe. Now women just look at the retreating backs of men to look their posteriors. Yes, that just about sums up our evolution.  That is how far we have come. But have we, really? Because even someone as self-willed and as proudly French Shaira who has no inhibitions like Chopra's most iconic heroine Simran, ends up finally bonding with her lost Indian roots over an aloo parantha before her wedding to a man she does not love even though he is perfect for her. She smiles wistfully at the one she broke up with for being immature and uncouth just because he is doing a 'pairi pauna' routine with her parents and talking pakoras with them at a French wedding.
**
Post an atrocious climax where a church wedding (when the heroine is not Christian and neither is her fiance) is turned into a circus, there is a resolution but we learn nothing about the deep, complex and occasionally painful subtext that love brings with it in our lives. But then these are not real people. They are caricatures of Indians living abroad who even in a post Brexist world are not grappling with racial identities and politics and the limits of their emotional and political beliefs. In Paris, they dance to Hindi songs in Karaoke bars, have an Indian comedy club to crack desi jokes in, sing loudly in quiet Parisian streets at night, holiday in yachts. The hero from Delhi thinks of every French woman as a possible conquest and says this once, "If a woman laughs..she is yours," is genuinely tickled to see a same sex couple and hopes that he might see in life what was available only in porn channels. He cons a single white mom into a dinner date and boasts crudely about his Indian jungle boy prowess, calls his ex girlfriend "chudail" and clowns around in a super market looking for the cereal he can't remember the name of and the women in the film and we in the audience are supposed to fall in love with him.
**
There is also more than one gay joke and loud musical cues for every situation that Chopra and Johar love inserting in their films to tell us, "this is funny, "This is ironic."  In the end, the film is cold like a bowl of breakfast cereal and you care nothing for the protagonists because they neither feel any emotion deeply, nor do they convey it. Vani Kapoor brings a certain fragility and wounded strength to certain moments and seems in control of how much flow and restraint she wants to bring to her character but Ranveer Singh is a huge disappointment. He is loud, occasionally reminiscent of Amrish Puri at his most operatic, unappealing and self-indulgent. Bringing us to the realisation once again that the men in modern romances in our cinema need to keep pace with the world or atleast the women they are paired with.
**
And yes, cinema at its most entertaining is an escape from reality but it cannot exist in a recycled confetti box. It is exhausting to  see vapid young people who are totally disconnected from genuine hardship, real life and emotions that run dark and deep. Befikre for sure lives up to its name. It does not care for anything or anyone. Not the young audience that feels no nostalgia for the DDLJ or Kuch Kuch Hota Hai days.  And it knows nothing about rebellion that is not just about red tinted hair, denim shorts, wild dares but discomfort, fear, pain, courage and hope  in a world where it is becoming increasingly tough to love those who are unlike us. This is cinema that professes to bungee jump into the unknown when in reality, it only flexes its toes in a rainbow tinted bubble. The only brave and truly refreshing thing about Befikre is the opening montage about couples daring to love against all odds. If you must, go and watch that singularly uplifting moment because after that the film sells itself out to yet another safe formula for a surefire hit.
Reema Moudgil is the editor and co-founder of Unboxed Writers, the author of Perfect Eight, the editor of  Chicken Soup for the Soul-Indian Women, a  translator who recently interpreted  Dominican poet Josefina Baez's book Comrade Bliss Ain't Playing in Hindi, an  RJ  and an artist who has exhibited her work in India and the US and is now retailing some of her art at http://paintcollar.com/reema. She won an award for her writing/book from the Public Relations Council of India in association with Bangalore University, has written for a host of national and international magazines since 1994 on cinema, theatre, music, art, architecture and more. She hopes to travel more and to grow more dimensions as a person. And to be restful, and alive in equal measure.