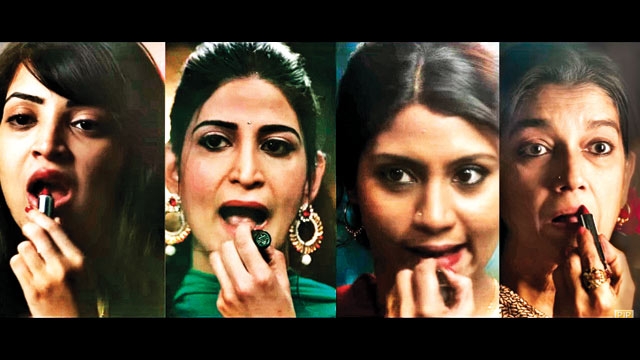 A girl in a burkha (Plabita Borthakur in her breakout role as Rihanna) in search of a stairway to heaven and a Led Zeppelin high, wearing her real self like a shade of red on her lips, and then wiping it off to disappear into the dungeon like tailoring shop of her father where at the end of a long day, she is always told, "Don't forget to switch off the light." Because light, when it burns in a woman's spirit is wasteful and dangerous.
**
A grey haired, middle-aged woman (The brilliant Ratna Pathak Shah capturing the spirit of both a wistful fictitious heroine lusting for her neighbour and a woman who wants to catch up with life) , addicted to romance novels, so forgetful of her true self under layers of denial that when she is asked her name by a swimming instructor, her first response is, "bua." And then she remembers that her name is 'Usha' and she reclaims it with a rapturous surprise, as if finally realising that she is not just a shadow but real.
**
A beautician (Aahana Kumra playing  Leela with fearless abandon and spunk) who has to choose between a reckless lover and a romantic, dependable fiance and the well-being of a mother (Sonal Jha in a brave cameo) who has posed nude in art classes through years of discomfort and desperation to raise her. We see her once driving away on a scooter, with tears streaming down her face as if to acknowledge that a woman no matter how free-spirited, can never really be in the driving seat of her own life. Or can she?
**
A wife (Konkona Sen Sharma playing Shireen with both compliance and defiance) who dares to dream beyond a marriage that is nothing more than a series of abortions, the infidelities, violence and dehumanising lust of her irresponsible husband who asks for a remote and some titillation on the side when she wants to have a conversation.
**
And a film after years that finally speaks of women as if they matter. As if they are not just frills festooning testosterone fuelled box-office engines. As if they can drive a film, their stories, their lives, destinies if they so want without the shame and the guilt that is always heaped upon them when they dare to break the rules. A film that asks, "Why are you so afraid of our freedom?"
**
Alankrita Shrivastava's Lipstick Under My Burkha could not have asked this question at a more opportune moment because women's reproductive rights, their right to be in politics, to go beyond the notions of honour and dishonour, freedom and propriety and decorum to grow into self-willed lives are under threat all across the world. At a time where radicalised voices in politics, religion, entertainment, the arts are censoring what women think, wear, say and do, an unapologetic film by a woman about women needed to be made.
**
Hindi cinema has for most part, steered clear of complex women with an appetite for life though in 1971, Shivendra Sinha directed a film called Phir Bhi, where Partap Sharma (playwright, novelist, commentator, documentary film-maker and also Tara Sharma's father) starred with Urmila Bhatt. The film was about a young woman who is traumatised by her middle-aged widowed mother's "promiscuous" behaviour especially because she adored her father and feels that her mother is dishonouring his memory. The film finally ends with the mother making peace with her life because of course, her desire for something other than a lifetime of widowhood was a symptom of deep dysfunction. Still,  for its time, the narrative was considered hugely progressive because it showed a widow, possibly for the first time in Hindi cinema, dealing with her sexuality. Vinod Pande's Ek Baar Phir and Basu Bhattacharya's Panchwati (both starring Dipti Naval) were uneven but brave films where the women broke free from oppressive marriages, refused to be just passive sexual objects, and found love, creativity and self expression on their own terms.
**
In 1973, Rajendra Singh's Bedi's protagonist in Phagun (played by Wahida Rehman) also deprived of a fulfilled youth, complicated her daughter's marriage because she wanted to at times be the wife she could never be and sometimes a mother to a man who was her son-in-law. Mahesh Manjrekar's Astitva was a weak, half-baked attempt to understand a woman as a sexual being and a woman's desire to be something other than a predesignated role is often treated with confusion in Hindi cinema. In Trishna,  a 1978 film directed by Anil Ganguly, a lonely wife (Rakhee) discovers conversation and laughter with an architect (Shashi Kapoor) but soon even this spirals out of control into a hot mess of a wanna be murder mystery. Even in Aparna Sen's  Parama, the protagonist pays for an extra-marital affair with a temporary breakdown of her sanity though at some point, recovers enough to refuse to be burdened by the guilt of ending a marriage that never was.  Mostly though, women are just afterthoughts meekly serving either tradition or the male gaze in our films.
**
Lipstick Under My Burkha however looks at a woman in her entirety, not as an aggregation of  body parts,  or as a  consumable fantasy, but as a mindful, lustful, joyful, free being who does not exist only to serve or to please and who is sometimes forced to steal, lie or negotiate to get what she wants, is often beaten back but still finds enough resilience to hope and fight another battle and then another. That Mr Pahalaj Nihalani who routinely passes lewd films objectifying  women was so threatened by a film where two women discuss in searing, unvarnished words, the futility of seeking romance and sexual fulfilment in a lopsided convention like marriage, shows why we need more stories with women's perspectives. Films where male superstars (Amitabh Bachchan in Pink) and Akshay Kumar (in Naam Shabana) do not hijack a woman's journey and her voice to speak for her. That a film this gritty, and bustling with the energy of real locations and  flesh and blood women with backbones who speak for themselves has been made, without a single mainstream actor or staple box-office hooks and by a woman unafraid to own her cinematic voice, is a huge triumph.
**
In the end, that is the most liberating part of the film. That Ratna Pathak's Usha even after being  humiliated wants to read the final chapters of a romance novel that has been interrupted and ripped to pieces. That the light in the eyes of  the burkha stitching, Led Zeppelin singing rebel  has not yet been doused even after she has been caught in the middle of her twin identities. That Leela knows the price of both freedom and conformity and may finally choose what makes her the happiest. That Konkona Sensharma's Shireen who has just been raped for the umpteenth by her husband, may just walk out to seek a meaningful life.
**
There are a few weak scenes. The scheming girls on the heels of Rihaana, the violent shaming of bua ji's secret life all seem contrived but there are also fantastic insights into the way our social structures impart privilege to men and subservience to women. Like that moment when Leela is taken by her fiance to his household where men are watching TV and women are busy with chores. Or the way Shireen feels compelled to fight for her marriage by confronting the other woman rather than her own husband. Or the way a middle aged man refers to Ratna Pathak Shah as "buaji" or the younger man who mocks her desire just because in our society a woman over 40 is always undesirable and a man, no matter how old,  is always eligible. The music by Zebunnisa Bangash and Mangesh Dhakde, sharp dialogue writing by Gazal Dhaliwal, the frenzied yet intimate cinematography by Akshay Singh and the crisp, unwavering editing by Charu Shree Roy add to deviant deliciousness of the film.
**
The male characters played by  Sushant Singh, Vikrant Massey, Shashank Arora, Vaibhav Tatwawaadi represent bits and pieces of  patriarchal attitudes that decide the roles women will play. That they will be lovers, mothers and daughters and wives and aunts and widows bound to responsibilities and accountability and approval. But even though Lipstick Under My Burkha voices unaffectedly, the many challenges women face everyday, it does so  without turning them into victims. It instead gives them the dignity and the volition to decide who they are and what they will think of themselves even after they have been shamed, hit, brutalised sexually and deprived of soul oxygenating choices.The film acknowledges that this is an unequal world but also establishes that women are more than equal to take it all on. And that they don't need validation or respect or even love to be complete.  It celebrates women who miraculously don't care what you think of them. Or if  you like them, hate them or laugh at them.  This is a film that announces that in Hindi cinema, the time has come for woman to take up space, be inconvenient and speak "lady-oriented" truths. Censorship be damned.
**
Reema Moudgil is the editor and co-founder of Unboxed Writers, the author of Perfect Eight, the editor of  Chicken Soup for the Soul-Indian Women, a  translator who recently interpreted  Dominican poet Josefina Baez's book Comrade Bliss Ain't Playing in Hindi, an  RJ  and an artist who has exhibited her work in India and the US and is now retailing some of her art at http://paintcollar.com/reema. She won an award for her writing/book from the Public Relations Council of India in association with Bangalore University, has written for a host of national and international magazines since 1994 on cinema, theatre, music, art, architecture and more. She hopes to travel more and to grow more dimensions as a person. And to be restful, and alive in equal measure.