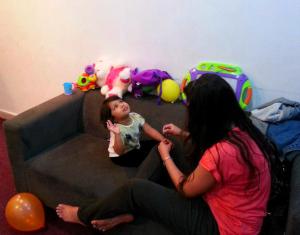 "Who is pretty? Mommy or me?" I ask. She looks at her mommy then she looks at me…and then in a split second she decides, "ME!"
That's my first introduction to the little girl who cares more about her teddy's fur than her Barbie's hair. She is quick to pick her friends. She has but one criteria. Undivided Attention. Give her that and she will give you everything else.
Like all kids and Me… she loves to be the center of everyone's universe, she loves it when all of us guffaw at her silly jokes and she loves it even more when our lives have but one purpose – To Please Her.
The evening began with me befriending her and within half an hour she had me brushing her hair, petting her teddy and putting nail paint for her (something I haven't done for myself in my 25 years of existence). While the two most happening  chics on the block (Her and me) were busy bonding  a lot transpired. But before that you need to learn a little bit more about this tiny effervescent dramatic angel I met last evening.
Playing with Ananya is like being on auto replay, she will make you do the same thing at least two dozen times before even letting you catch a breathe. And she claims it's the "Last Time." Every Time.
Through the course of the evening Ananya made sure that while we move our legs, she claims the jumps, she made sure we caught her in our arms and picked her every time she ran to us…but most important of all she also made sure I unlearned a very important lesson. As far as teaching styles go, her super powers are Innocence and Simplicity.
Perhaps the only thing that rattles her is when people refuse to talk to her. That to her is just unacceptable. Nah. Not Happening.
Like all great friendships, ours also hit a rocky road right when it had just began. And like all great fights, I can't seem to remember what this one was about. However sometime during the course of our little disagreement, I being the bigger of the two babies told her, "I am not talking to you." She looked at me (Puppy dog face et al);
Baby: "Talk no!".
Bigger Baby: No
Baby: Talk please
Bigger Baby: No
Baby: Taaaallllkkkkkk NNoooooooo
Bigger Baby: No! (this time wanting to mean serious business I show her the Talk to the Hand gesture)
Baby: You want Hi5?
The home run had been hit, in a second I realized that she still hasn't been taught the 'mean' things in life. That there is such a thing as hostility. That people sometimes hate each other. That sometimes please and sorry are not enough. For her all relationships comprise of friendship and lots of physical activity. She knows how to laugh. She knows how to Love. And she does it with all the purity God intended us to keep.
We learn a lot while growing up – school, teachers, experiences they teach us so many new things, many valuable lessons. And there somewhere along the way we also forget that hostility is a taught behavior, that we were intended to be born as loving creatures and to continue loving.
We need to unlearn so many things each day, need to know that experiences are to make us stronger not bitter. That we need to learn the lesson but let go of the hurt.  Sometimes we introspect and find it. Other times if you are lucky enough as me, a piece of paradise will fall into your lap, and teach you, that, "A hand held at face level should always be a Hi5." And so it shall be.  
Zahra Husain likes to live and think in ways she  is not supposed to and she blogs at http://peepingjeans.wordpress.com/