In the small hill town of Kotdwar in Pauri Garhwal,  this is the fortnight of the cross-dressers. This is the only season in these lazy hills, known for their laid-back men and hard-working women with alabaster complexions and frown-lined foreheads (you can well understand why), that the bhullus and the bhaijis (younger and elder brothers) stub out their bidi butts, pull up their red woollen mojaas and with a robust "Bol Siyapati Ram Chandra ki Jai" get down to performing the Pahadi Ramlila.
Over the years, men have been playing women characters in this grand epic that is an intrinsic part of Hindu mythology, though Vedic researchers now claim it never happened. Come October, and almost divinely-inspired, they raise their deep baritones to high tenors; and with delicious flutters of kajal-laden eyelashes and tantalizing turns of shaved waists, they don the long-haired wigs and err.. fake bosoms and get down to playing every female character in the Ramlila –  from simpering Sita to crafty Kaikaye to the wicked Manthara to the helpless Mandodari.
To the beats of the dholak and the strains of the harmonium, and poetry that cannot find a match anywhere else in the world (Hey Ram tumhare kehne se, ek jhagda mol liya maine!), they flaunt their sequined saris and red-lipsticked mouths, dab generous circles of rouge on bristly powdered cheeks and step into the skirts of some of the most famous female characters in Hindu mythology.
Far away from the big cities with their bars and pizzerias and multi-entertainment options, these small towns find their own kind of fun. And the Ramlila, with its numerous emotional attractions – from family values to human failings, from love to lust, from jealousy to devotion, from cowardice to courage and last but certainly not the least, the dark repercussions of fooling around with another man's wife – covers a gamut of human behaviour that no Bollywood potboiler or Ekta Kapoor offering can ever hope to match. No wonder then that all considerations of caste and class are forgotten in otherwise orthodox Kotdwar where Thokdaar saab doesn't mix around with lesser mortals and takes it as a personal insult if people have not bowed their heads the mandatory 15 degrees and folded their hands to say Namashkaar while crossing him on the street.
Post-dinner, almost everybody trudges faithfully down to the Ramlila maidan where hot roasted peanuts sell from shaky old carts and monkey capped vendors deal out hot steaming cups of chai in ribbed glasses and gur ki gajak on a snipped off piece of yesterday's newspaper. Thokdaar saab, Brigadier saab, DIG saab and others saabs in the privileged class get plastic chairs to sit on while the rest of us bring our own mats and durries from home or squat on the grass or the crumbling stone wall under the twinkling stars, companionably sharing gossip and chanas from paper cones shaped like upside down witches' hats.
When the love-struck Suparnakha quirks her eyebrow and swings her hips to entice Ram and/or Lakshman (often to the tunes of the latest Bollywood numbers – from Sexy, sexy sexy mujhe log bolen once upon a time to Main hun Jalebi Bai, sab puchte hain mujhse tu kaun des see aayi – the crowds dutifully roar Lanka) she is the ultimate item girl with a bust size, sex appeal and an attitude that can put Mallika Sherawat to shame.
So what, if behind the stuffed and firmly secured brassier she is actually a 'he.' The whistles and cat calls from the high testosterone Romeos sitting in the anonymity of darkness are enough to make the devout old ladies bristle and the rest of us giggle in delight. Besides the actual tale with its numerous teachings – the most important being "victory of good over evil" that US presidents are touting only now, the Ramlila experience holds out a few lessons of its own. That gods we worship in Hindu religion, 330 million in all, might never have existed but they represent individual human qualities that society has always aspired for –  like courage and devotion (Laxman), family values (Ram), fearlessness (Durga) and so on and so forth.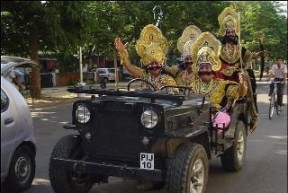 The other interesting observation, that new age film directors are homing on only now, is that grey shades in a character make it more interesting. So while old ladies with covered heads dutifully drop coins into the arati thali with a fluttering flamed diya that is passed around every hour and little kids with naughty eyes respond to "Bol Siya-Ram ki Jai" with folded hands (while slyly on the lookout to pick a few coins off the thali if no one's watching), the biggest attraction of the dance drama is another man. The undisputed crowd-puller is the larger-than-life, dark-eyed, magnetic bad boy of the Ramayana – Lankapati Ravana of the swaggering walk, the wide chest, the reckless attitude and the booming, reverberating voice.
The flashing evil in his eyes when he spots the lovely Sita, his sheer audacity when he decides to pick her up, just like that, and his relentless pursuit to win her affections, are a class act apart.  It's something that no modern villain – be it Shahrukh Khan's silky Don or Saif's foul-mouthed Langda Tyagi can hold a candle to. When the towering Ravana makes a grand, glamorous entry on the day of Sita haran (abduction) with his swishing yellow satin dhoti, flashing black eyes and proud moustache,  the crowds swoon and sigh. They hold on to their breaths and that searing hot chai ki pyali as his evil unfolds and though every kid knows how it will all end, every generation watches with bated breath and continues to flock to the Ramlila maidan for Ravan's debut appearance. And the entertainment goes on.
To all those coffee bars, multiplex movie halls and mega malls eyeing the rural market with a contemplative eye, I'd just like to say: Leave us alone. We are having more fun watching the cross-dressers under the open skies than you can ever hope to match.
Rachna Bisht-Rawat is a journalist and writer. She is also mom to a nine-year-old and gypsy wife to an Army officer whose work takes the Rawats to some of the most remote corners of India. You can read her blog at rachnabisht.com