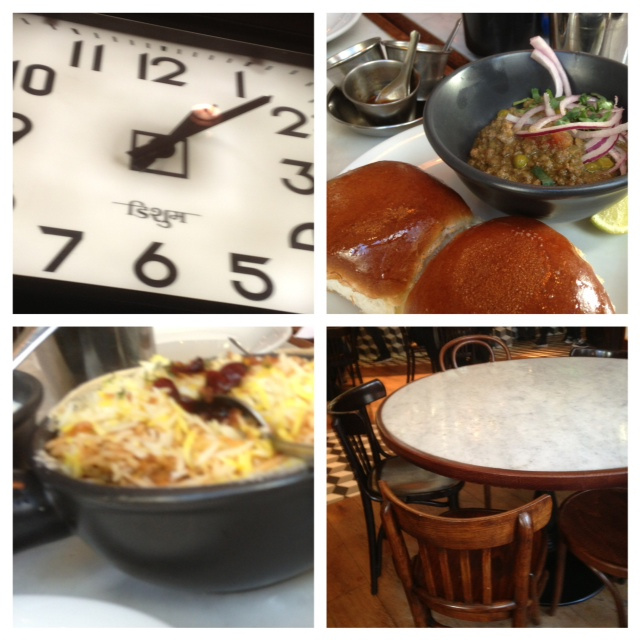 Round white tables with wooden chairs, transparent glass tumblers with steaming chai, steel glasses for water, memorabilia from the 70s and 80s on the wall, signs in Hindi all over the place, chequered black and white floor and even a 'nimbu-mirchi' strung together to ward off the evil eye! There is a word for the faculty of making fortunate discoveries by accident. Serendipity. And there it was right before me in the form of an Irani Cafe  called Dhishoom at Covent Garden, London!
The menu offered delights that reminded of an era gone by, in a country far away. Waiting for the order was no problem as the prints on the walls provided enough amusement. There were vintage covers of Eve's Weekly, cheeky signs at the door, old black-and-white family portraits from the 70s, nostalgia evoking advertisements from the past, including one about a grooming school for ladies, posters of unheard of Bollywood films. Soon our plate of delicious Keema pau came to the table. The Brittania berry biryani with raita and black daal followed. In between mouthfuls, glugging down masala chai warmed the soul. Spotted a vada pav at another table. Salivated at fresh roomali rotis being spun about in the open plan kitchen and promised to try a Frankie next time.
Dishoom, which was founded in 2010 by Shamil and Kavi Thakrar, and Amar and Adarsh Radia,  serves  not just aromatic briyanis but also the witty brunch dish Kejriwal (two fried eggs on chilli cheese toast). Its signature dish is a bacon naan roll with chilli tomato jam and herbs. What is more, thanks to favourable Yelp reviews, it even beat Heston Blumenthal's Michelin-starred restaurant to be crowned the best in the UK recently!
From a quirky loo to evocative sights and sounds, this was a wonderful ode to what is a dying culinary tradition in India. And here was  the humble Irani Cafe reinvented in a not so humble avatar. Like Rumi says, "What we have lose always comes back in another form."
12 Upper St Martin's Ln, London WC2H 9FB, United Kingdom
Vrushali is a health professional who writes because laughter is the best medicine and laughing at oneself is even more therapeutic. She bogs at  https://shalijay.wordpress.com