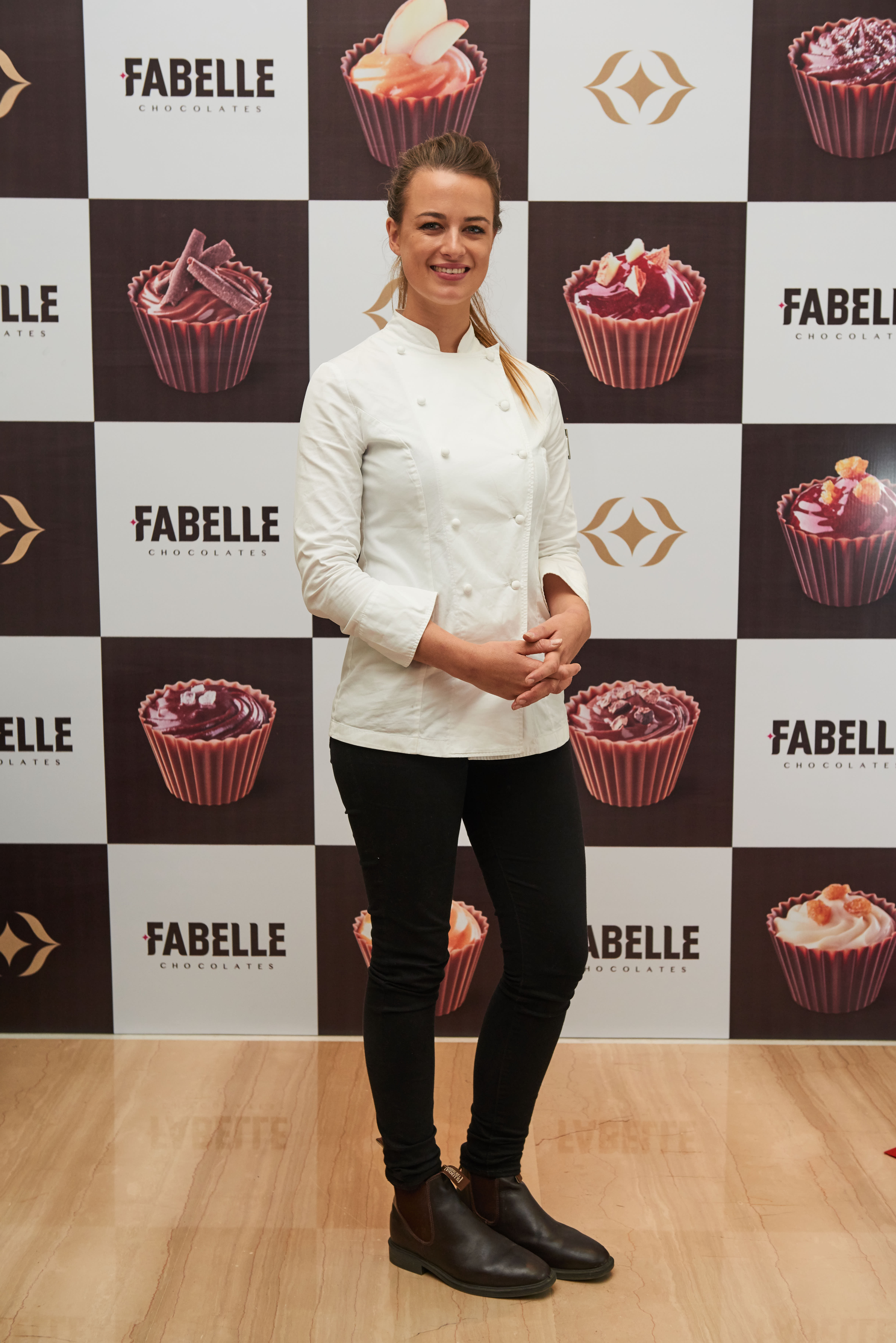 Those who remember the 2015 season of MasterChef Australia may remember an imperturbable Billie McKay nailing a perversely difficult sugar globe in the finale to land not just the title, the prize money and lifelong stardom but the chance to work alongside Heston Blumenthal in his iconic Fat Duck restaurant in London. Once there, she retreated from limelight to become a part of the talent pool of  50 hard-working chefs as she polished her fundamental skills and mastered signature dishes like the fabled "a walk in the woods."
**
That the winner of the biggest cooking show in Australia was willing to sweat it out without fanfare like any other unknown cooking hand says a lot about McKay's rootedness and it was visible in her demeanour at ITC Gardenia, Bangalore where she launched Fabelle's  'Societe De Chocolat masterclass series' on October 13.
**
The venue was a banquet hall situated on a floor where global design smarts meet Indian punchlines in the form of contemporary art and classic pieces of sculpture, and McKay showed up around 11:15 am for an event that was to start at 11:30 am. She smiled for the cameras, interacted with her hosts and stayed calm and cheerful even though  the guests took their time to trickle in.
**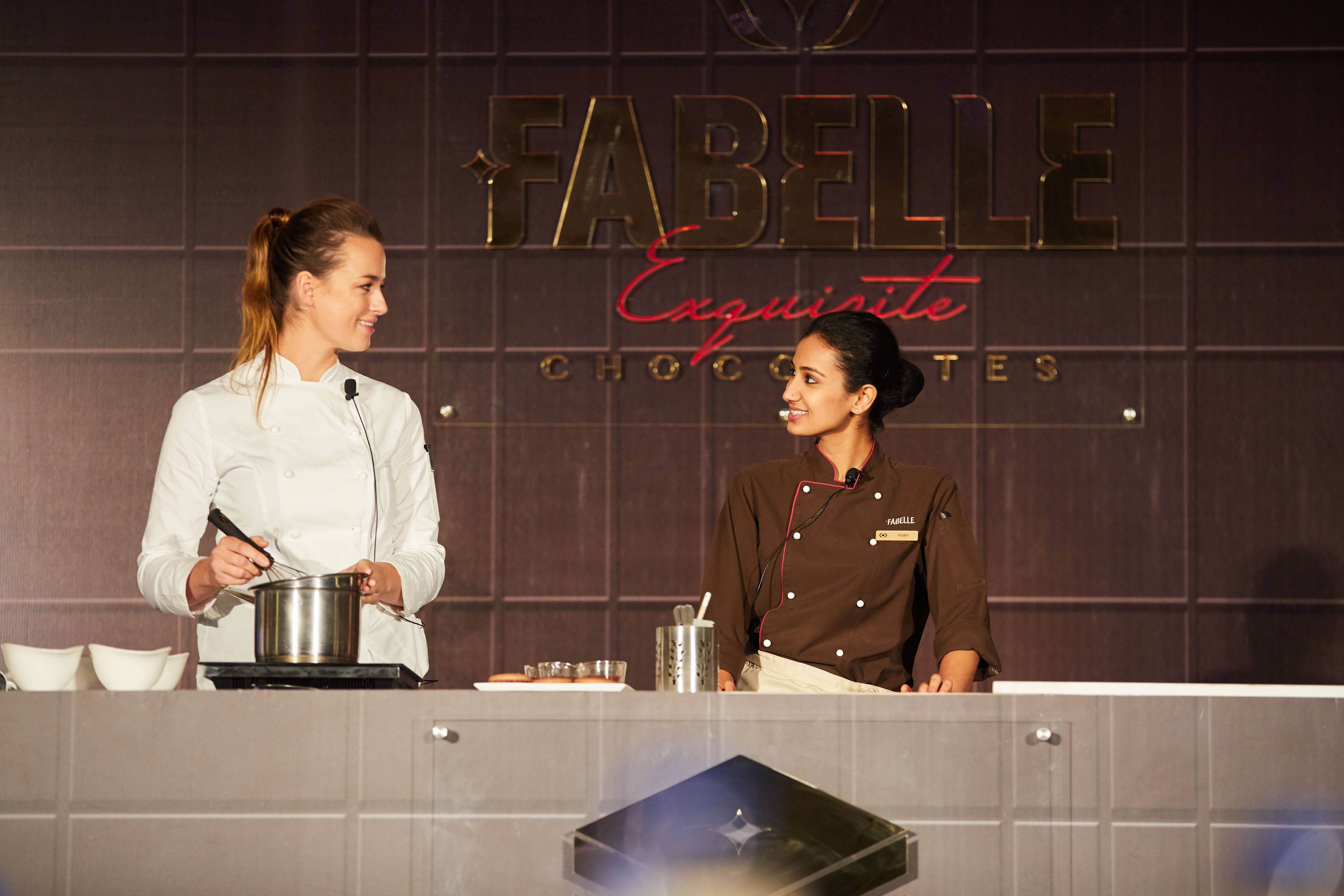 Even when the event began, she was in no hurry to steal the limelight from fellow chocolatier and the extremely well-informed and eloquent chef Ruby Islam and bided her time to speak and share anecdotes about her time at MCA and her passion for desserts. Only when the tangy and supremely fresh cucumber and apple confection arrived at the tables of the guests as a deconstructed filling for an ice-cream sandwich she was making that one realised how her time with Heston has influenced her. She is now someone who despite her unflappable exterior, is an adventurer, a game changer and shapeshifter when it comes to food.
**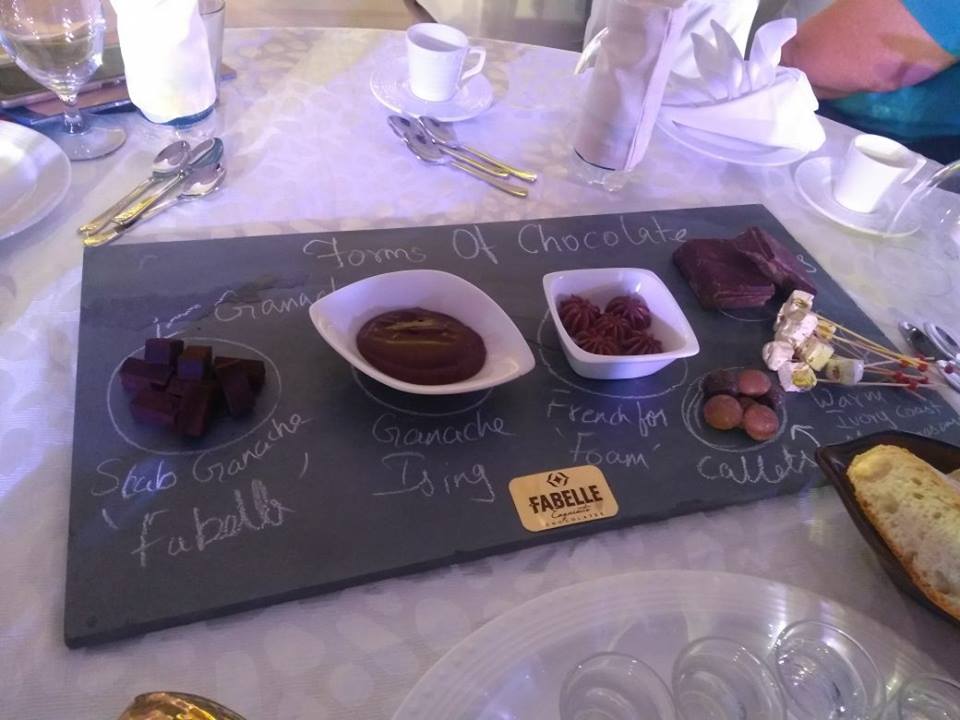 (pic-Kavya Thimmaiah Prasanna)
**
The masterclass itself was a window not just into the geography and history of chocolate but also into its rather mercurial relationship with heat, and with other elements like water and synergising ingredients like cream, spices et al. You saw many forms of chocolate . From silky liquids, solid garnishes and the viscosity of a velvet mousse to much much more. Guests were treated to various interpretations and types of chocolate from nibs to powder to foam, and icing and ganache and how chocolate can be teamed with flavourful teas, baked goods or just scooped up and gobbled in its purest form.
**
Fabelle  is a curious new entrant in the chocolate industry because it has accorded the dimension of rarefied Haute Cuisine to something that has been largely mass produced in India. The phrase Fabell's creators use a lot is  " participative and immersive"  and what they mean is that they don't just want to sell chocolates but invite people to experience them and create with them first hand.  Hence in the chocolate boutiques based in ITC's luxury hotels, there are now  live chocolate studios where you can learn from chocolatiers, observe live chocolate making and even get your fingers gooey as you make your own unique flavours.
**
The latest initiative, Fabelle's Societe De Chocolat masterclass series will now be a part of  all chocolate boutiques and will cover all aspects of immersion  into chocolate, cooking with it and serving and plating it. McKay is the engaging face of the initiative for now and is travelling to multiple ITC properties to share her expertise and also to interact with resident chocolate experts.
**
What one walked out with was of course the obvious delight with which two accomplished women chefs from different parts of the world shared their expertise and their love for cooking but also how a simple passion changed the life of a former restaurant manager from NSW's north coast who now travels the world and inspires others to listen to their calling and truly taste all the flavours that life has in store for them.