Fields of swaying sugar-cane all around, interspersed with grazing herds of sheep, goats and cows, village men in all white neat dhoti-kurta and topi – these are the sights that welcomed in this part of rural Maharashtra.
I was headed to Fratelli Vineyards in Motewadi, near Akluj (190 km from Pune). I had always thought of exploring vineyards of Maharashtra in Nasik but somehow never got to doing it. Then one fine day, I got this opportunity to visit the vineyards of Fratelli and I grabbed it.
Me and my partner, are not wine connoisseurs nor do we take wine with our meals every now and then. But we have been to quite a few vineyards. I have explored quite a few in New Zealand and my partner has been to some in South Africa, Australia and Europe. So, together we went with high expectations and I have to admit, we were pleasantly surprised. The vineyards and the wines- both pretty much met our expectations. But as always, I was looking deeper into the story.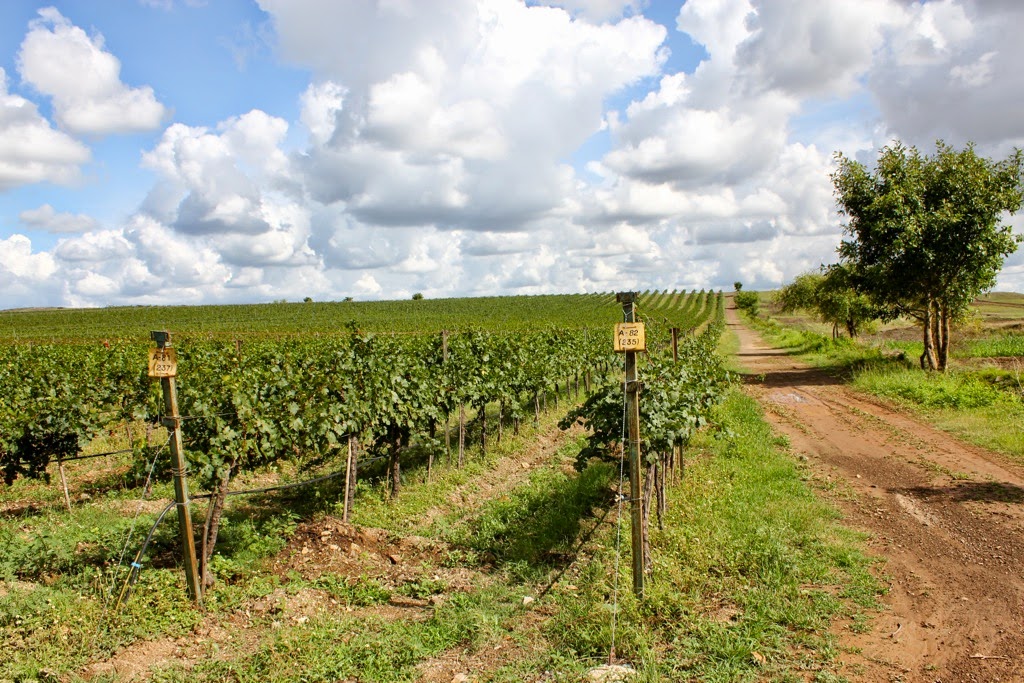 Fratelli is co-owned by five partners including two Italians and run with the guidance of a renowned winemaker from Tuscany- Piero Masi. I am told that grape plants have been grafted here using original French varieties and hence the good quality. What makes Fratelli stand out is also the fact that they own all the vineyards themselves which gives them strict quality control over the grape harvest and production.
The guesthouse and winery are located at Motewadi- one of the three vineyards owned by Fratelli (other two being Garwad and Nimgaon). With uninterrupted views of vineyards and green farms on all sides, boutique accommodation,  simple staff sourced from local villages, a common dining-cum-kitchen space and no locks or keys – the place made me immediately fall in love with it. The place was very well done with modern furniture and all amenities, but without the formal air of an uppity hotel.
I was curious to know the impact of such lavish and markedly elite business proposition in an area which is largely rural and drought hit. This curiosity grew after noticing a massive book-cum-album placed neatly in our room and common areas about the 'development' work done in Akluj region. The young staff from local villages seemed happy to be working in the winery albeit owning farmlands themselves (as much as 80 acres ! – claimed by one). They preferred working as kitchen or housekeeping staff over toiling in their own farm lands- pretty much the same story everywhere I travel in rural I
We all know wine industry is new to India, traditionally we are not a wine drinking society and therefore it came as no surprise when most of the executive staff we interacted with had no previous knowledge of wine-making. Most of them had picked up the required skills and know-how on the job. On the contrary- it was also good to see young people exploring opportunities in new fields- our assistant winemaker was a girl of modest background from Pune with a Master's Degree in Science of Wine Technology, our viticulture expert  was again a young man with a degree in Agricultural Science. But it was best interacting with the staff from local villages- mainly assigned to jobs in the winery or kitchen and housekeeping.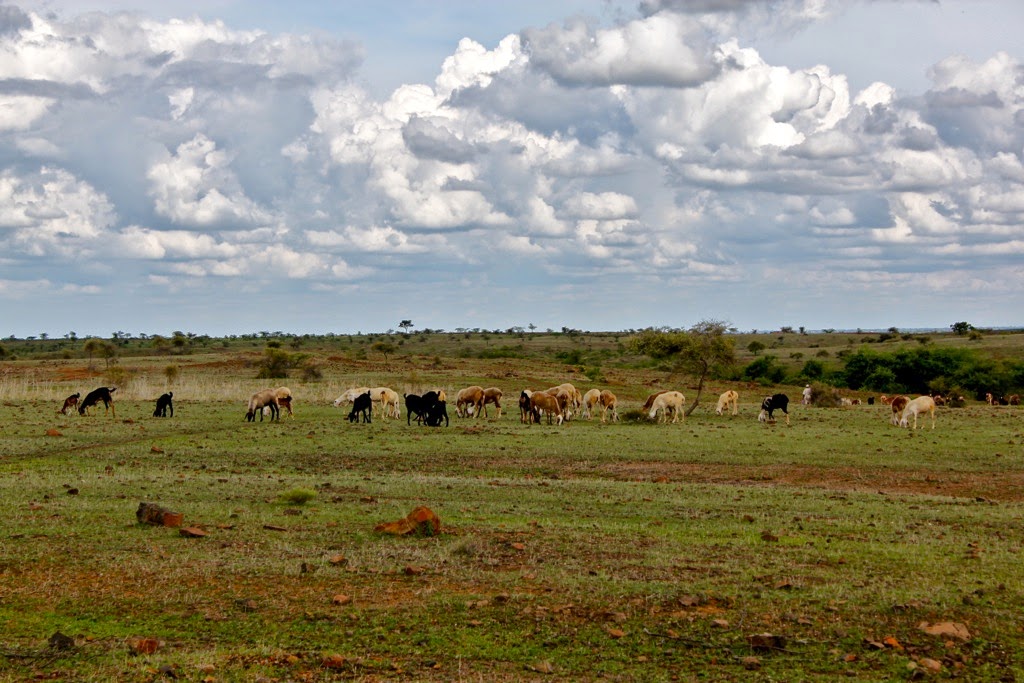 My vineyard trip also included a guided tour through the winery and the cellar, a wine tasting session, ATV ride in Motewadi, lunch at a gorgeous straw gazebo built atop a hill in Garwad with 360º views of Fratelli's largest vineyard and generous helpings of wine with unpretentious tasty Indian food.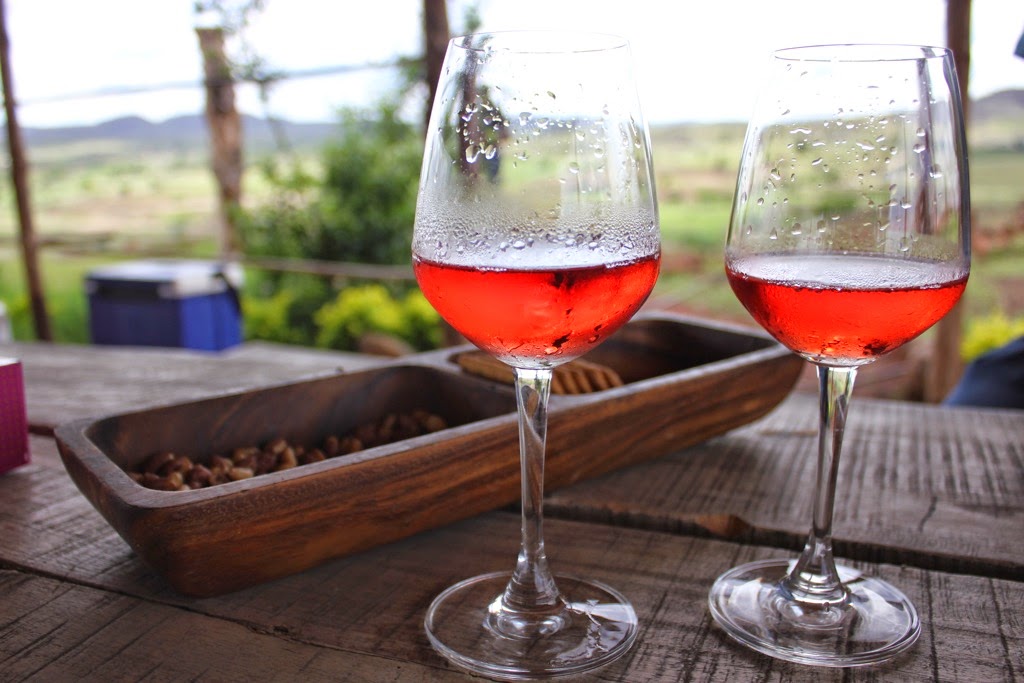 It was during my drive to Garwad (10 km from Motewadi) that I noticed several women and children carrying water in several aluminium pots down the hill. It was obvious, they did not have a water supply in their humble homes- they had to carry water on their shoulders every single day. We also passed by several nomadic groups- moving alongside their horses carrying pretty much all their worldly possession. We were told that villages nearby have been helped immensely with establishment of Fratelli- they're able to get water easily now. Fratelli has built its own small dam and water storage facilities, which not only helps its own vineyards but the local population too.
But my question is- how is it possible to arrange water for the business of winemaking meant largely to quench thirst of elite few and not be able to supply simple drinking water to homes of hardworking local farmers who are producing our food? Aren't we silently killing our own food producers ? Why is it that young people  do not want to work on fields any more ? When did we become so lost in our consumerism that we lost track of where our food, clothes, shoes come from ? Why are we bombarded with choices in everything we consume- from juices to type of sugar, while the very producers of this food have no access to basic amenities? Have we really forgotten them ?
This is what travel does to me- make me think.I drifted towards an  anti-consumerist way of living a few years back- buying only stuff that I 'need' not 'want'. My phone is over four years old and laptop is over five and I am very happy with them. This trip gave me yet another push in this direction. I am definitely going to give a thought to origin of things I consume and try make fair choices.
[P.S.- Since long, I had been intending to switch to glass water bottles from plastic ones. I finally got the push when visiting Fratelli. Apparently they threw away all the consumed wine bottles and upon my request happily gave me 8-9 of the ones with screw caps. So now I've finally made the switch.]
Richa Gupta is based in Mumbai, is an avid traveller and also passionate about writing and encouraging responsible and alternative travel ideas. After having worked in the  fashion industry for over six years,  she decided to quit and started with a little not-for-profit initiative to help people with  travels which not only help support local culture, economy and environment but also offer life changing experiences. Her work and blog can be found at http://travels-and-stories.blogspot.in