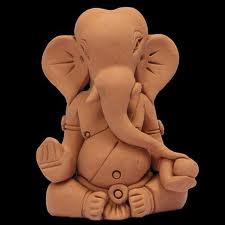 Ganapati Bappa came home and spent two days with us at my child's behest. He was made of Shaalu Maati (potter's clay). His golden jewellery, 'mukut' and 'dhoti' were painted with haldi (turmeric). Multani mitti brought out his glowing complexion and choona (chalk) highlighted his garland of flowers. He brought many people home, some who had never visited before and he filled our home with good cheer and enticing aromas and so much food!
Then last night we saw him off to the music of instruments played by the children in the building. He walked through our home and down the stairs of the building and around the compound and into a bucket of water surrounded by oil lamps. We waited for him to unite with his family as he slowly changed the colour of the water to a gentle glowing gold. The kids played on the swing and the women sat on chairs chatting. This morning the oil lamps are brunt out and some of that golden water has been given to the plants in the compound and the rest awaits being poured into our potted plants. Ganapati Bappa Morya ! Pudhchya varshi laukar yaa ( Come back to us again, quickly, next year).
Mona Ambegaonkar accidentally strayed into the entertainment industry and has been a model, editor, documentary producer and director, writer and award winning actor in theatre, TV and films. She is now working towards writing and directing her own films and is acting in TV soaps and films as well. She has devoted her time in watching life, hers and other people's, has always taken at face value whatever she is told and has always asked and answered direct questions. From this springs the fodder that enriches all her work both on and off the screen. Recently, she has been touring the world with Ek Madhav Baug,  a play about alternate sexuality.