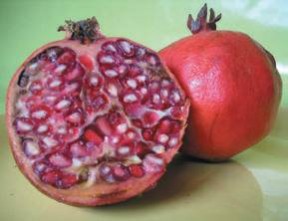 I gazed out of the window
and noticed these lovely red pomegranates,
so ripe, so fresh, ready to be touched, waiting to be tasted.
Heavily laden hearts,
red with rage,
ready to burst,
waiting to be shared.
Sharing is a secret meditation,
The business of the souls.
As  my hand  reached out for the fruit,
a few tear drops rolled down the cheeks,
Because everything speaks,
everyone is heavy.
So reach out and taste,
reach out and hear,
reach out and talk.
Because sharing is a prayer.
Because it says it all.
Sarab Sri Kaur was brought up in Chandigarh, educated in the UK and today runs Training Cafe, a small venture where she nurtures creative learning using original and individual techniques.