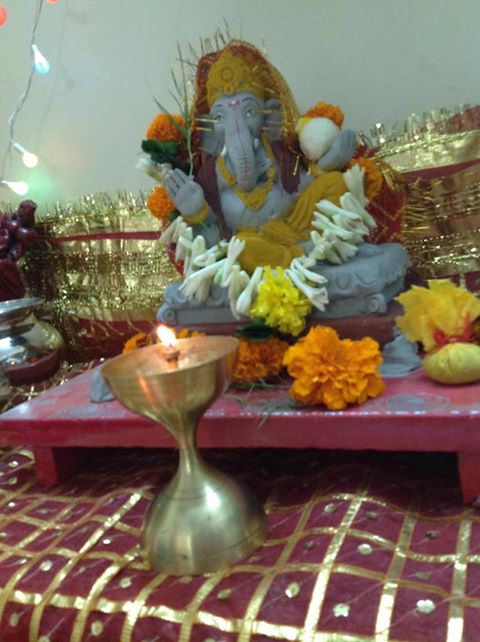 And he is gone again, with a promise of returning next year. Traces of him will remain in the soil of our garden and in the potted plants in my window for ever. My little grey God of clay. A guest on my side-board for day-before and yesterday.
The lights were twinkling through the night and the oil lamps refuse to go out. They are still burning away valiantly, yet dimmed somehow. Strange, how I sit here mourning his departure, my little grey God of clay.
**
The flowers will become manure and the lamps will eventually burn out. The sweets are all gone anyway, munched up by the kids running in and out. I look at the forlorn fruits and whatever else is left of the offerings, not a lot remains.
This year he was again attended by children mostly, but also attracted some new 'adults'. I sometimes think faith is not understood anymore after a certain age. The kids, however, show complete comprehension in their instinctive uncaring mischievous (dis)respect.
This year amongst those who saw him off were Salma and Farheen. They whispered their prayers in his and Mushakraj's ears and it was hard to swallow the lump in my throat for a bit.
**
My last quiet-time with him as he bubbled in the large tub surrounded by oil lamps was that this is how he must go – reminding us that we are all clay and must go into nature with as little trouble as he went, dissolving into reusable mud, giving off the fragrance of memory.
**
Mona Ambegaonkar accidentally strayed into the entertainment industry and has been a model, editor, documentary producer and director, writer and award winning actor in theatre, TV and films. She is now working towards writing and directing her own films and is acting in TV soaps and films as well. She has devoted her time in watching life, hers and other people's, has always taken at face value whatever she is told and has always asked and answered direct questions. From this springs the fodder that enriches all her work both on and off the screen. Recently, she has been touring the world with Ek Madhav Baug,  a play about alternate sexuality.