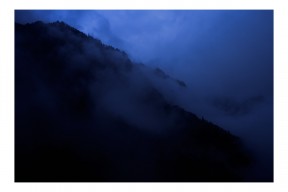 You can capture silence only if it captures you first. Only if you allow it in your soul and let it settle down down like a pool of blue nothingness, with not a ripple on its surface. Just a liquid translucence mirroring the sky. Only eternity. Not the drama, the furor and the noise that precedes it. When I saw the works of photographer Krishanu Chatterjee, titled simply Solitude, I was struck by the deep silence and sense of knowing they were steeped in.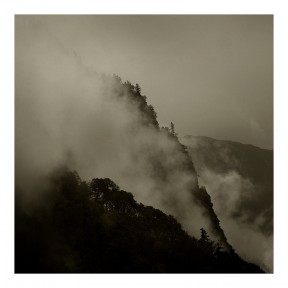 A few photographs seemed more like water colour studies of solitude. Of moments when the blue sky merges with the shadow of a mountain or wispy white clouds fill up a valley languorously, without a word or trees look as they have been picked out with a brush from wet background or when steps cut in a rock face lead up quietly to a tomb. Or a caramel  beach is  caressed by creamy, gentle waves.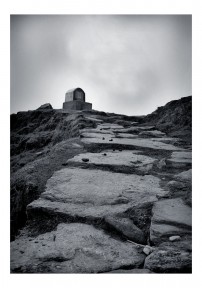 And then there are sudden punchlines, staggering moments of drama when you see a white pony standing still against an almost fluorescent hillscape. Or catch your breath to see a beautiful horse lit up by gold flecks  on a mountain. There are ordinary moments too, a cart, a door half open to let in a beam of light, made special only because they are captured with empathy and insight. It is stuff like this that makes you realise that a gifted photographer is infact an alchemist, a magician, someone who can pluck a moment out of time and turn it into eternity. There is a certain  detailing in Krishanu's work that comes from his training as a microbiologist but his passion for light and shadow belongs to an artist.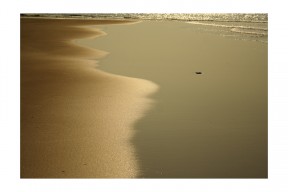 In 2006, He decided to opt for photography as a vocation and has an extensive portfolio today. He has shot almost everything. From intimate portraits, series like Solitude, commercial assignments to home interiors, fashion, products, food and more. Some of his most extraordinary work however comes from his love for travelling and exploring new places. Says he, "I love shooting for myself.  Serene landscapes, plains and mountains and nature evoke different human emotions and are a great source of inspiration for me. I can wait forever to get the right shot. And when I get that shot, it gives me immense satisfaction."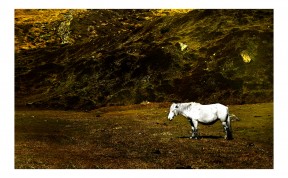 Recently he shot Amitabh Bachchan and recalls, "It took three long days of preparation from me and my team in Mumbai  and Bangalore to get everything just right. Yes, I was a little nervous though I have shot many celebrities but then it turned out to be a smooth run as he himself made me so comfortable, with his humility and down-to-earth gestures as if I meet him every second day! And one amazing thing is, his voice in reality sounds much more heavier than its recorded version! But just a three minute encounter, though unforgettable."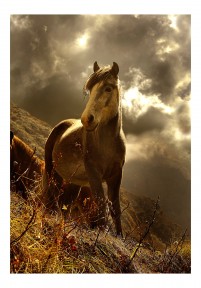 The need to freeze frame life came to him very  early. He recalls, "I started photography at a very young age. My father had a Hot Shot camera and as a family we used to travel a lot so I used to always click picture randomly. When I grew up a little and was exposed to various journals and books which would come to my house in Kolkata regularly, I was struck by the images and the photography. I began to wonder if I would ever be able to click images like these."
 He continues, "As a child, I learnt painting and that has a lot to do with my photography thought process. I like to express my imagination through my photographs rather than just document an incident, place or a person." The idea, he says is to tell a story, not just an anecdote.
 When Krishanu came to Bangalore to study, the latent photographer in him emerged and he says, "It was then that I started doing lots of experiments and would shoot almost every day. Studying science helped me to think more methodically about photography which to me till then was just an emotional response to everything around me." 
 It was during his Masters that he finally made up his mind to take up photography as a profession.  A landmark memory would be when he photographed the annual solar eclipse in Kanyakumari, some time after the Tsunami had struck. And  doing the stills for the award wining Kannada film, Gulabi Talkies and working with iconic director Girish Kasaravalli was unforgettable too.
 He recalls, "It was a great learning experience to be with such a legendary film maker and it was a surprise gift to me when one day ( early morning at 3 am, when we all came out of the editing room ), Mr Kasaravalli asked me if he could use one of the images I had clicked as a background for  the title track of the movie!" 
 And though Krishanu has shot for many major magazines and brands, for architects, designers, has dabbled with cinematography, documentary film making and participated in many exhibitions and group shows, his quest for a quiet moment of perfection in a photograph, for stillness in chaos goes on.
 More about him on www.krishanuchatterjee.com 
Reema Moudgil is the author of  Perfect Eight (http://www.flipkart.com/b/books/perfect-eight-reema-moudgil-book-9380032870?affid=unboxedwri )