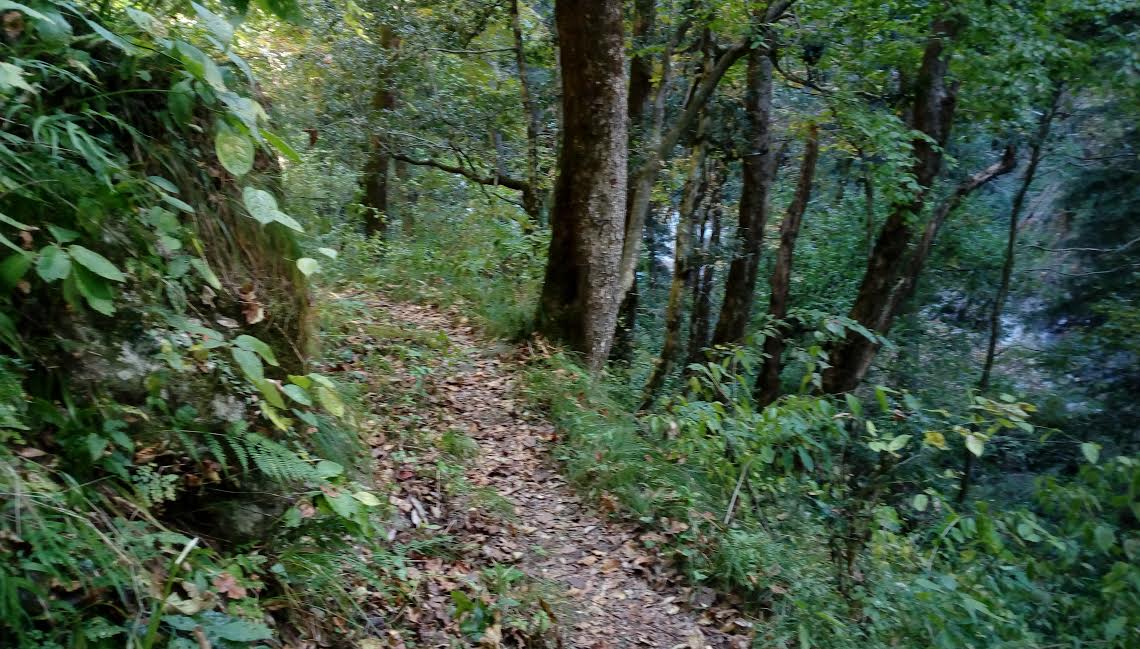 Trekking can be a wonderfully rewarding activity. When undertaken in a UNESCO designated World Heritage site like the Great Himalayan National Park (GHNP), the experience becomes even more exceptional. Situated in Himachal Pradesh, GHNP is home to a variety of flora and fauna. The entry point to the GHNP is a hamlet called Gusheini, about 60 kms from the famous hill-station of Kullu. The village continues to remain a largely unknown place, as tourists continue to throng the better known places like  Dharamshala, Manali, Simla, and McLeod Ganj. This relatively anonymous gem Gusheini is GHNP's biggest asset. The landscape of the hamlet and GHNP are clean, the air is pollution free providing an astounding sight of countless stars in the night sky, while the free-flowing river provides a pure source of drinking water for flora-fauna and humans alike.
**
The GHNP covers an area of more than 700 sq km, so a trek through the National Park can extend from a day to a week or beyond depending on the route. There are different routes within the National Park which trekkers and guides take. The difficulty level ranges from easy to moderate and even difficult for the longer distances which comprise of steep inclines and continuous climbing. The two main three-day treks are the Gusheini – Rolla – Chalocha or Gusheini – Rolla – Shilt Hut routes. Both of these cover a distance of around 15-18 kms (one way) and can be done over a three days (including return journey). Some of the longer treks upto Tirthan valley  or the Sainj valley extend beyond 80 kms over 5-8 days. Distance however, is rarely a determining factor for undertaking a particular route. Physical fitness of the trekkers, availability of time on hand and the desire to travel farther into the woods determines the path to be undertaken.
**
While walking through the steep curves, narrow ridges, wooden bridges and crossing the rivulets of cold water, destination is seldom a goal for trekkers. The beauty of a trek is the journey. The excursion is a humbling experience in itself, especially for us city folks. While a walk through the city streets takes us through crowded roads, noisy streets and pollution filled air; a trek through the forests takes us through a "road" less travelled, filled with the sounds of birds, flowing water and bristling trees. The aromatic smell of Cedar (Deodar) trees has an energizing effect on the mind and body in contrast to the pollution filled air of our cities.
**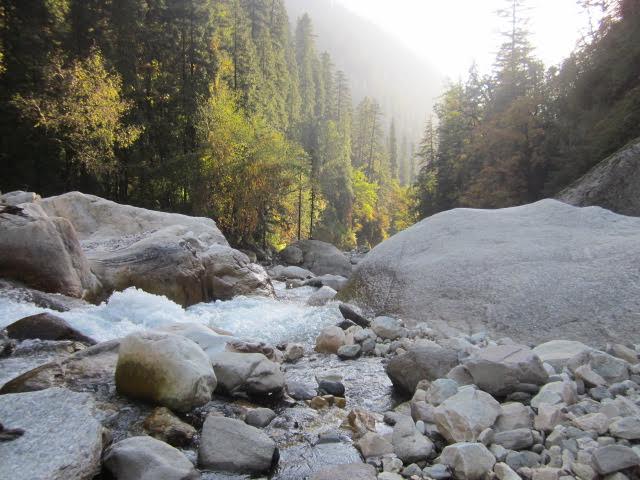 Chestnuts, pebbles, wild flowers, fruits and rocks lie in abundance on the ground along with dried leaves in hues of red, burnt brown and light yellow. At times when sunlight manages to shine its way through the tall pine trees, it reveals a splendid contrast between the shaded and sunlit areas of the park. No matter what time of the day, the water is quite cold thanks to its glacial source in the high peaks of the Himalayas. At night time, the cool breeze and drop in temperature makes it difficult to drink the cold flowing river water. The bonfire lit from wood collected from the nearby shrubs and branches is the only source of energy for heating and at times even cooking (disregarding the kerosene stock porters and guides carry with them).
**
Torches, battery powered lamps and bonfires provide the only source of lighting at night time. A far cry from our routine lifestyle. Luckily, watching TV after dinner is never on the to-do list of trekkers. That list includes a bonfire, engaging conversations with fellow comrades and guides, long miles of walking through the woods, drinking the pure river water, eating simple meals cooked on firewood and sipping lots of tea to keep the body warm. Some indulgence in alcohol in the freezing cold at night can also do a world of good. The highlight of a trek is the makeshift "room" created by erecting tents to sleep inside. The sleeping bags laid out on the ground inside these tents are fairly warm and cozy. This sleeping arrangement might not suit everyone, but it is probably the best one can get inside a forest with no lodges or rooms! The regular trekkers crave for such tents. The first-timers may find it awkward or uncomfortable. Nevertheless, one has to learn to adjust in them.
**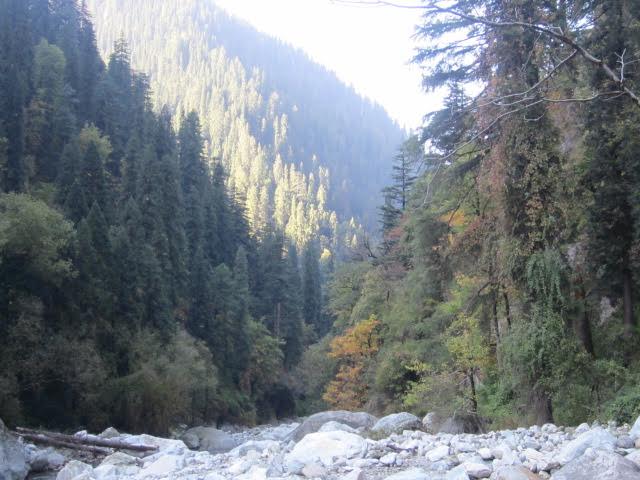 While a trek can be undertaken on different terrains, forest areas provide splendid views and drastically different weather between daytime and night time. Walking over narrow ledges, slippery rocks, creaking wooden bridges and thorny shrubs on an endless 'path' is a  thrilling experience. The journey is not just a test of physical stamina but mental strength as well. Living with the basic minimal necessities, basic first-aid and medicines, making do with simple food, limited set of clothes and a back-pack is a life-long learning experience. It is a refreshing disconnect from our mundane lifestyle back in the cities. These treks also bring us a step closer to nature and ourselves.
**
Pranav is a Mumbai based sustainability analyst. Besides earning his daily bread with a typical 9-5 job, he likes to travel and exercise. He also is an avid reader, passionate writer and a foodie. He likes writing on topics related to climate change, sports, movies, politics and travel. He has his own blog –www.pranav84blog.wordpress.com which he tries to update once in a while.