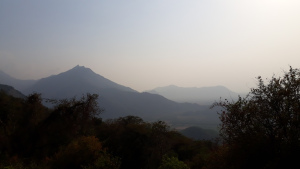 S l o w…
They are in no hurry. They stand and stare at me when I photograph a cloud. They slow down their two-wheelers to look at me, because in their town, girls do not sport short haircuts; their plaits touch their hips. My friend Muthu, who is a proud localite, tells me that a woman is judged based on how long her hair is. If it is long, then she is patient and efficient enough to run a household. If it is otherwise, we know what it means. (I sport a pixie cut. Ahem.)
The folks at Theni have all the time in the world. Their life is extraordinarily slow that they would walk with me to my destination if I ask for directions. But even if their lives were fast, they would still create time to help travellers. That's the people of Theni for you.
They are arrogant hosts, they are monstrously kind, and they are the quintessential people of rural Tamil Nadu.
They love flaunting their Theni.
Their Theni that is filled with all shades of green.
Their Theni that is a haven for animals.
Their Theni where people sleep with their doors open.
Their Theni becomes my Theni as I collect their reluctant smiles, as I borrow their beliefs, as I lose myself in their mountains for three days.
*****
Meghamalai means mountain made of clouds. There are no roads to the pinnacle and we have missed the only bus that goes to the top despite the roads which are not really roads. But we are determined to conquer the hills. We ask an old fruit-seller if there is any other way. He can't hear much. He plucks a couple of grapes from his own cart and flings one into his mouth. He scratches his beard. Muthu loses patience. He forces his face to break into a smile and asks the old man again if there is any other way to go to Meghamalai. The old man says the same thing five times. "If you take a jeep, you can enjoy the view more." No. He can't listen to what we are saying. All that he understands is that we want to go to Meghamalai.
The sun is harsh on us. We slurp from a carton of chocolate milkshake and I press Muthu to ask the fruit-seller again. A stroke of luck. The man hears us. He loosens up the towel around his waist and shows us his cell phone. He talks to his friend. How the old man can hear his friend will remain a mystery forever! But an auto arrives in five minutes and we are off to Meghamalai.
The mountains look like a jewel box filled with emeralds. Green. Green. Green. The road which is not really a road is vicious enough to break our bones if we travel on three wheels. But we couldn't complain much because we are enchanted by the greens.
We reach the peak. More greens. More rivers. More animals. Less humans.
We sit on a stone bench, listening to the twittering of birds, the therapeutic sound of a flowing river, and the laughter of children who chase butterflies.
Time slows down. We are there. Up above the urban madness. Up above the dry lands. Up above our miseries and tears.
*****
Raja knows Bodi Mettu so well that he can walk around the town and reach his house without stumbling on a rock even if he is blindfolded. He is our auto driver for the day.
The staunch believer takes us to a couple of temples before we start our road trip from Bodi Mettu to Munnar. In our minds, we are the first ones from Tamil Nadu to cross the border and reach Kerala on a three-wheeler. An unassuming auto. Despite being an expert at negotiating the hairpin bends, Raja is determined to ask the Gods to join us on this adventurous journey. If Raja thinks so, we will not object.
Raja takes us to an Ayyanar temple. Ayyanar, the guardian deity, is the hero of Korangini. With his handlebar mustache and impassive countenance, he can breathe fear into the worshipers. We bow our heads in front of him and step out only to be armtwisted by an aggressively kind family to dine with them. They have just dedicated the life of a lamb to Karuppannasaamy, another guardian deity.
They don't know us. But they know we are travellers and that we must be hungry. So they want to share the meat with us.
I offer a handful of excuses. I am not hungry. I am shy. I am a vegetarian. No. Our leaves are laid and we have to lunch with them. I succumb to their hospitality.
There is no time to exchange pleasantries. My leaf is refilled over and over again, and my mouth is full. After I vehemently wave hands and shake my head to prove that my stomach has no place, they let me wash my hands.
Strangers. Their kindness. They make me cry.
Before I leave, the youngest girl in the family reminds me. "Do not forget the southern part of Tamil Nadu. Travel a lot here." I say we belong here too.
Our nine-hour journey begins. We cross mountain after mountain, tea estates after tea estates. There is no agenda. We are on three wheels, saying hello to the mountains and trees, smiling at the localites, drinking tea at the roadside stalls, finding shapes in clouds, and crossing borders. Is that how one should travel?
As we pocket more milestones, I chant the word vastness. I see the fog-capped mountains against the azure sky and mutter under my breath. Vast. Vast. Vast.
I think of the enormity of Nature and the smallness of human life.
I think of the formidability of Nature and the insignificance of mankind.
I think of the unassuming beauty of Nature and the smugness of people.
Vast. Vast. Vast.
In that vastness, I lose my ground.
In that vastness, I lose my history.
In that vastness, I lose my hope.
I allow the vastness to envelop me. I allow the vastness to have a quiet conversation with my soul. I allow the vastness to crush my identity.
The vastness creates a lump in my throat; I stifle my tears.
*****
When we return from Munnar, it's dark. Just one long stretch of darkness to cross, with only the reflectors on the road and our guardian deity to guide us home. I find a comfortable spot between Muthu and Arun, wrap a stole around my head, and begin to read Assassin's Apprentice to cope with the fear of darkness. The fear is fuelled by a random warning from another auto driver; we might meet an elephant on our way down.
The legendary Raja is intimidated too. He keeps talking to drive the fear away. Muthu fills the silence and understands that I am trembling as well. The boy, who is too wise for his age, makes an observation. "Deepika, this very nature that you admired a few hours ago is now intimidating, isn't it?"
The remark shakes my core. He doesn't expect a response. Maybe, he wants me to reflect. And I do.
How many souls do I neglect because the slant of light changes?
How many hearts do I break when the darkness supplants the light?
As I turn the questions in my mind, Raja says, "There. We enter myterritory now. We are safe."
*****
From the hills of Bodi, I can see the fairy lights blinking in the Paramasivan Temple. The annual festival has just begun. Our final stop is that.
It is 11:30 PM. But that fact doesn't deter the spirit of the Bodi people as they throng the temple. Women are clad in silk sarees of all colours. The golden threads in their sarees wink at me. Their hair is adorned with fresh flowers. The boys take selfies; the men discuss politics. The children are not sleepy. Surprise!
If I hadn't seen my watch, I could have easily mistaken that it is just 6 PM.
Bubbles. Peanuts. Cotton Candy. Mangoes spiced with salt and chilly powder. Watermelons. Toy cars. Yellow bulbs. Smiles. Laughter. Good vibes. I put them all in the Chamber of Warm Memories.
We cover the last leg of our journey — the road that takes us to our room. The left side of the road is dotted with humble houses. The right side is a blanket of singular darkness. These are agricultural fields, Muthu tells me, as my gaze is fixed on the nothingness.
Beyond that long stretch of great darkness, a streak of green light soars up in the night sky.
A silent explosion.
A rain of fireworks.
The starless black sky is now embellished with brilliant, green gems.
The fleeting luminosity is our grand send-off.
Deepika Ramesh is a reader, blogger, animal-lover, aspiring cyclist, and a sucker for tiny, warm moments. She blogs at http://worncorners.com/