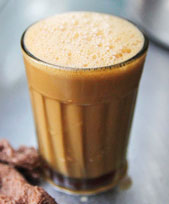 'I always think I should have a good discussion with you but can't figure out..about what.'
Radhika looked up to see the man who spoke. He must have been close to 27, medium height, decent looking.
She noticed his discomfort after having said those words and wondered how many times he might have rehearsed, to utter them in this manner. As she stared back at him unabashedly, he became more conscious of his surroundings. It was a small chai point at the corner of her street, which she religiously visited post work. Every single day, he saw her sporting her trade-mark loose-fitting kurta pyjama and journalistic jhola. Something about her made him stop in his tracks, the very first day and every day since. Was it the way she looked? No. He had many journalist friends and knew their  pretentious  sense of style. Was it her cool composure as she sat amidst blue-collared workers who were busy smoking beedis, as she sipped on her piping hot chai?
He had been to the joint a few times, stealthily though. As he heard her tell stories of sometimes adventure, sometimes boredom, sometimes about the sad state of affairs in the country, or about a budding entrepreneur that she met who had an interesting innovation that could "rock the world", he couldn't help but be in awe of her… every single day, every single minute..
As his thoughts returned to the present, he wanted to turn back and vanish and he would have but for her gaze that had frozen him in his tracks.  He tried to look away, but he couldn't. He tried to flee, but his legs would not move. And all this while, she looked straight into his eyes. No anger, no emotion, but just a sense of amusement and curiosity…
He could feel people turning to watch them, as they remained fixated thus. He felt a  rush of blood coursing through him. He was blushing! That was the last thing he needed. Why wasn't she talking, asking him anything? Was she equally smitten by him? Why wasn't she looking away? Was she angry and hiding it? Did she find him silly? A million thoughts ran through his mind as he encountered eternity.
And then, she just got up, took his hands and simply said, "Let's walk as you talk".
Before he could realize, they were on their way down the road, hand-in-hand, while she talked away. As he tried to recover from the shock of it all, he heard her ask what he had in mind. This was his chance. He wanted to tell her all he felt. How his heart had raced when he saw her, how his world seemed centred around her, and many more things. As he opened his mouth, she asked him something about the nuclear policy of India and his opinion about it. As he tried to understand what was going on, he felt a flash of light on his face, a camera staring into his eyes and a determined Radhika repeating her question as she waited for his response. Wait! Was that a smirk on her face?
A sense of betrayal swept through him. He tried reasoning that it wasn't her doing.
After all, he had expressed his willingness to talk and had allowed her to lead him to her…cameraman. And yet, he felt betrayed, embarrassed , like a total fool. And for the first time, in so many days, he felt ardent emotion slipping away. For the next few days, more futile attempts were made to regain it, but it refused to come by. She had suddenly ceased to exist for him. She no longer made him skip a heartbeat. He never went back to the tea joint again. It ended, as abruptly as it had started. He was no longer in love…
Divya Ranganath is a mix of two contradictions. She is both stable and quirky. Her take on life is simple – live it to know it. Having seen all facets of life and all kinds of people, she pens down everything she sees.  She loves clouds, walking in the rain, the desert, the plains and is a dreamer and a survivor. Well, if you are wondering what she does, apart from dreaming, she is a Product Marketing Manager at a large MNC, a theatre artist and an avid music lover.