I read Paul Kalanithi's essay in The New Yorker in January, and pre-ordered When Breath Becomes Air. The book arrived last month, but I couldn't muster the courage to read it. Although I was reading a lot of books that affected me deeply, I still shuddered at the mere thought of reading Kalanithi's memoir, only because it's a dying man's reflection on mortality, and life's meaning.
Many reviews contained warnings — the reader would shed torrential tears, the reader would be depressed, the reader would empty numerous boxes of tissue papers. I admit. I am a crier. A heavy crier. However, this poignant book didn't depress me. At the end, I had the satisfaction that usually envelops me after having a profound conversation with an intelligent friend, and I was moved by Kalanithi's tenacity to face death, the very thing that retained a sense of wonder in him all his life.
Kalanithi read George Orwell's 1984, when he was 10. His mother ensured that her children were exposed to great minds, as they lived in Arizona, which didn't have great schools. His father practised medicine there, and Kalanathi spent many afternoons, sprawled in the desert contemplating life, and its meaning. When his mother became suspicious of his frequent escapades with his friends, Kalanathi observed that nothing else intoxicated him besides the poetry that he had read the previous day.
I wasn't surprised when he chose to pursue literature. Although he completed his BA, and MA in literature, he realised that his answer to the most baffling question — what is life's meaning? — was not offered by literature. He noticed that literature was far removed from science. However, a lowbrow novel that his friend shoved on him, when he was in Arizona, planted an unassuming seed in him, which later blossomed as his love for the most beautiful human organ — brain.
Kalanithi deemed that if one had to understand life, and if literature didn't quench the thirst, then the next natural option was to understand human brain, the instrument that enables one to define and identify the confounding aspects of humanity. He joined Stanford again, as a resident neurosurgeon, and he toiled hard for about six years, before he was diagnosed with terminal lung cancer. All his hard work became futil when he had to confront his own mortality. He might have been fascinated about death all his life, and observed death at close quarters through his patients, but that didn't prepare him for this ill-fated moment, when death appeared in front him with its horns, and fangs. He told his wife, "I don't want to die."
He was a bright, esteemed neurosurgeon, and neuroscientist one day, and he was a terminally ill patient the next day. The Stanford campus — where he employed his adept hands to operate on petrified patients's brains, where he comforted grieving families, and friends — became the hospital, where he underwent multiple levels of treatment, and finally exhaled his last breath.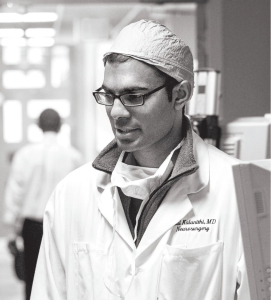 Kalanithi was a man of principles, and appreciated the moral responsibilities of a doctor. To Kalanithi, his patients were not problems. They were not discharge papers, nor X-Ray, and MRI results. They were people with values, ideologies, dreams, and fears. They were people who could love, who were filled with hope, who were terrified by the sharp turns their lives took. He didn't reduce them to mere statistics. Even when asked about the prognosis of his patients, he refrained from saying, "You have got six more months." Instead, he said, "You will live for many months to a couple of years." The sentences, despite sounding similar, carry a chasm of difference between them. He was a doctor with a big heart.
In his memoir, Kalanithi wrote mostly about his ambitions, grand dreams that evaporated, a life well-lived, and his philosophical views about life, and death. On one hand, he offered little information about his strained relationship with his wife, and how his illness saved their marriage. Before I could reach the afterword written by his wife Lucy Kalanithi, I wanted to know more about the Kalanithi, who might have also been vulnerable, and who at some point in time harboured regrets.
Kalanithi's voice was steady, and his thoughts were pristine through out the book. However, I couldn't dismiss the sense of urgency his words carried. Of course, he raced against time to finish the book in a year. As the end approached, as Kalanithi's health deteriorated further, maybe he had to hurry, and the book had to end abruptly. He had no time to soften the edges. So, in her afterword, Lucy Kalanithi assumed the responsibility of opening a window to her husband's world that he didn't have much time to reveal. She showed a Kalanithi, who was always surrounded by his family, as he went closer to death, and she showed a Kalanithi, who was a doting father to their daughter Cady, whom they decided to have after his cancer surfaced. She was a pillar of support to him during his battle, and ensured that his book was published, as he wished. After his death, his distant dream came true — he became a writer.
With little to distinguish one day from the next, time has begun to feel static. In English, we use the word time in different ways: "The time is two forty-five" versus "I'm going through a tough time." These days, time feels less like the ticking clock and more like a state of being. Languor settles in. There's a feeling of openness. As a surgeon, focused on a patient in the OR, I might have found the position of the clock's hands arbitrary, but I never thought them meaningless. Now the time of day means nothing, the day of the week scarcely more. Medical training is relentlessly future-oriented, all about delayed gratification; you're always thinking about what you'll be doing five years down the line. But now I don't know what I'll be doing five years down the line. I may be dead. I may not be. I may be healthy. I may be writing. I don't know. And so it's not all that useful to spend time thinking about the future — that is, beyond lunch.

(To his daughter:)
When you come to one of the many moments in life where you must give an account of yourself, provide a ledger of what you have been, and done, and meant to the world, do not, I pray, discount that you filled a dying man's days with a sated joy, a joy unknown to me in all my prior years, a joy that does not hunger for more and more but rests, satisfied. In this time, right now, that is an enormous thing.
Memoirs inspire me. I haven't read a lot, but a couple of ones like Cheryl Strayed's Wild, and Monica Holloway's Cowboy and Wills, changed me a bit. Kalanithi's too has hurled a stone in my pond, creating enormous ripples. In his wake, Kalanithi has left some questions, and heartbreaking meditations on the pointlessness of planning, the irony of hope, and the fantasy of survival. However his views were not cynical; they were powerfully pragmatic.
When Breath Becomes Air is not about Kalanithi's rendezvous with death, but his tryst with life. That's how I want to see it.
Deepika Ramesh is a reader, blogger, animal-lover, aspiring cyclist, and a sucker for tiny, warm moments. She blogs at http://worncorners.com/