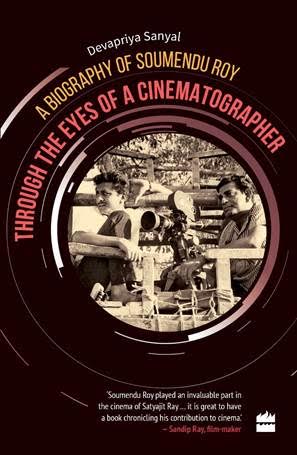 Soumendu Roy played an invaluable part in the cinema of Satyajit Ray … it is great to have a book chronicling his contribution to cinema-' Sandip Ray/film-maker
Soumendu Roy today is widely known for his long association with Satyajit Ray. He was Ray's cinematographer for a generation of films that is celebrated the world over even now. Witness to a great genius, Roy also carved a niche for himself in his own right, working with other stalwarts of Bengali cinema like Tapan Sinha and Buddhadeb Dasgupta, among others. Born into a humble family in 1932, Soumendu Roy's love for the camera was kindled early on – when his sister promised him a Kodak Brownie camera if he passed the board exams. Pass his exams he did, but he thought nothing of leaving academics and joining the Technicians' Studio in Kolkata when opportunity knocked. He experienced his first outdoor shoot on the sets of Pather Panchali – as caretaker of the Mitchell camera that was used for the shooting – the film that put Satyajit Ray and Indian cinema on the world map. He then went on to assist Ray's pioneering cinematographer Subrata Mitra in a number of films, before becoming an independent cinematographer in 1960 with Ray's documentary Rabindranath Tagore.
Through the Eyes of a Cinematographer by HarperCollins Publishers is the behind-the-scenes story of one of the finest camerapersons India has known, his childhood experiences, his love of the 'moving picture', the many intricacies of film-making, and the painstaking toil and unexpected turn of luck that are required in equal measure to succeed. This book is a must-read for all film aficionados.
About the author
Devapriya Sanyal has a PhD in English literature from JNU. She is the author of From Text to Screen: Issues and Images in Schindler's List. Her book on Satyajit Ray's adaptations is forthcoming. When she is not teaching she is writing or watching world cinema. She loves reading and has a lively interest in travelling, photography and sketching.