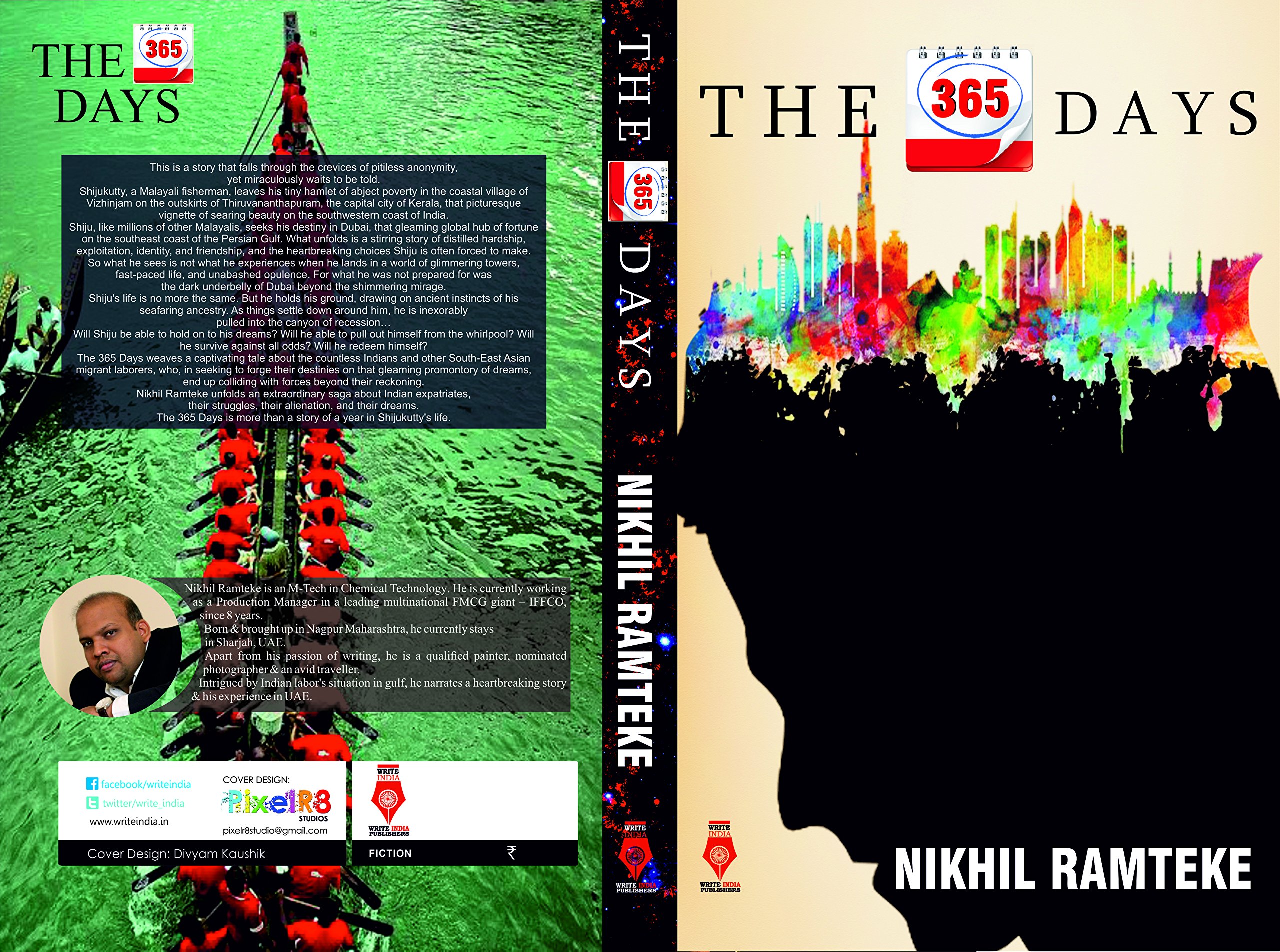 A prospect with promise. A gleam of hope for a better future. And then the shattering reality. This is not the story of just one man, but many like him who left their homelands to find hidden treasures in golden desert fill of mirages. 
Nikhil Ramteke's debut novel 'The 365 Days' recounts a year of Shijukutty's life who leaves the familiar for the dream of abundance but realises, 'There are no revolutions in the desert.' This he says perhaps after the resolve to prosper has been broken by circumstances.
Life was simpler at Vizhinjam, a coastal village on the outskirts of Thiruvanathapuram where he led the life of a fisherman with his beloved wife, Dhanya and his little boy Sooraj.  Where after years of treading the waters, he was drawn to the kingdom of golden sands to make his fortune. 
And so on a New Year's Eve, the dreamy-eyed fisherman had taken wing, left his loved ones behind and headed like millions of others to Dubai to make his fortune. 
Landing in Dubai along with two others like him, he soon  finds himself at a labour camp, a far cry from what he had imagined. Shiju begins to come in terms with reality, one piece at a time. The camp, a world in itself is home to a lot of expatriates who had stars in their eyes but are soon disillusioned.
Shiju finds this most desolate part of the desert, overwhelmingly depressing. His dreams begin to fade as he is led to the truth about his 'new life'. But, Shijukutty is not alone. There is Jabbar Chettan, the Gulf 'veteran' with an experience of over 20 years in the sands and a seemingly well-settled life back home in Kerala, all thanks to his hard work. The ever-friendly Thavamani from Madurai is a helping hand at all times . Santosh Singh also known as 'Bhaiyya' to all is a loud-mouth from Bihar. Chacko is an electrician from Kerala who is spiritually and materially well-connected. Finally, the family of five is completed by Saiful from Bangaldesh who is self-contained most of the times.
Religion and boundaries divide, but the drive to transcend poverty keeps them together – most of the times. Like all the others, Shijukutty embraces the harshness of the desert physically and psychologically as he enters the first day of work.
Thereafter, life begins to seem more and more monotonous, gloomy and miserable each day. There are moments of laughter, reminiscences of good-old days, religious banters and ego-clashes. Amidst the din, there are moments when each one of them looks out for solace in their own ways. There are insights in each life; a few visible to all and mostly hidden in the deep recesses of mind.
The period of Ramadan is when Dubai looks different. The air is festive all around and is the period of happiness and contentment in abundance. The non-Muslims as Shiju puts it, synergise with their brethren in their fasting and celebrations. It is the time of longing and home sickness.
Life moves on mechanically until Shiju's life and integrity are toppled in one moment. One unfortunate incident erases the final hopes of surviving in the desert as Shiju faces the harsh side of Dubai law. 
Life after this takes a rough course for Shijukutty as he and millions of the expatriates face the most dreaded word – recession. Many are shut out, many resign and some even lose lives.
Death does not matter much but only until you experience the loss of a dear one. Shijukutty is torn apart emotionally with a loss of life he had come to appreciate and cherish and is battered psychologically when he is enlisted amongst the many deportees.
With the life in the desert coming to an end after a period of 365 days, Shijukutty has nothing to lose anymore. His spirit has been defeated, but something remains.  His eyes eagerly await the sight of his beloved ones awaiting him on the threshold of a happy life. Those priceless memories come rushing back as he returns home.
The 365 Days by Nikhil Ramteke is a story worth reading and reminds us that the promise and prospect of a better future in a far-off land may not always be everything it seems to be. And yet, there are millions of Shijukuttys with a dream in their eyes and a hope in their spirits, ready to explore the unknown. 
About the author: Nikhil Ramteke is a UAE-based Marathi engineer turned novelist. Born and brought up in Nagpur, Maharashtra, he currently stays in Sharjah, UAE. The 365 Days is set in Dubai during the years 2007-2008, and features Indian expatriates and their exploitation.
Madhusudan M has a B.Tech degree in Textiles and is an MBA. Writing is his passion and so is connecting with anything that inspires the writer in him.