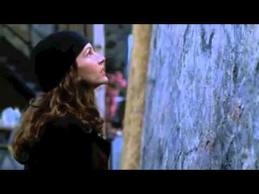 There is a moment in the 2003 Julia Roberts starrer  Mona Lisa Smile where Katherine Ann Watson, an art lecturer  introduces her students to Jackson Pollock's art and there is a hush in the room as a larger-than-life canvas fills up the silence with a wordless roar. There is nothing to say really because Pollock's art is not just art. It is a living thing, elemental in its capacity to stir the human soul.
**
While writing a column about architecture, I remembered this moment and it occurred to me that art is a creative impulse and so is architecture. Some architects are artists in the way they conceive their buildings and some artists are like architects as they layer shadows and lights, the tints of seasons, play around with volume and scale and create something that is not just surface but depth, not just art but a tangible living experience..like architecture. Jackson Pollock's art was a statement. An interpretation of life, contemporary view points and a celebration of freedom. Like a modern architect, he used his tools to create a vision of the future liberated from the past in every way.
**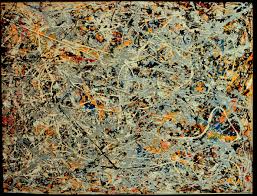 He believed a modern artist does not just draw from the times he works in but creates from within. Every building speaks for itself if it is allowed to and so does art and Pollock believed that critics and onlookers should not force their subjective judgments on a work and just "receive" what a creation has to offer. And 'hear' it like music. Like a modern monument that flows without a tangible beginning or ending, Pollock's art defied the usual rules of art and drew the viewer in its busy, explosive world where tints and strokes and dabs and smudges and streaks created a space that was eerie, yet compulsively powerful.
**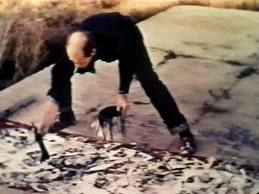 Most gifted artists, musicians, writers and architects tap into their unconscious to create works that just training and intellect cannot imagine and Pollock's work like Gaudi's architecture was a truthful rendition of the subconscious mind. He did not just draw from the subconscious mind, he painted its energy, its frantic motion. Like a modern building that does not just look pretty but has a vibrant dialogue with air, water, light and shadows, his art too refused to passively paint life but instead expressed how he was affected by it. He did not paint n a technical sense ..he would place on the floor, a canvas, and use sticks, knives, trowels and sometimes even basting syringes to drip, pour, splatter paints over the canvas surface. Sometimes he would add sand or glass shards to the paint or some other substances. No drawing. Just an instinctive understanding of texture. He also believed that at some point, art could become a part of architecture rather than just embellish it because really who is to decide, where one ends and the other begins. Like an architect, he too approached his work from all sides because as he said, "My painting does not come from the easel. I prefer to tack the unstretched canvas to the hard wall or the floor. I need the resistance of a hard surface. On the floor I am more at ease. I feel nearer, more part of the painting, since this way I can walk around it, work from the four sides and literally be in the painting.
**
So powerful was his work that in 1947, architect Peter Blake met Pollock and was immediately inspired to create a backdrop for it and was asked a few years later by the artist himself to showcase his work in an organized, architectural way at the Betty Parsons Gallery in New York. Blake even visualized a museum for Pollock's monumental works that he believed deserved an expansive, limitless frame. He imagined a 50 by 100-foot building in which Pollock's paintings would be "suspended between the earth and the sky, and set between mirrored walls so as to extend into infinity."
**
Every great work of art and architecture is a combination of intention and instinct and this was true of Pollock's work too. He led a tumultuous life, battling alcoholism, a suspected bi-polar disease but on his canvas, all his demons were released and tamed. In November 2006, Pollock's work titled No. 5, 1948 became the world's most expensive painting when it was sold for over $140,000,000. In 2012, his work titled Number 28, 1951, sold at Christie's, New York, for $20.5 million. In a world where art can be duplicated and styles mimicked easily, Pollock was original and inimitable. He described his style best when he said, "It doesn't matter how the paint is put on as long as something is said."
**
Reema Moudgil has been writing for magazines and newspapers on art, cinema, issues, architecture and more since 1994, is a mother, an RJ , an artist. She runs Unboxed Writers from a rickety computer , edited Chicken Soup for The Indian Woman's soul, authored Perfect Eight and earns a lot of joy through her various roles and hopes that  some day working for passion will pay in more ways than just one. And that one day she will finally be able to build a dream house, travel around the world and look back and say, "It was all worth it."