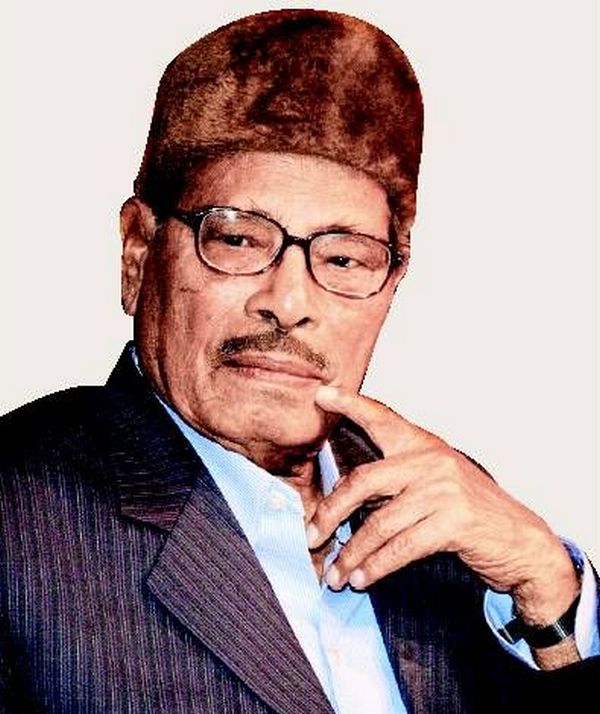 Around 12 years ago, I travelled for hours to a lesser known neighbourhood in Bangalore to find and interview Manna Dey. He lived on the first floor of an independent home and it was probably a rented space.and there were really no flourishes of fame and legendary success anywhere.
**
This was a middle-class home with a showcase crammed with mementos if memory serves me right..a diwan and the usual paraphernalia of comfortable, no fuss living. Manna Dey was like that too. A man who was never loud, boisterous or eager to stand out. He liked to blend into life, seamlessly and harmoniously.
**
Harmony was the keynote of his voice and his life. Not once during the interview, did he speak about his own achievements though he looked and sounded lonely and wistful for days when musical integrity and not record sales guided composers, when a Rafi could get along with a Manna Dey and a Kishore Kumar,  when a Bhimsen Joshi would make an exception and sing for a Hindi film and when RD Burman was breaking open the shell Hindi film music had existed in forever.
**
He recalled how the camaraderie between singers created magic during live recordings. You can sense the truth of this statement in the way Lata Mangeshkar and he play around with the mad refrain of Ya allah..ya allah dil le gayi  in Jhoomta mausam mast mahina.
**
In the way he and Mohammed Rafi took divine love to a point beyond the human gaze in Tu hai mera prem devta.
**
In the way he and Asha Bhonsle played a game of hide and seek in Tu chupi hai kahan.
**
In the way he vibed with Kishore Da with a quirky..aadi chala chala ke jhoom..tirchhi chala chala ke jhoom  in Babu samjho ishare.
**
In the way he took comic chemistry with Kishore Kumar to another level with the maddest song in Indian cinema..faking his version of a South-Indian accent, ad libbing and bringing the house down in Ek chatur naar.
**
In the way, his voice always anchored folk singing and never dominated songs like Rammaiya vasta vaiiya, Chalat musafir and Hariyala sawan dhol bajata aaya.
**
Even  as a soloist, he was always the song, never the singer.
**
Mausam beeta jaye.…(Do Beegha Zameen)..where  he was the cry of  the dispossessed peasant..and of his land now bereft without him and asking him to leave traces of his story now that he is leaving perhaps to never come back.
**
Raat gayi phir din aata hai.. (Boot Polish) where he was the compassionate, gentle  voice of John Chacha nourishing famished street children, with hope and singing  Badhta chal..tu ek hai pyare lakhon mein..tu bhadta chal..ye raat gayi..woh subah nayi.
**
Zindagi kaisi hai paheli (Anand)..where he was singing a love song to life even as he acknowledged that it was not an easy ride.
**
Phir kahin koi phul khila (Anubhav)..where he was the backdrop of life as it unfolds in a high rise Mumbai apartment and in the marriage of two disparate people.
**
Tu pyar ka sagar hai (Seema) where he was the teacher, the philosopher, the mentor, reaching out to God and to the light within during a dark moment of utter hopelessness.
**
Laga chunri mein daag (Dil hi to hai), where he was the playful classicist, making Sahir's profundity accessible.
**
Tujhko chalna hoga (Safar) where he was  the voice of  the boatman..navigating endless rivers.
**
Kasme vaade pyar wafa where he was the voice of a world-weary cynic. Or Aye meri zohra jabeen and Yaari hai imaan mera where he distilled domestic bliss and the sacred bond of a friendship into two diverse qawalis without one false note.
**
One of my favourite Manna Dey moments is that undersung love song for a child, "Lalla..allah tera nigehbaan"  (Abdulla) and he brings tears to my eyes when he goes, Mera chota sa hai tu sanam…  No parent can hear him sing this line without a catch in their throat.
**
Aye mere pyare watan…and the longing for home and family.
**
So many songs. So many versions of one, exceptional voice.
**
During that memorable afternoon all those years ago, Manna Da did not talk as he was being interviewed..he talked as if he needed to release the ache of lost friends and an era of film music when melodies were simple, voices earnest and music directors masters of mood and nuance.
**
He recalled how in a barely big enough studio packed with musicians and chorus singers, he, Mohammed Rafi, Sudha Malhotra, SD Batish, Asha Bhosle  took turns before two mikes to sing probably the best qawwali ever recorded for a Hindi film…Na to karvan ki talaash hai  from Barsaat ki Raat.  How the recording session lasted for over 12 hours with everyone giving their best.
**
Yes, there were regrets. He never won enough awards and was never given enough romantic songs to sing for leading men but then there were songs that only he could do.
**
Who else but he could have sung, "Ketaki gulab juhi," with Bhimsen Joshi for Basant Bahar though it was a standing joke between his wife Sulochna and him that only in a film could a Manna Dey beat a Bhimsen Joshi in a classical duel!
**
Though part of a competitive world, he never spoke ill of another singer, never coveted other people's milestones and essentially remained anchored in his lifelong love for his music, his wife and family.
**
He spoke fondly of Kavita Krishnamurthy who had performed with him many times and shared how happy he was that she was now married and settled happily.
**
My most favourite memory of this meeting was me requesting him to sing, "Har taraf ab yahi afsane hain.." and him closing his eyes and obliging me.
**
My eyes had misted. May be his had too. Yes, that is what music does to strangers. It bonds them and Manna Dey is still making us sing along with him and will be a part of us as long as there is music, love, the business of living and the need to hear a voice  that was very much of this world and yet from some place beyond.
**
I have spent an entire day listening to a compilation of his songs and the line, "Ek din sapnon ka rahi..chala jaye sapnon se aage kahan."
**
I believe he took his music with him to the other side because he sang every thing. Life, death, pain, joy, loss. Manna Dey and music flowed together in one gushing, indivisible stream.  And not even death could have divided them.
**
Reema Moudgil has been writing for magazines and newspapers on art, cinema, issues, architecture and more since 1994, is an RJ, hosts a daily Ghazal show, runs unboxed writers, is the editor of Chicken Soup for The Indian Woman's soul, the author of Perfect Eight (http://www.flipkart.com/perfect-eight-9380032870/p/itmdf87fpkhszfkb?pid=9789380032870&_l=A0vO9n9FWsBsMJKAKw47rw–&_r=dyRavyz2qKxOF7Yuc ) and an artist.