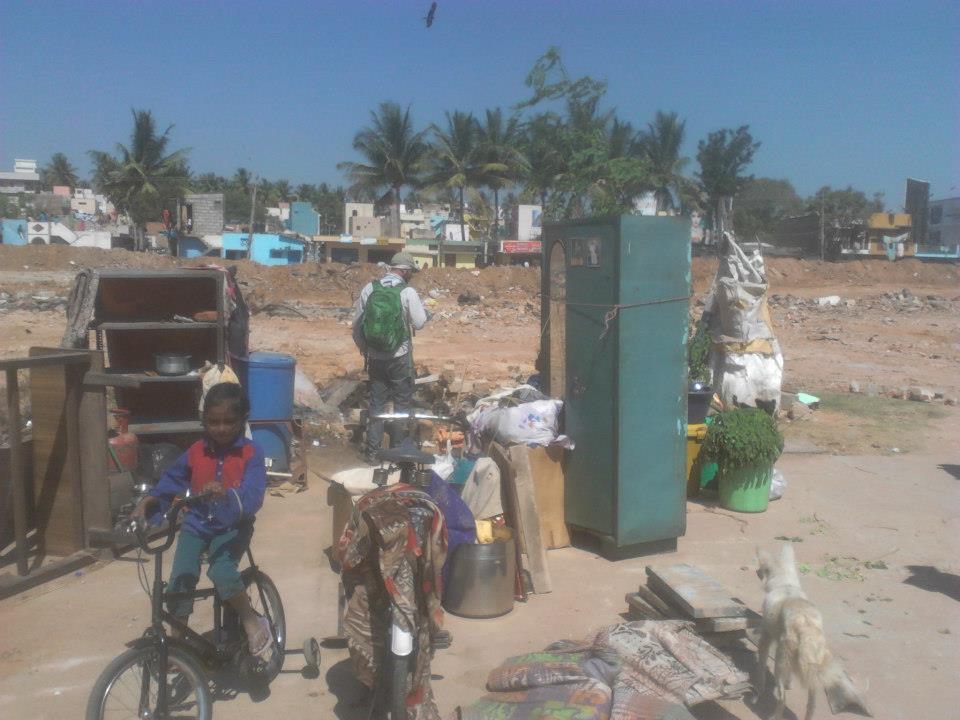 At this point, the history of the EWS colony in Ejipura is a haze. A dust haze, under fierce sunshine as bulldozers plow away the last bits and pieces of the homes of more than 200 families. Fragments swim into focus now and then.
**
The corporation-built housing blocks that were so shoddy they became more and more sodden and decrepit with each rain, finally collapsing and leaving the inhabitants stunned amidst rubble. Hold that image in your head; imagine your house crumbling. Everything you own is awash in dirty water and lumps of broken masonry. No one is going to rebuild for you, even though promises are made. What do you do? The people of this colony slowly created a shantytown with corrugated shacks and makeshift tents.
**
Time passed. The city continued to become an IT haven, India's silicon valley. The government rolled out tax breaks to tech majors and spent crores enticing MNCs to set up shop in the city. In the meantime, it seemed as if the shanty town in Ejipura had been forgotten. But prime real estate is never forgotten. A deal was made, hands were shaken, money passed hands and a private builder was given this plot of land. Over a weekend, a weekend because the courts are closed and stay orders cannot be got, the shanty town was razed to the ground. By the side of the road that thousands of the well-heeled speed down on their daily commute, somewhere in the middle distance, people who were already living on the knife-edge have been given what will be the final push into indigence for many of them.
**
This is very clear to me: it is already over for many of them. There have been deaths that have been hushed up. There will be more. When our city corporation dithers around and claims that it is hard to tell why an old woman died, an old woman whose house was destroyed, forcing her to sleep on the roadside on a bitter cold night, it is clear that no official channels will open up for these people. Families are being  marched away by police men and private goons – it is hard to tell the difference sometimes – given pitiful sums of compensation in front of press cameras, sums that will not even cover the deposit on a new house and sent away to fade into the shadows.
**
Most of these people have always lived in the shadows. They have cleaned houses, driven cars, fixed them, wired houses, painted them, they have spent too much of their income on booze, some of them are  involved in petty crime, some of them beg for a few coins to rub together. They'll melt into the shadows, something else will hit the headlines and we'll forget them.
**
Light can chase the shadows away and cut through that haze. We need to generate light, and heat. We need to ask why public land was sold to a private developer, why land that had long ago been allocated to the poor suddenly needs to hold another mall. We need to ask why policemen threaten social workers and stand joking with the hired goons of a private developer while people's belongings are crushed into rubble in front of them.
**
But it isn't enough to hold the authorities accountable. I want to ask you, the middle class and wealthy of Bangalore, what possible difference another megamall midway between The Forum and Garuda Mall will make in your lives? Is it that important to have a closer location to purchase a 40,000 rupee handbag, an iPhone or Chetan Bhagat's latest volume of pabulum? Are you satisfied with the city your self-regarding quest for opulence has created? Do you really imagine that you and I are not as much to blame for this area of darkness, this hazy zone of shadow lying like a puddle of congealed blood at the feet of our gleaming towers of glass and steel? Do you think we aren't the real villains here?
**
Many things are hazy, confused, I don't have a clear picture of what is going on and what will unfold, But I know that I am to blame. And so are you.
To help..click here
https://www.facebook.com/EWSEjipura
**
Jayaprakash Satyamurthy lives in Bangalore. He writes various kinds of corporate content for a living. He also writes fiction. He plays the bass guitar for a band and he and his wife Yasmine work for causes they believe in, support  hordes of cats and dogs,  and each other's many dreams. Jayaprakash also maintains a sporadic blog at http://aaahfooey.blogspot.com