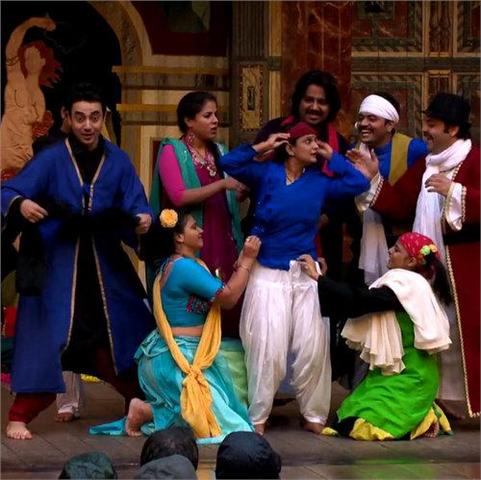 Piya Behrupiya, the Hindi musical version of Twelfth Night brought by The Company Theatre will open in Pune on the 13th of October, this year. This play was staged recently at the World Shakespeare Festival in London-UK and was applauded by a full house. In the words of its director, Atul Kumar, the audiences in London (a majority of whom were non-Hindi speaking) were so mesmerized with the play that they clapped, sang, and danced along with the stage actors.
**
Though there have been many versions of this Shakespearean drama that combines deft comedy with somber sentiments, Piya Behrupiya is the one that stays true to its original quill-and-ink laced manuscript. And director Atul makes it clear that the spotlight will swivel on the characters straight out of the Shakespearean play, without any change in their names or mannerisms. The adaptation by Amitosh Nagpal (who also essays the role of Sebastian in the play) takes a dive into the Victorian era but also incorporates the bracing folk elements. So, you can expect a jamboree of Indian slang and music (songs from the heart of Bundelkhand and Punjab coupled with theatric compositions of Qawaalis).
**
With its current form and content, the play would appeal not just only to avid readers of Shakespearean pastiches but also to those who enjoy traditional theatre (nautanki).  And as Atul puts it, the foibles of humankind are writ large in the play and so is Shakespeare's interpretation of the same.
Synopsis of the play:
In the household of Olivia, two campaigns are being quietly waged – one by the lovesick lord Orsino against the heart of the indifferent Olivia; the other by an alliance of servants and hangers-on against the high-handedness of her steward, the pompous Malvolio. When Orsino engages the cross-dressed Viola to plead with Olivia on his behalf, a bittersweet chain of events follows.
**
Cast and Crew:
Directed by:
Atul Kumar (Actor, Director, Producer who spearheads The Company Theatre)
**
Adaptation by:
Amitosh Nagpal (Actor and a graduate of National School of Drama)
**
Cast:
Sagar Deshmukh As Duke Orison
(Lawyer by profession, Sagar has donned hats of an actor, writer and technician)
Geetanjali Kulkarni As Voila
(A television and film actor who also conducts theatre workshops)
Mansi Multani as Lady Olivia
(Film actor, singer,  dancer  as well as a radio jockey and a reality TV show anchor)
Gagan Riar as Sir Toby
(Has been involved in theatre for the last 14 years and has won several awards and accolades for his performances including a META and ITA)
Saurabh Nayyar as Malvolio
(Actor and a production assistant)
Trupti Khamkar as Lady Olivia's maid
(Actor and dubbing artist who has acted in plays of 4 different languages)
Mantra Mugdh as Sir Andrew Aguecheek
(Film actor and an award winning radio jockey)
Neha Saraf as clown Feste
(Film and TV actor)
Music by Rahul Sharma
(Percussionist and music composer who is also an accomplished singer and an actor)
Piya Behrupiya will be staged on the 13th of October, 2012 at 9 pm at Nehru Memorial, Camp, Pune. Tickets can be booked on www.indianstage.in. For home delivery of tickets, contact 09243777970. For telebooking, call 09820192778 or 09769342024.