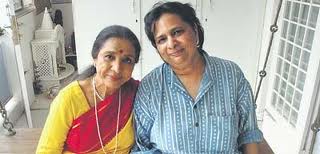 Tragedy does not respect fame or talent or abundance. It strikes with cold precision and takes away what it must. And also destroys the notion that the rich and the successful are impervious to loss. The suicide of writer Varsha Bhosle,  is a blow not just because it is such a shocking tragedy but also because it makes us all feel so vulnerable. If those who have everything, (supposedly) can suffer from such a debilitating sense of lack, what hope is there for those of us who struggle everyday to make ends meet, walk through long tunnels of unfulfilled dreams without knowing if there is light at the end of the tunnel? Varsha  was supposedly suffering from a long history of  depression and a day came when life was not enough for her and with her passing, we are all reminded of the fact that we are all part of the same human family, with shared pain and heartbreak and loss.
***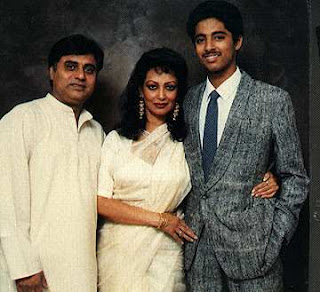 Just today I was reading about Chitra Singh and her never ending battle with grief. In 1990, a freak accident took away Vivek, her young son. The loss numbed her, cut her off from music and sent her spiralling into gloom and a deep, inward journey. She took a few years off to live in Europe and learn something about healing and it is almost as if  life was preparing her for another blow because in the early 2000′s, her daughter from her first marriage took her own life. Chitra says, music could not sustain her like it sustained Jagjit Singh. She does not even hum today, but her spiritual training has kept her on her feet. Today, her life has a modicum of peace though it is marked by many losses and the loneliness of losing not just her children but the man who was possibly her soul-mate though the two went through many difficult phases as individuals, as parents and as a couple. She is releasing a new album in her husband's memory on his first death anniversary and she has her grand children and her memories.  She has perhaps learnt to be  resilient in the knowledge that life is not perfect and not everything can be understood but yes, it can be lived, one day at a time.
***
Grief and resilience remind me also of Protima Bedi. I remember her walking into the Times of India  building in the early 90s. Striding  is more like it. In an indescribable outfit that flowed around her, her hair cropped short, her eyelids tattooed with dark permanent kaajal and tribal dots on her chin, she looked like a force of nature. I had read about her as a small town teenager in a woman's magazine. Her bohemian, fearless love for life. That well documented sprint across Juhu beach. Her unconventional relationships. Then her passion for Odissi. Nrityagram. All of this flashed across my eyes when I saw her walk by. And then her son's battle with schizophrenia. And his suicide.  I still remember one of her interviews where Protima made peace with her son's death because she believed that it was a choice that he made. He did not want to live half a life, she said. Some time later, she was feared dead in a landslide in Uttar Pradesh but even that end in retrospect seemed more like a dramatic curtain call worthy of a woman who had lived without  fear and guilt. She died just as she had lived. As a seeker of new worlds within and without. And always in the moment.
**
I also remember watching Eric Clapton on MTV Unplugged decades ago as he sang Tears in Heaven in the memory of his toddler who fell to his death out of a 53rd floor Manhattan apartment. I had wondered how a blow like that could turn into a song this beautiful. Just as I always wondered how Jagjit Singh could sing without letting the world know just how the loss of his son had shaken him. But music was his medicine and his solace and through it he not only healed himself but millions of others who listened to him.
**
I don't know if every great gift comes with a price. I don't know why some of us suffer more than the others. There are never any easy answers to questions about life and death. But yes, courage is a choice. Just like hopelessness is. And no matter who we are, whether we are achievers or just anonymous strugglers,  what really matters is not how life treats us but how we treat our life. How we cope. How we fight. Survive. And hope against all odds. And live another day. And then another.
**