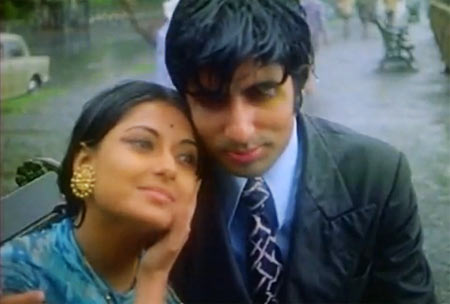 In the 70s and the 80s, cinema was an Eastman colour, 70 mm or cinema-scope as the case may be, 'cannot bear to miss a scene' event. And if you have not watched Trishul and Deewar or Kala Patthar or Sholay in a cinema hall, you will never know what it was like to be in the heart of a storm called Amitabh Bachchan. But he was not just the angry outsider challenging entrenched power equations in a dockyard worker's blue shirt with a badge that just happened to read 786, a coal miner in a white shirt knotted at the waist, surveying the world with a haunted gaze, with that delicious stubble on his gaunt face and bursting in immaculate English, "This pain is my destiny." Oh dear God, the serendipity of the moment when an actor runs into his destiny and finds a pair of shoes no one else could have filled.
**
Bachchan was the dialogues that he delivered. He was the body and soul of a line, he was rage and conflict and angst and sublimation. But he was also his brooding silences. His gravitas. His deep love for his women even in films where he was the hero and the anti-hero and the script and the music and the comedy and frenetic action. And that Amitabh Bachchan is the one I go back to again and again.
**
He was lucky to be respected as an actor by his directors who despite the long list of films where he was doing everything he was not meant to do (Ek Nazar? Aalaap? Even Bombay To Goa?) saw in him the Amitabh Bachchan he became later. And directors like Ramesh Sippy and Hrishikesh Mukherjee and Yash Chopra saw his intensity, channelled it in roles that seared the screen but also used it to express elemental human emotions. Like, yes, love.  Watch him walk down the rain filled streets of Mumbai in Basu Chatterjee's 1979 film Manzil. There is the melody of RD's Rim jhim gire saawan and then there is Bachchan flowing with the song, untutored like the rain and so believably in love. My favourite bit is right at the end when he is sitting on a bench with Mausami Chatterjee and whispering something in her ear that we wish we could hear.
**
And so here is my list of the 10 best moments when Amitabh Bachchan was in love on screen and we  could not breathe or look away.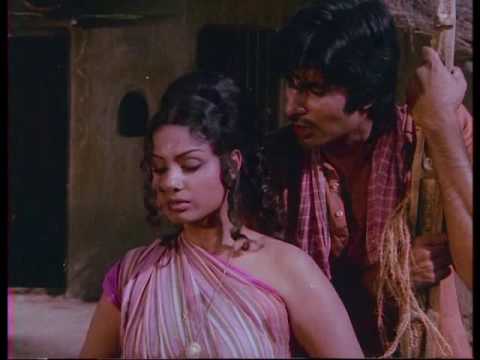 Saudagar (1973)
This film by Sudhendu Roy gave us a glimpse of the phenomenon Amitabh Bachchan was meant to be. He played Moti, a long-limbed, unscrupulous heartbreaker out for a kill. He sells
gur
(unrefined cane sugar) and is in love with a seductive village beauty Phool Banu (played by Padma Khanna who memorably sang
Sajna hai mujhe
in a key sequence of the film) and in order to win her over and pay her
'meher
', he  manipulates a widow much older than him (An absolutely marvellous Nutan) to not just fall in love with him and marry him but also use her skills as a
gur
maker to make him rich. The film was based on a story called 
Ras,
 by 
Narendranath Mitra
 and traces the paths of greed, lust and the inevitable destruction they lead to. Amitabh Bachchan played Moti with a certain cold-blooded awareness of just how impossible to resist he was. His eyes are that of a predator, his body language note perfect as he climbs up date trees to collect nectar, his swagger and self-belief completely in tune with his character. His selfishness even in his remorse was visible to us but he still made the character grey rather than all black. Your recognised in him people who have charisma and know that they have it and have no misgivings about using it to use others. With just a pair of unforgettable kohl lined eyes, a calculated smile that broke down walls, Bachchan won over Nutan and us.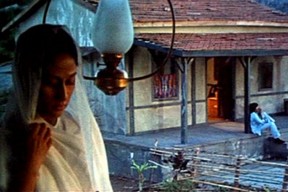 Sholay (1975):  
A man plays a haunting tune on the harmonica. His quiet gaze following a woman in white as she walks across a long lamp-lit balcony. No words spoken, None needed. Enough said.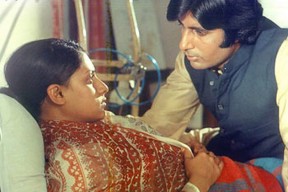 Mili (1975):
While the whole world discusses Amitabh Bachchan's chemistry with Rekha, I personally believe he had better chemistry with Jaya Bachchan. The two did not even need to touch each other to convey a deep, soulful connection. The kind they shared in Sholay, Abhiman and then in Mili. Bachchan's Shekhar in this Hrishikesh Mukherjee classic is a man so bitter and haunted by pain that in a fit of almost suicidal drunken rage, he calls himself a ghost, a bhoot and expects a chit of a girl, a neighbour ( Jaya as Mili) to run and hide. When she does not and scolds him and refuses to let go of his bleeding wrist, he cannot believe his eyes and this miracle.  That he has finally found someone who cannot be repelled or scared away.
**
"Aaj bahut din baad daant khayi re…maza aa gaya, " he says contentedly before drifting off to sleep. And the playful courtship. Them watching the stars from his terrace and trying to trace their dead mothers. Her sickness. The flowers and little notes he sends her everyday. And then his fear that he won't be able to watch her die. And then his proposal as she sits propped against pillows, looking like a pale shadow of the sunny girl he fell in love with. They never even embrace. They don't need to. And yet, such intense, soul wrenching love.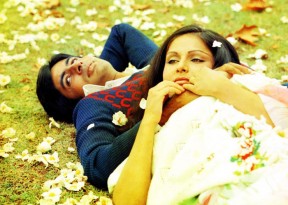 Kabhi Kabhi (1976) :
The first half of Kabhi Kabhi is pure poetry especially the flash back sequences where Amit (AB) and Pooja (Rakhee) fall in love around a bonfire over Sahir Ludhiyanvi's verses. It was in this film that you realised that poetry and Amitabh Bachchan's voice were meant for each other and that Harivansh Rai Bachchan's son could move from Madhu Shaala to "Main jaanta hoon meri humnafas phir bhi kabhi kabhi mere dil mein khayal aata hai" in one supple, sonorous leap.
**
As he walks in the mist, wearing stunning overcoats with poetry swirling all around him, we knew we were watching an actor who could play a coolie and a poet, kill and fall in love with equal conviction. Silsila was a more elaborate interpretation of the poet in love and it has midnight strolls through Lodhi Gardens to the lilt of Neela Aasman so gaya, the famous "I hate you..I hate you" reunion between two married lovers and the sensuality of Yeh kahan aa gaye hum but Kabhi Kabhi was sublime passion and let us face it. Javed Akhtar was great but Sahir was Sahir. And no one before or since has recited Sahir quite like Bachchan.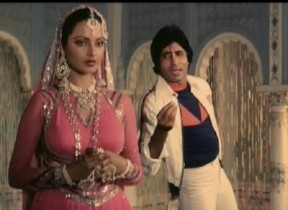 Muqaddar Ka Sikandar (1978):
This rather melodramatic take on Devdas worked only because Amitabh Bachchan sang, danced, drank, cried and died with spectacular conviction. His Sikandar like Gatsby was a tortured soul looking for a love that can only be imagined and never really tasted because it never really existed. He cannot however understand that and cannot let go and cannot accept that no matter how rich or powerful he gets, the woman he loves will always look down upon him. Enter Chandramukhi, sorry Zohra Bai (Rekha) who will fall in love with him desperately and then abandon him tragically. This was a soggy, defeatist tale of love but Bachchan never overplayed his Sikandar and let him remain human, flawed and heartbreakingly vulnerable.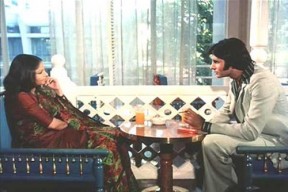 Trishul (1978):
Bachchan again plays the outsider in this film and there are many signature moments to tap into the aggression he was making his own in film after film. His introduction scene where he lights a beedi with a dynamite explosion behind him. His outburst in the office of the man who is his "najayaz baap" but doesn't know it yet.  His rise to success and along the way his friendship with Geeta (Rakhi) who loses her job because of him but then starts working with him as his closest confidante and occasionally his moral compass when he is going too far in his plans to avenge his wronged mother.
**
He even tries unsuccessfully to woo another woman (Hema Malini) to further his ends but in the end, in a  moment of vulnerability, finds himself confiding his loneliness to Geeta who says memorably, "Koi bhi insaan nafrat ke sahare nahin jee sakta..kabhi kisi si thodi si dosti..thodi si mohabbat maang kar to dekhte?" And his response, "Aaj main bahut si dosti..bahut si mohabbat tumse maangta hoon." Gold.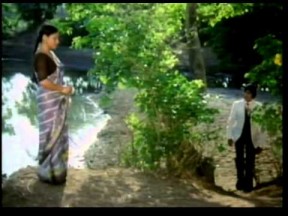 Jurmana (1979)-
By this time, Amitabh Bachchan was an undisputed superstar. In Jurmana, Hrishikesh Mukherjee gave Bachchan a character that he would have relished because though it played to the gallery with a mandatory fight sequence (the opening scene in the bar  where he stylishly flirts with a beauty queen and beats her boy-friend), it also let him delve into the psyche of a messed up businessman who strays into an "oonghta pinakata" (in other words sleepy and boring) town and finds Rama, a woman (Rakhee) who is idealistic and infallible. Or so we think till Bachchan's Inder Saxena stung by her repeated rejection takes it as a challenge to compromise her. If not in the physical sense, atleast in a way that can prove that he can buy anything he wants. And that money is bigger than morality. And all this because a long, long time ago, he was dumped by a woman he loved because he was not rich enough. Now he is and he can do whatever the hell he wants.
**
So he begins to stalk Rama with gifts of jewellery, clumsy attempts to impress her by showing up before her birthday party with pandal decorators and more, He is desperate to prove to himself that all women can be bought at a price. When Rama refuses to budge, he pretends to be in love with her poetry, publishes her diary of poems and makes her feel that she is rescuing him from a cold, unfeeling life. Watch him watch her as she is singing Saawan ke jhoole pade and it is almost as if he is smiling to himself and saying, "She is all mine and she doesn't even know it!"
**
Then ofcourse a scandal breaks loose, Rama loses face and the faith of her father and is feared dead. It is then we see Inder without his masks and his cynicism. He hunts for her remains like a crazed man, finds out to his disbelief that he not just feeling enormous guilt but also love. And maybe, while he was trying to win Rama over, he was losing himself to her, one heartbeat at a time. It is not a great film but I watch it again and again for the small town sensibilities brought to life by Mukherjee, for the characters and that unforgettable scene where Inder hears Rama's voice on radio and drives like a maniac to find her. Aah, there was nothing more watchable than contrite arrogance especially when Bachchan embodied it.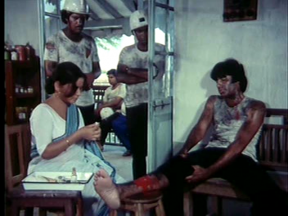 Kala Patthar (1979):
A mysterious coal miner with a compulsive need to save lives, a death wish, a nightmarish past. An empathetic village doctor who sees in him what no one else has. The need to suffer and endure pain almost as if he wanted to punish himself. A tenuous bond. Quiet conversations. His anger when she is targetted by a bully. And that memorable walk under the umbrella in rain as Sahir reaches out to them in Mahendra Kapoor's voice, "Ishq hai sacche rab di rehmat ishq se kyon sharmaiye..jaggeya jaggeya jaggeya..kade ishq chhupan nayyion lageya." Magic. The kind only Amitabh Bachchan can create even if he is only walking across the screen for a long minute.
Shakti  (1982):
This Ramesh Sippy starrer got more than its share of publicity for its confrontation scenes between Amitabh Bachachan and Dilip Kumar but it also had a beautiful love track between Bachchan's Vijay and Smita Patil's Roma. The two belonged to each other on screen because they both delivered their dialogues with inimitable brilliance. They had great voices, a great chemistry almost as if they appreciated each other immensely and there was that malted sensuality that blended perfectly with their almost intellectual and witty banter in this film.
**
Vijay rescues Roma from a bunch of goons in a local train and what follows  is neither filmy or predictable. He drops her home and with absolute ease, she invites him to her home because "main coffee bahut acchi banati hoon." And that moment when she is awkwardly singing a beautiful RD Burman song in a hotel and he walks in, sits down right before her and gazes at her with a red rimmed gaze that can melt a stone. Sigh.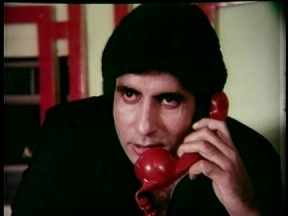 Bemisaal (1982) :
This Hrishikesh Mukherjee film is not a love story but Amitabh Bachchan plays his character Sudhir with seething intensity. As an eternally grateful orphan with a painful past, he makes one sacrifice after another for his best friend Prashant (Vinod Mehra) without ever sounding or looking maudlin. There is his track with his 'sakhi' his soul-mate Rakhi who marries Prashant but still carries a torch for him and vice versa and there are many scenes between the two where a certain note of bitter anger and dammed passion creeps in.
**
And that explosive scene where she believes he will endanger her husband to avenge the fact that he lost her and he says, "Iss jaanwar se kabhi mat ulajhna." And yet when the penny drops and he sacrifices once again and at great cost to himself to protect Prashant, he meets her and tells her for the first time what he feels for her, "Agar maine zindagi mein kisi ko bahut apana maana hai..kisi ka samman kiya hai toh woh tum ho sakhi par itna yaad rakhna..jiss din tum Prashant ko kho dogi..uss din tum mujhe bhi kho dogi." And only Amitabh Bachchan can carry off a beast and an angel in the span of two scenes. There is also his track with Ruby (Sheetal) who he disgraces to avenge a past wrong but that will need an entire chapter to itself.