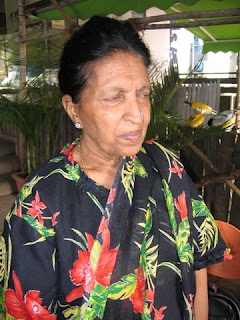 Yes Mubarak Begum is around. And no, she isn't doing well. I know no one asked but it's one of those moments in life when a question need not precede the answer.
A few years ago, a dusty drive to Behram Baug in Jogeshwari took a colleague and  me to the one room tenement given to her by the government. It might have been prudent to stay downstairs in the taxi as suggested for her, but our enthusiasm saw us racing up a narrow paan-stained staircase to reach her door. "Ab idhar tak aa hi gayen hain to dekh lijiye.. yeh hai mera ghar." 
Clearly, she'd rather have met us at a restaurant.
Having shared a modest 470 sq feet Mumbai 1BHK place myself with nine other people for 5 years, I was no stranger to the space constraints faced by Mumbaikars. But this was not a problem of space. This was a story of neglect and apathy, of one's basic right to dignity."Fans hain.. bahut saare hain.. par meri haalat to aise hi hai..Aise fans kis kaam ke?"
True there's a story like this in every neighbourhood, but not every neighbour with due respect to him or her, has been an instrument of joy to a nation of music lovers. This is the story of Mubarak Begum whose call for embrace in Mujhko apne gale laga lo aye mere hamrahi is remembered by everyone who knows something of film songs. Then again, going by what we saw, may be it isn't remembered enough. And honestly, I am a bit tired of people trying to evaluate her contribution to Hindi cinema. Ustaad Bismillah Khan died in near penury too. So really.
I won't get into details of the series of unfortunate events that have contributed to her current state, because truth told, the details are not out the ordinary and even if they are, I am loathe to making this a juicy story that appeals to some base instinct.
I will foist on you one detail though. A government stipend of 700 rupees every month which is sent once every four months isn't exactly what would help you take care of a 40-year old daughter with Parkinson's and keep the home fires burning. Not in Jhunjhunu where Mubarak Begum originally comes from. Certainly not in Mumbai where she now lives.
We've all probably heard of some artiste or the other finding himself/herself penniless and destitute in old age. We've probably scanned the column centimeters of newsprint dedicated to such a "human interest" story and muttered our tsk tsks in-between cups of masala chai. Sure, we feel bad about such things. We've probably even dedicated a moment or two of family time to wonder what can be done to help such people. The answers are not easy, we've said to ourselves, sometimes blaming the person for their downfall ("must have squandered their wealth away", "probably didn't invest wisely" etc etc), sometimes placing the responsibility on the government but – and here's the thing – always, always sweeping the topic eventually under that convenient but weary carpet.
I know a few people who are exceptions, who've decided to do something, however small, and however solitary in effort. As for me – what I am going to do?
I know I cannot write a moving enough piece to stir people into action. I can barely articulate my own feelings when I sat there and listened to her singing three whole paragraphs of her famous song, stealing glances now and then to see if anyone recognized her. I cannot begin to describe how incredibly sad I felt when I walked out of Kailash Parbat with her last question ringing in my ears. "Yeh kulfi jo abhi maine khaayi.. bahut mehngi hogi na?"
So what am I going to do?
I have a few options. I can say to myself "shit happens" and move on with my life. I can absolve myself of any responsibility. "Why am I paying the government taxes?"
I can allow myself to get distracted by pointless self-doubt on my motives. "Nobility doesn't become me." I am as common as anyone can be. I am not particularly sentimental and can be brutally pragmatic about things. Shit happens.
But I am no freeloader. I always pay up. I don't believe in free lunches.
One of my earliest memories is of my father teaching me to play one line of a hindi song he loved on the harmonium. Just one line. I had no clue then who the singer was. But I have now.
"Kabhi tanhayion mein hamari yaad aayegi.."
I owe someone for something they've done for me. And it really is as simple as that.
Seetal Iyer is the co-founder and content head at Timbre Media and one of the most well-loved radio voices for over 15 years and counting.