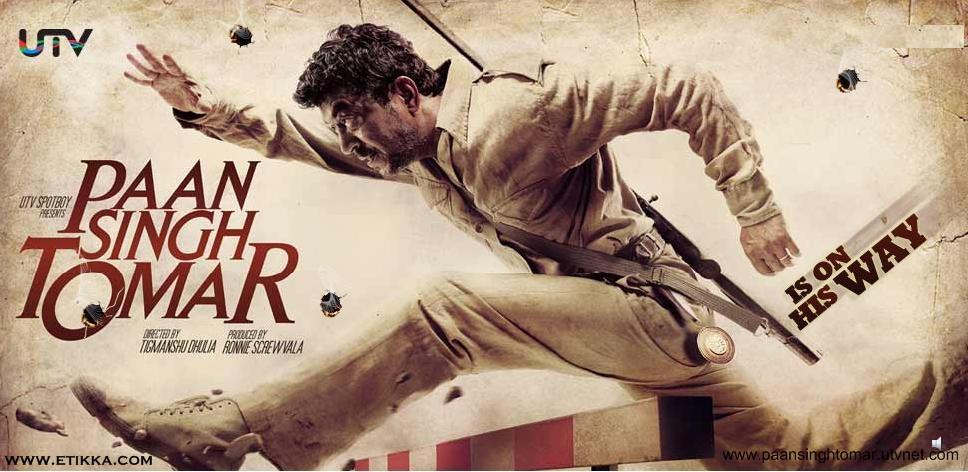 The rush of blood to the head. The tingle in the spine as Rocky Balboa locks his eyes squarely with James 'Clubber' Lang in Sylvester after fighting his demons and running through walls of fear to the tune of Gonna Fly Now and Survivor's smash hit Eye of The Tiger. And the lines.  Apollo Creed screaming,"There is no tomorrow! THERE IS NO TOMORROW! THERE IS NO TOMORROW!"  And, " Nothing is real if you don't believe in who you are!"
The heat and the romance and the cynicism and the glory of professional sports management in Cameron Crowe's Jerry MaGuire and the lines, "There's genius everywhere, but until they turn pro, it's like popcorn in the pan. Some pop… some don't." Hugh Hudson's Olympic epic Chariots of Fire that lent its theme music to the recent London Olympics, and has frozen in our mindscape, the image of runners on a beach at the crack of dawn, running towards history. Pele's signature over head kick in John Huston's Escape To Victory where allied prisoners of war at a German prison escape to freedom after a heart-stopping soccer match with the enemy. Ron Shelton's Tin Cup tracing the stirring and occasionally hilarious journey of a spent golfer trying to find his way back to glory. 
The drama, explosive human emotion, struggle, pain, sweat, blood and tears of triumph inherent to sports are perfect material for movie making and hundreds of films have been based on true and imagined sports stories by film makers all over the world. In the 80s, many of us,  watched on Doordarshan, the televised series Bodyline all the way from Australia and another series on Romanian gymnast Nadia Comaneci and her mentor Bela Karolyi and yes, there was one serial made on Milkha Singh in the Indian context but look back and try to remember the bio-pic of an Indian sportperson and there will be nothing. Not even a heart-felt tribute to a PT Usha or hockey legend Dhyan Chand or swimmer Khazan Singh or tennis path-breaker Ramesh Krishnan or sailing champion Farooq Tarapore. Yes, there have been sports films but they have been few and far between. 
BR Chopra's  Naya Daur (1957) created a conflict between rural means of livelihood and the heartless automaton of progress and resolved it by racing a tonga against a van in a nail-biting climax. Prakash Jha's 1984 Hip Hip Hurray  was a sensitive, small-budget film and broke out of conventional narratives in Hindi cinema to narrate a

coming-of-age story of a difficult student and his complex relationship with a football coach (Raj Kiran) who turns his life around

. We have had shoddy sports films like Kumar Gaurav starrer All Rounder (1984), Mithun Chakraborty starrer Boxer (1984) that was loosely inpired by the Rocky films, Dev Anand's Awwal Number (1992) starring Aamir Khan, Vivek Agnihotri's Dhan Dhana Dhan Goal (2007) that tried to replicate the moments from Danny Cannon's The Goal! trilogy,Akshay Kumar starrer Patiala House (2011) and an occasional high point like Nagesh Kukunoor's 2005 hit Iqbal that tried to capture how an hearing impaired and mute bowler is propelled by his passion to live his cricket dream in national colours despite stacked odds. Mansoor Khan's 1992 outing Jo Jeeta Wohi Sikander successfully captured the frenetic adrenaline of a cycle race between the haves and the have nots in a small town.
Two of the most notable sports film ever made in India are Ashutosh Gowarikar's Lagaan (2001) and Shimit Amin's Chak De India! (2007). Lagaan blended the epic sweep and splendour of Mehboob Khan's Mother India (1957) and BR Chopra's Naya Daur and became a surprising modern classic worth every minute of its long, drawn out climax. Chak De India! was radical for two reasons. It had women protagonists in a sports film, possibly a first in mainstream cinema, and it was about hockey, a sport neglected nationally at every level. Chak De India! had shades of the 2006 drama We are Marshall, the story of an inspirational coach who turns a struggling, dispirited football team around after it loses its heroes in a plane crash.Possibly the best and the most undersung Indian movie in this  genre is Tigmanshu Dhulia's Paan Singh Tomar (2012) that incisively and bitterly critiques an apathetic country where a medal winning athlete and patriot is forced by circumstances to become a bandit and no one cares. There are numerous instances of such neglect being meted out to our heroes. Santhi Soundarajan, a one time Asian Games silver medalist was found working as a daily labourer in a brick kiln in Tamil Nadu recently. 
In a country that loves cricket and stereotypical entertainment (look at our 100 crore block-busters), sports do not sell tickets in stadiums and cinema halls. We don't win enough medals because we do not have a vibrant, diverse sports culture, or adequate infrastructure to support anything other than cricketing ambitions. No wonder our cinema reflects this disinterest too.
Sanjay Leela Bhansali recently announced that he is going to make a bio pic on Mary Kom and Rakeysh Om Prakash Mehra is adding finishing touches to Bhaag Milkha Bhaag (yes, a full length feature film on Milkha Singh finally) starring Farhan Akhtar but there are many stories waiting to be told and lived if only someone would invest in them.
*This story was previously published in the Student's Edition of  The New Indian Express.