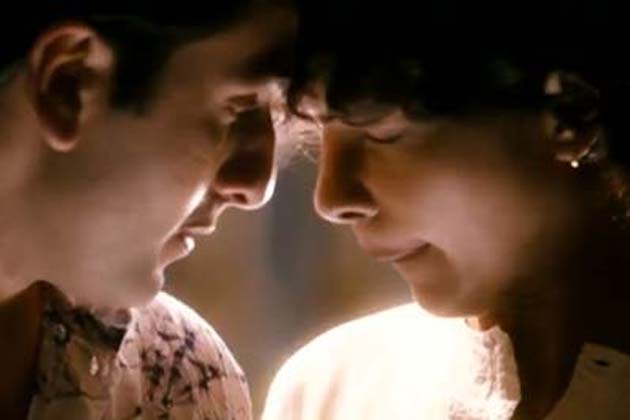 Love. Is it about looking for something or someone 'whole' and perfect out there? Or welcoming imperfection in people, situations because they mirror our lacks and maybe it is only the broken pieces of one soul that can fit into the gaps of another? Jane Fonda once wrote, "Life is not about perfection but completion." Anurag Basu's Barfi says the same thing without saying it. Love in this film is not the cosmetic, geographically manipulated stroll in tulip fields with a song being lip-synced by two air-brushed individuals. It is one trusting  finger tangled in a hand that knows how to answer that trust. It is shared foolishness. Spitting out watermelon seeds. Trying to hitch a ride by puncturing vehicles that don't stop. Shining broken pieces of mirror in each other's dark corners. Playing hide and seek. Turning vegetables into mock weapons of war.  The unself-conscious undressing of a soul before eyes that do not judge. Hysteria of one that can only be contained by the other. Making Origami birds and willing them to fly because ,"agar hausla ho to kaagaz ke par bhi ud sakte hain."  Wordless, unquestioned sense of belonging. Rituals of meaningless laughter no one else can understand. Love is just that. Love. No more. No less. And yet, consider the modern baggage attached to it. The insecurities that we will be hurt if we reveal too much, give too much. And fears that perhaps we are not enough. Maybe, we are not prefect enough, worthy enough, whole enough to love or be loved.
***
 Love today is so far removed from the instinctive, natural, organic emotion it was meant to be. Today, even status messages about relationships are complicated. People stumble between desire and disillusion, fate and choice, not knowing the difference between what is real and what is virtual or imagined. They carry wish lists in their heads, read books about relationships, look for signs, wonder why they can't laugh or cry or love as spontaneously as they once did. And cinema does not help. Movies have for long romanticised perfect love. And beauty as a pre-condition for it. Seldom has this beauty been invisible and as tenuous and inexplicable as the connection between two people who have nothing but each other.  Gulzar's 1972 film Koshish was the first Indian film that did away with the conventional rituals of cinematic courtship as love blossomed between a deaf and mute couple and they entrusted themselves to each other wordlessly. Balu Mahendra's 1983 film Sadma was another lyrical delineation of a love like no other between a mentally regressed young girl and a man who shelters and nurtures her like a parent but loves her unconditionally like a soulmate.
***
Barfi played with blinding sunshine by Ranbir Kapoor and Jhilmil (Priyanka Chopra) are two such imperfect people just right for each other  and yet they do not cross each other's path for  the longest cinematic time. Barfi is too busy falling in love with the limpid eyed Shruti (Ileana D'Cruz who looks like a painting and has one of the most stunning faces to grace the screen in recent times). This is a text book romance. Of the senses. Of toy trains winding across Darjeeling's glades, of eye locks, stolen kisses, day dreams, the crazy passion reminiscent of the early scenes of The Notebook, of  awakening and unfurling. For Shruti, it is the time she will never forget because this is the time when she was most free, most herself. And as she tumbled into a bush headlong with Barfi and his  accident prone bicycle, she learnt that the most risky thing in life is to not take a risk.
***
And Barfi, who till now had a remarkable disregard for his disability (he is deaf and mute), will learn for the first time that he is not enough.  That he can be loved by the perfect girl but not accepted as a part of her world. He vents his rage wordlessly in a drizzle that is just beginning to fall and then leaves. Though not forever because life will bring him face to face again with Shruti.  If only to remind Shruti just what was lost in the moment she decided to listen to her fear rather than her love. And then Jhilmil, an autistic child-woman who was once Barfi's childhood memory and like Devdas' Paro, was called to the window not by a carefully aimed stone but a shoe, reappears in Barfi's life, first as a kidnapped bait and then as a little, stubbornly persistent companion who will not leave him no matter what or who comes between them.
***
It is hard to recognise Barfi as an Anurag Basu film. The man who gave us derivative stories like Murder, Gangster, Life in a Metro and God help us..Kites to name a few. I do not want to discover a few months down the line that the film is a borrowed premise from a little known masterpiece because it is so impossibly pure  and seems to have been made by a film maker who has never been corrupted or compromised. By someone who is possessed by moments of sublime poetry. Of fireflies trapped in bubbles.  Lingering butterflies. Rain that falls like tears. And shared domesticity of, "Itti si hansi ..itti si khushi..itta sa tukda chand ka..khwabon ke tinkon se  chal banayein aashiyan..aadhi aadhi baant le..aaja dil ki ye zameen..thoda sa tera hoga..thoda mera bhi hoga apna ye aashiyan."
***
Maybe the fact that Basu has heroically battled and survived a terminal illness has something to do with the purging away of  non-essentials and a film that sparkles the most in its silences. Barfi  is an instant classic and not just because it is perfectly cast. Ranbir Kapoor is faultless. Every  line of his goofy, awkward physicality speaking to us of what he cannot say. There is Priyanka Chopra who confuses Autism with mental regression but is still endearing enough to make us care for her and worry for her through every frame that  she negotiates with her limited life skills. She is photographed like Mani Ratnam's Anjali. With sunlight tangled in unruly curls, fingers reaching out for nameless things, eyes lost and searching. And legs clad in socks and little girl shoes jumping, stomping, running clumsily behind her "Buffi." Even within that frightened body and in that clamorous mind, she recognises love without fear or doubt or second thoughts. When she sees a beautiful woman appropriating Barfi's attention, she wants to be her, dress like her, eat puchkas like her and cannot bear to be scolded in her presence or to have her sit between her and Barfi in a tram.
***
The film is not so much as a story as a study of love and what it can be when stripped of all pretence and defensiveness and expectations. And it recalls a simpler time almost as if a love like this would not be possible today. This is the time of Murphy Radio and snatches of 'Jo biwi se sachmuch karte hain pyar woh Prestige se kaise karein inkaar, " of liquid moments of pure joy as when Barfi  and Jhilmil zoom across railway tracks to only stop within inches of a speeding train or when they make dough animals instead of chapatis in their makeshift kitchen. There is a Chaplinesque innocence and a Laurel and Hardy Burlesque humour in the way Barfi conducts his life and his interactions with obsessed policemen, loss and heartbreak.  Basu reminding us with a nudge and a wink that Ranbir is the grandson of the man who played Awara, Shri 420 and Anari. The movie could have been easily called "Jeena Isi Ka Naam Hai." Or a Dummies' Guide To Love. Because really, that is who we are in a world starved of real connections and emotions powerful enough to sweep us away. The irony is that it is two individuals who never speak to each other, are severely challenged in conventional terms who show us triumphantly that the real disability is the inability to give love. And to receive it.