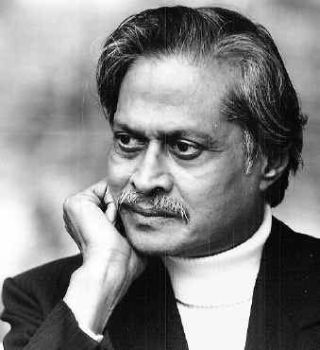 Let me start off by stating that it is through JP Das' writings and narrations I have known and grasped the different aspects of Orissa's history, traditions and its people. His writings remain focussed on the ground realities .And he is one of those bureaucrats who have had  the grit to take premature retirement from the Indian Administrative Service to become a full time writer. Today of course, JP Das' name is  far more in circulation in literary circles than in those corridors of babudom.
Recipient of the Saraswati Samman and the Sahitya Akademi Award, JP Das says that the turning point in his life came around 1979, " when I was awarded the Homi Bhabha fellowship to research the paintings of Orissa, which I'd later published in the book titled -Puri Paintings. In fact, those two years – 1979 – 1980 – set me thinking along a broader perspective. Also, I'd enjoyed that space, that sense of freedom to such an extent that I decided to quit the administrative service and take to full time writing."
Any regrets, for it could not have been easy to quit the administrative service and take a leap into towards unknown terrain?  To that  query he quickly quips, " No, no regrets … on the contrary I've been busy writing, researching and bringing to the fore lesser known aspects of Oriya arts, traditions, history."
Yes, he has been bringing Oriya literature and arts into the light. His pioneering works in Oriya art include Chitra – Pothi ( 1985 ) and Palm Leaf Miniatures ( with Prof Joanna Williams of Berkeley University) .
Also, two of his poetic volumes stand out - Dark Times and  Love lines -Poems of Longing and Despair.' Two verses from his volume - Dark Times go like this…
From Kalahandi – 'Put away the road maps now./To reach there /no need for helicopters ;/wherever there is hunger,/there Kalahandi is. /The god of rain /turned away his face ;/ not one green leaf was /left on the trees./ the whole village a graveyard./The ground cracked/river sand bone dry./All the plans failed ; /the line of poverty /receded still further./Wherever you look,/there is Kalahandi …'
And these lines from his poem titled - After Gujarat -After Gujarat /will there be poetry?/Could poets write /after Alexandria was razed?/After Auschwitz,/Hiroshima and Vietnam ;/ after the Emergency;/after Babri Masjid,/9/11 and Iraq?/Poetry cannot be banished./It returns at will /To Plato's Republic,/to Stalin's Siberia, /to Pokhran and Kalahandi,/following in the footprints /of violence /as it chronicles /the descent of man./ As with history, to poetry/there is no end …'
In fact, this Omnibus carries the entire range of his writings – fiction, poetry, drama, translations, extracts from his short stories, books. The list is long, as Das has been writing for years, ever so persistently, right from poetry to prose to factual narrations.
Here is the link if you want to buy and savour Omnibus by JP Das
http://www.flipkart.com/omnibus-8124116466/p/itmd345qu3renatb?pid=9788124116463&ref=9d9d7c20-fb53-46a9-ac73-8d74e0c61136
Humra Quraishi is a freelance reporter and columnist based in Delhi. Her features and interviews appear in The Times of India, The Hindustan Times, The Indian Express, The Statesman, Pioneer and Tribune. Since 1990 she has been visiting Jammu and Kashmir regularly to report on the turmoil there and the effect it has had on the lives of the Kashmiri people. She is also the co-author ofAbsolute Khushwant: The Low Down On Life, Death And Most Things In-Between.