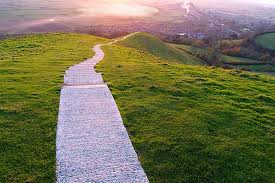 The Communication Skills session ended, I walked out and then someone said " Excuse me Ma'am." I turned around to find a bunch of ladies.  One of them said, "Usha wants to share her story, she has written it down for you." I had given an assignment in class about sharing a real life experience. Usha pushed a folded paper into my hands. I unfolded it, as I skimmed over it, I could feel the colour drain from my face. Before anyone could notice, I controlled my emotions.
I recalled how on the very first day as I walked in and scanned the room forming my first impressions. I saw a middle aged lady, in the first row at the right corner, with short hair, bespectacled, who seemed very quiet. I instantly donned the role of  corporate trainer that I was and thought to myself, "wouldn't she have looked better with shoulder length hair?"
That first session was on January 25, 2012. Exactly a year ago, at that very moment and time that Usha was diagnosed with malignant tissue requiring imperative surgical intervention. She had Carcinoma of the third stage and was administered Chemotherapy and hormone treatment for about six months, leaving her debilitated and depleted of energy. She had to shed her long hair and her skin and nails discolored. As if that was not enough she was now diagnosed with diabetes and thyroid problems. The treatment made her fingers numb that even holding a pen was impossible. This was the most arduous journey of her life and each day was an uphill climb. She longed to appear for the November, 2011 Chartered Accountancy exam which was now a distant dream since she could not even hold a pen.
This took her from nightmares to mental reenactments of her illness and a sense of failure to inexplicable waves of emotion. She fought these emotions with every fiber of her being. With a vengeance and in every spare moment, she strenuously started writing and deciphered complex cost accounting problems. And she triumphantly appeared for the exam and solved all the questions within stipulated time.
She then  awaited the consequence  of her efforts. She could not believe her eyes when she saw the words "PASS." Words that had immense relevance to her life at this moment and time. Her joy knew no bounds. She had made it against all odds.
She affirms that she could achieve this due to the unmitigated prayers of her family, friends and those she came across during that period. She says, she learnt that, "Nothing is impossible if one is determined. "
I lifted my eyes up from the paper and looked at her with new eyes. Her short hair had much significance for me at this point. Here was a woman who had fought impossible odds and made it. Her will had carved a way that was not even visible at first glance.
I don't know whether my trainees are determined to be good communicators but, I was instantly catapulted to a higher level of motivation. I knew that from now on, my student would  inspire me each time I was faced with a challenge.
Lalitha Menon loves people and has learnt that God has created each one of us  to be unique and our talents, potential and experiences all put together can be useful to many lives. She works as a Corporate Trainer for Soft skills and sometimes  as a Master of Ceremonies for Business Events. She has been a teacher in South Africa and an administrator in India. She loves travelling, painting, cooking, learning languages, dancing, swimming. And  has had the privilege to contribute to Chicken Soup for the Soul- Indian Women and to Jet Wings magazine.