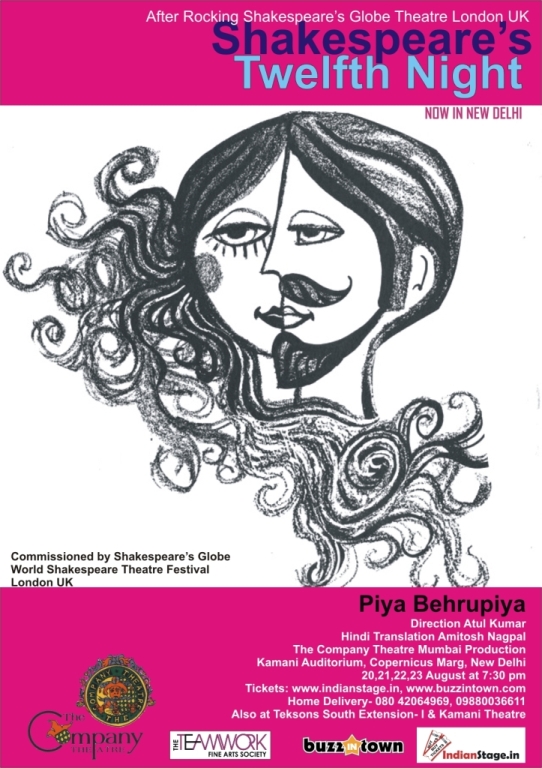 AFTER ROCKING SHAKESPEARE'S GLOBE THEATRE
DURING  
WORLD SHAKESPEARE FESTIVAL, LONDON
NOW OPENING IN NEW DELHI!
TWELFTH NIGHT
BY WILLIAM SHAKESPEARE
TRANSLATED INTO HINDI BY AMITOSH NAGPAL
PIYA BEHRUPIYA (http://www.youtube.com/watch?v=vGWlGaheHWU)
DIRECTED BY ATUL KUMAR
THE COMPANY THEATRE PRODUCTION
MUMBAI-INDIA
DURATION- 120 MINUTES WITH INTERVAL
SCHEDULE:
20,21,22,23 AUGUST 2012 at 7:30 pm, KAMANI THEATRE NEW DELHI
TICKETS:
www.indianstage.in, www.buzzintown.com
Home Delivery- 080 42064969, 09880036611
Also at Teksons South Extension -1 and Kamani Theatre
Performed By:
GEETANJALI KULKARNI as Viola
NEHA SARAF as Clown
MANSI MULTANI as Olivia
TRUPTI KHAMKAR as Maria
SAGAR DESHMUKH as Orsino
AMITOSH NAGPAL as Sebastian
GAGAN RIAR as uncle Toby
SAURABH NAYYAR as Malvolio
MANTRA MUGDH as Andrew Agucheek
Direction- ATUL KUMAR
Assistants- RACHEL D'SOUZA & KARAN MALLY
Percussion- RAHUL SHARMA
Harmonium- AMOD BHATT
Costumes- NEHA SARAF, TRUPTI KHAMKAR, KIYOMI MEHTA
Production- KIYOMI MEHTA , SERENA WALIA
Administration- SACHIN KAMANI
The Company Theatre Production
Synopsis
In the household of Olivia, two campaigns are being quietly waged – one by the lovesick lord Orsino against the heart of the indifferent Olivia; the other by an alliance of servants and hangers-on against the high-handedness of her steward, the pompous Malvolio. When Orsino engages the cross-dressed Viola to plead with Olivia on his behalf, a bittersweet chain of events follows. Filled with a cast of unforgettable characters, Twelfth Night combines cruelty with high comedy and the pangs of unrequited love with some of the subtlest poetry and most exquisite songs Shakespeare ever wrote.
Atul Kumar, Director
Atul Kumar
Artistic Director of The Company Theatre. He has been involved in the art and pursuit of serious theatre for over two decades now.
Education in French Language & Literature at JNU, Delhi was followed by a prolonged basic training in Kathakali and Kalaripayattu in Kerala for over three years as well as a stint with the master of visual theatre- Philippe Genty in France. Atul Kumar has also worked with Sacramento Theatre Company in the USA.  He founded The Company Theatre in 1993 and has directed several experimental plays that have won wide acclaim in India and abroad.
Under the aegis of The Company Theatre, Atul Kumar has been instrumental in organising national as well as international theatre festivals and other theatre related events like workshops, seminars, conferences and international exchanges.
Atul Kumar has also been involved fleetingly in several television projects besides live events and film assignments, which have often helped fund the theatre projects of the company. His vocation however has only been the pursuit of Theatre.
The Company Theatre- Profile
The Company Theatre
The Company Theatre (TCT) since 1993 continues to work with the singular commitment to Theatre. A non-profit registered organization TCT is a theatre ensemble of professional and amateur artists working through repertory performances and professional training. Led by Atul Kumar, TCT seeks to explore interdisciplinary art forms and develop diverse artist and audience communities from all over the world.
TCT conducts nation-wide theatre workshops that involve maximum representation of participants from all backgrounds. The workshops are open to students, corporates, artists and academics. Apart from organizing national & international theatre festivals, TCT has also performed extensively in festivals around the world. TCT started "Theatre at Home" in the year 2000, whereby theatre was taken into people's drawing rooms, terraces, backyards and other alternative spaces. TCT has also organized various seminars and conferences on theatre related issues.
More about The Company Theatre at www.thecompanytheatre.net & http://www.facebook.com/AtulKumar.TheCompanyTheatre
For any additional information, material or enquiries,
Contact:
Sachin Kamani
The Company Theatre
Mobile: 09820192778
E-Mail: thecompanytheatre@gmail.com