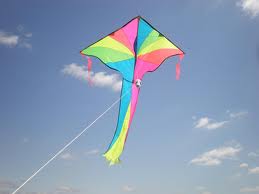 Kite of my beloved lord flies…
without wings,
loosely hung on a thread …
propelled by just an intention…
unaware of it's limitations…
rises and touches the sky…
dances in the air…
as if there's no tomorrow…
So much and more ….
in faith…
it surrenders and rejoices,
swings and enjoys it's journey so completely..
no fear …
no insecurity..
nor awareness of it's imperfections deters it …
Just a thread of belief of the perfect one keeps it going…
and it knows …it's real freedom!
Shreeja Mohatta Jhawar is a partner in Think Unlike Events where she  organises creative and life-style transforming workshops. She is also a freelance writer, web and graphics designer as well as a social activist who runs 'Kritagya,' a group aiming to serve old and destitute people.